African Soccerscapes: How a Continent Changed the World's Game (Africa in World History) (Paperback)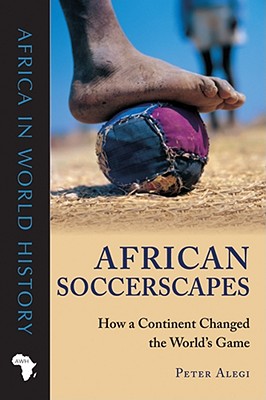 Description
---
From Accra and Algiers to Zanzibar and Zululand, Africans have wrested control of soccer from the hands of Europeans, and through the rise of different playing styles, the rituals of spectatorship, and the presence of magicians and healers, have turned soccer into a distinctively African activity.
African Soccerscapes explores how Africans adopted soccer for their own reasons and on their own terms. Soccer was a rare form of "national culture" in postcolonial Africa, where stadiums and clubhouses became arenas in which Africans challenged colonial power and expressed a commitment to racial equality and self-determination. New nations staged matches as part of their independence celexadbrations and joined the world body, FIFA. The Confédération africaine de football democratized the global game through antiapartheid sanctions and increased the number of African teams in the World Cup finals.
In this compact, highly readable book Alegi shows that the result of this success has been the departure of huge numbers of players to overseas clubs and the growing influence of private commercial interests on the African game. But the growth of women's soccer and South Africa's hosting of the 2010 World Cup also challenge the one-dimensional notion of Africa as a backward, "tribal" continent populated by victims of war, corruption, famine, and disease.
About the Author
---
Peter Alegi is an associate professor of history at Michigan State University and the author of Laduma! Soccer, Politics, and Society in South Africa. He is an editorial board member of the International Journal of African Historical Studies and book review editor of Soccer and Society.
Praise For…
---
"A compact but thorough and informative account of the sport's absorption and evolution across the African continent…. An ideal reader for undergraduate and graduate courses as well as for those individuals curious about the rise of football across Africa."—
Notes & Records
"Alegi's concise and ingenious book is a timely reminder about the impact African players have had on global football and an affirmation of Africa's mounting stature as a football powerhouse…. Alegi writes in a language that is accessible to non-specialists and casual readers…. For academia, instructors teaching undergraduate courses about global sports or sports in Africa could assign the book or selected chapters to students, who most likely will appreciate the material for its informative strength, brevity, and lucidity."—
African Studies Quarterly
"No account of African soccer would be complete without reference to the players themselves, and Alegi skilfully describes the migratory process that brought African players to Europe from the 1930s to the present day. He touches on issues such as racism and exploitation, but also on the success of such pioneering players as Arthur Warton, Ben Barek, Roger Milla, and George Weah." —
African Affairs
"Nobody understands the background to African soccer better than the Italian-American historian Peter Alegi. This World Cup is his moment. His
African Soccerscapes
crams daunting erudition, gleaned over many years of study of African football, into under 200 pages of history."—
Financial Times
"Via these outstanding works (
Laduma!
and
African Soccerscapes
), Alegi has placed African soccer on firm historiographical footing, while also popularizing a subject about which little was previously known beyond Africa's borders."—
African Studies Review
"In this wonderfully researched and richly textured narrative, Alegi tells the vital story of how football transformed Africa and Africa transformed football during the 20th century. The book is a must-read for all those wishing to gain a greater understanding of the past, and future, of the global game."
— Laurent Dubois, Duke University
"Via these outstanding works (Laduma! and African Soccerscapes), Alegi has placed African soccer on firm historiographical footing, while also popularizing a subject about which little was previously known beyond Africa's borders."
—
African Studies Review
"Alegi's concise and ingenious book is a timely reminder about the impact African players have had on global football and an affirmation of Africa's mounting stature as a football powerhouse…. Alegi writes in a language that is accessible to non-specialists and casual readers…. For academia, instructors teaching undergraduate courses about global sports or sports in Africa could assign the book or selected chapters to students, who most likely will appreciate the material for its informative strength, brevity, and lucidity."
—
African Studies Quarterly