Making a World after Empire: The Bandung Moment and Its Political Afterlives (Ohio RIS Global Series) (Paperback)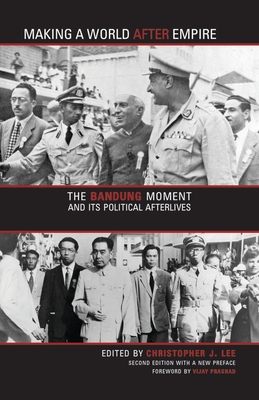 Description
---
With a new foreword by Vijay Prashad
In April 1955, twenty-nine countries from Africa, Asia, and the Middle East came together for a diplomatic conference in Bandung, Indonesia, intending to define the direction of the postcolonial world. Ostensibly representing two-thirds of the world's population, the Bandung conference occurred during a key moment of transition in the mid-twentieth century—amid the global wave of decolonization that took place after the Second World War and the nascent establishment of a new Cold War world order in its wake. Participants such as Jawaharlal Nehru of India, Gamal Abdel Nasser of Egypt, Zhou Enlai of China, and Sukarno of Indonesia seized this occasion to attempt the creation of a political alternative to the dual threats of Western neocolonialism and the Cold War interventionism of the United States and the Soviet Union.
The essays collected here explore the diverse repercussions of this event, tracing diplomatic, intellectual, and sociocultural histories that ensued as well as addressing the broader intersection of postcolonial and Cold War history. With a new foreword by Vijay Prashad and a new preface by the editor, Making a World after Empire speaks to contemporary discussions of decolonization, Third Worldism, and the emergence of the Global South, thus reestablishing the conference's importance in twentieth-century global history.
Contributors: Michael Adas, Laura Bier, James R. Brennan, G. Thomas Burgess, Antoinette Burton, Dipesh Chakrabarty, Julian Go, Christopher J. Lee, Jamie Monson, Jeremy Prestholdt, and Denis M. Tull.
About the Author
---
Christopher J. Lee is the author of Frantz Fanon: Toward a Revolutionary Humanism, and Unreasonable Histories: Nativism, Multiracial Lives, and the Genealogical Imagination in British Africa and the editor of Making a World after Empire: The Bandung Moment and Its Political Afterlives. He is an associate professor of history at Lafayette College.
Praise For…
---
"Bandung names not only the 1955 summit, but the political imagination of unfinished Afro-Asian decolonization and internationalism with whose significance we continue to reckon. The essays in this collection consider the possibilities and impossibilities of Bandung, from the uses of the nation-state, regionalisms "from below," and the Third World project, to the endurance of other world-making projects uncontained by the Cold War and the ascendance of the U.S.-led global order."—Lisa Lowe, author of The Intimacies of Four Continents

"Renewed interest in the 'Bandung Spirit' and its afterlives, prompted in part by this excellent volume, attests to the perpetual desire, even ethical imperative, to recover historical visions of better humanistic political futures. In the spirit of Bandung itself, Christopher Lee has brought together a collection of essays that explore not only the radical historical importance and profound challenges of the original conference in Bandung; they also speak poignantly to the critical problems and imaginative possibilities of our own time. Indeed, this re-edition of Making a World after Empire comes at a time when the liberal international order, demanded and affirmed by the Third World at Bandung, is under severe threat, when the stakes of our political imaginations of community have never been higher, and when the need for vital alternatives to secure a humane future have never been more urgent."—Joseph R. Slaughter, author of Human Rights, Inc.

"This important collection of essays points to a phenomenon that has been lost in the common assumption of a worldwide movement from colonial empires to nation-states: the richer imagination of people in those empires and their quest for alternative

"Readers interested in Bandung can do no better than consult Making a World After Empire."—Pankaj Mishra, author of From the Ruins of Empire: The Intellectuals Who Remade Asia