My Struggle: Book Five (Hardcover)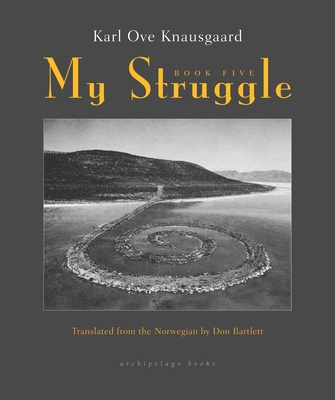 $27.00

Special Order - Subject to Availability
Other Books in Series
This is book number 5 in the My Struggle series.
Description
---
The fifth book of Knausgaard's powerful My Struggle series is written with tremendous force and sincerity. As a nineteen-year-old, Karl Ove moves to Bergen and invests all of himself in his writing. But his efforts get the opposite effect - he wants it so much that he gets writer's block. At the same time, he sees his friends, one-by-one, publish their debuts. He suspects that he will never get anything published. Book Five is also a book about strong new friendships and a shattering love affair. Then one day Karl Ove reaches two crucial points in his life: his father dies, and shortly thereafter, he completes his first novel.
About the Author
---
Karl Ove Knausgaard was born in Norway in 1968. His debut novel Out of This World won the Norwegian Critics Prize and his A Time for Everything was a finalist for the Nordic Council Prize. My Struggle: Book One was a New Yorker Book of the Year and Book Two was listed among the Wall Street Journal's 2013 Books of the Year. In 2014, Book Three was named a New York Times Notable Book of the Year. My Struggle is a New York Times Best Seller and has been translated into more than fifteen languages. Knausgaard lives in Sweden with his wife and four children. 


About the translator:
Don Bartlett has translated novels by many Danish and Norwegian authors, among them Jo Nesbø, Roy Jacobsen, Lars Saabye Christensen, and Per Petterson. He lives with his family in Norfolk, England.
Praise For…
---
"The first monumental literary production of the 21st century." — Dwight Garner, The New York Times

"A bracing, strange and singular reading experience." —  Kevin Canfield, The San Francisco Chronicle

"Book Five, like the two volumes that preceded it, has a straightforward, linear structure. It tells the saga of a young writer's path from failure to success . . . 'The world,' he writes, 'extended its hand and I took it.' Over the course of a masterpiece that runs to more than 3,000 pages, he hasn't once let go." — Sebastian Smee, The Boston Globe

"The penultimate entry in Knausgaard's autobiographical series centers on the trials and tribulations of a competitive young writer, as the protagonist, Karl Ove, adjusts to the various responsibilities and expectations of adult life in the city. . . The narrative, like the protagonist, strikes an impressive balance between the interior and exterior, as well as the cerebral and emotional; snappy and amusing episodes coexist alongside weighty, meditative, and essayistic passages on art and literature. . . Those who have come this far in the series will not be disappointed by book five; it is a pleasure to witness the gradual emergence of a dedicated artist over the course of a decade." — Publishers Weekly (Starred Review)

"In which our author, never at a loss for words, spends his 20s figuring out how to use the right ones. . . the most conventional book in the series, but its form echoes the urge for conventionality he's seeking. And in the context of the entire series, it's a self-deprecating study of how stories are made and found and how the best ones get ignored. His father's death was a heartbreaking event in Volume 1, told from a decade's distance. He elides it here, suggesting he lacked the literary and emotional tools to process it at the time. An admirably seriocomic look at a headlong leap into maturity." — Kirkus Reviews (starred review)

"Fans of Knausgaard's indulgent style will revel in every last beer can and krone as the closing chapter of this infamous Norwegian saga approaches." — Booklist

"[Knausgaard] unspools a middle-class male life, lived amid relative plenty and familiar heartache ... What compels the reader is Knausgaard's total, undiscriminating, ecstatic attentiveness ... Every moment, even of putative boredom, seems to have the sharpness of an adrenaline rush, or the terrifying clarity of recollected shame ... Mundanity, narrated with such hallucinogenic precision, evokes not a unique perspective but the isolation of selfhood as such." — The Atlantic

"In each succeeding volume of this one-of-a-kind chronicle, Knausgaard has aimed for nothing less than to discover just who he is, to get to the root of his own particular self. Here, that struggle is intensified, as the idea of being a writer is so woven into his self-conception that failure makes him doubt who he is supposed to be and which direction to take... This fifth volume feels more insular than the others, but that's where Knausgaard has always been at his best. The inner life inspires him. It's what gives the sentences their urgency. He's the rare writer who has made self-absorption work for him." — Washington Post

"Knausgaard, for his part, finds a tenuous salvation in repurposing old forms. Like Augustine... Knausgaard's approach is to confess, even if he has no God to receive his confession. His reward, instead of heaven, is an intimation of the divine, which reveals itself when the artist is at his most god-like, deep in the fiery furnace of creation. On one level, this is art as religious experience, in which the artist feels as if the godhead is working through him; on another level, this is Freud's sublimation at work, the transfiguration of dark thoughts and dark impulses into refinement and beauty. Freud considered this process a triumph of civilization, and in this respect, the salvation that Knausgaard is working toward is not only his own. It has always seemed audacious for Knausgaard to name his novel after Hitler's autobiography-cum-manifesto, but Book Five is proof that we didn't realize the extent of his ambitions. It turns out that his Min Kamp is meant to be Mein Kampf's fraternal twin, and proof that the evil of their shared birthright can be overcome." — New Republic

"Knausgaard's books feel like an antidote to the sterile, branded curation we sift through every day. It offers this rich texture as a contrast to the perfection of those suntanned smiles. He is saying, here is what life really feels like. It's messy. It often ends in failure. It often detours and rambles." — Chicago Tribune


"'My Struggle' has pushed me to think more about my own self, and, in particular, my emotions. It's reacquainted me with the vividness of feelings. It's a sentimental education. . . The style of 'My Struggle' has often been described as solipsistic. It's said to capture one person's impressions of the quotidian, the banal, the everyday. And yet it might be more accurate to describe Knausgaard's style as disinterested, non-conceptual, or free. His writing is highly personal, but it's also selfless. He writes about himself, but without recourse to the static ideas from which selves are made. . . The novel imagines a kind of ultimate freedom—a spiritual freedom based in radical openness. It's expansive and impersonal, yet still human; it's concrete, anti-ideological, and, above all, emotional. Beyond, alongside, or perhaps within the quest to know oneself, there's a quest to know the universe." — Joshua Rothman, The New Yorker

"[T]he eerie thing is that, at times, it is as if we are not within the pages of this book at all, but outside it and in his confidence. We understand that [Knausgaard] is ambitious to write a novel that will make his name and we suppress, as we read, the acknowledgment that this achievement, this extraordinary work of which he has been dreaming, is the book we hold in our hands." — The Guardian

"[T]he charisma of these books, a combination of critical acclaim, commercial success and the strange brilliance of their form, has made being hypnotised by their extensive descriptions of ordinary Norwegian life a sort of cultural obligation. . . My Struggle, by volume five, is so dense with detail that much of it is necessarily forgotten. And yet it is lost in a way similar to how many of our days and hours are lost, only to return in sudden moments of recollection. Knausgaard has thus gifted us with a set of novels that matches the shape and texture of our pasts, in which the relentless accumulation of fictionalised days dramatises, better than any novel I have read, the experience of living in time. It is a pen-and-paper virtual reality; after reading it you feel that another past has been downloaded into your mind." — The Financial Times

"[O]nce again, Knausgaard's story­telling is a masterclass in clarity and intensity. The litany of quotidian detail is strangely mesmerising, even gripping ... [My Struggle: Book Five] is a lengthy journey, a bumpy ride full of pitfalls and setbacks, but one that shapes its protagonist and transports its reader. Knausgaard may only present fictionalised events, but on each page, and in every detail, Karl Ove pulses with life." — The Australian

"The experience of reading Karl Ove Knausgaard is an extraordinary one. His eye for detail and for all the little byways of thought and feeling are unsurpassed. . . Knausgaard began his great project with the idea of using himself up and emptying the reservoir. Instead, he emerges more fully himself, replete even." — Charleston Post and Courier


Of the Series:

"Perhaps the most significant literary enterprise of our time." - The Guardian

"Intense and vital... Knausgaard is utterly honest, unafraid to voice universal anxieties... Superb, lingering, celestial passages... [with] what Walter Benjamin called the 'epic side of truth, wisdom'." - James Wood, The New Yorker

"My Struggle is candid and compulsively readable, with moments of searing insight and bold shifts through narrative time. Its scope is both ambitious and modest; its range aggressive and tender." -VICE

"Why would you read a six-volume, 3,600-page Norwegian novel about a man writing a six-volume, 3,600-page Norwegian novel? The short answer is that it is breathtakingly good, and so you cannot stop yourself, and would not want to... Arrestingly beautiful." - Leland de la Durantaye, The New York Times Book Review

"With each subsequent book of his that is translated into English, Mr. Knausgaard continues to solidify his reputation as one of the most vital writers working today." -The Observer

"My Struggle is unexpectedly entrancing - the combination of detail and intimacy creates an illusion of being inside somebody else's brain... My Struggle is worth the, uh, struggle." -GQ

"Karl Ove Knausgaard. My Struggle. It's unbelievable. I just read 200 pages of it and I need the next volume like crack." -Zadie Smith

"Knausgaard pushed himself to do something that hadn't quite been done before. He broke the sound barrier of the autobiographical novel." - Jeffrey Eugenides

"By exposing every last detail of his life, Karl Ove Knausgaard became your favorite author's new favorite author." -Evan Hughes, The New Republic

"If the function of literature is to take you out of your own life and involve you in someone else's then My Struggle is literature... gripping." --The Sunday Times

"A masterpiece of staggering originality, the literary event of the century... Life here and now, examined at a fever pitch, daily recollections recounted in exhausting but exhilarating detail." --The Wichita Eagle

"So what is it that has led fellow authors to rave about Knausgaard and hail him as literary pioneer? The answer lies in the intensity of focus he brings to the subject of his life. He seems to punch a hole in the wall between the writer and reader, breaking through to a form of micro-realism and emotional authenticity that makes other novels seem contrived, 'made up', irrelevant... Whether he's writing about his adult alienation at a toddler's birthday party or the memory of trying to get hold of alcohol as a teenager on New Year's Eve, Knausgaard is prepared to go into extraordinary sensuous detail... the overall effect is utterly hypnotic." -Andrew Anthony,The Observer

"[My Struggle] replicate[s] the vivid, overwhelming sense of being alive on the page... satisfying and moving." — The National (UAE)

"There were moments when I wondered who was the better comparison: Wordsworth, for the ways that nature bent to Karl Ove's mood and past selves composed and recomposed themselves in his recollection, or Harry Potter, for the readable, epic soap opera about a young student learning to wave his magic wand about. Few writers create so confidential a bond with the reader, at times uncomfortable, unwanted but also undeniable. Occasionally I fancied him an old friend. An infuriating, unstable, self-obsessed and well-read friend who outstays his welcome, admittedly. But a friend nonetheless." — The Independent