Western Edge: The Roots and Reverberations of Los Angeles Country-Rock (Distributed for the Country Music Foundation Press) (Paperback)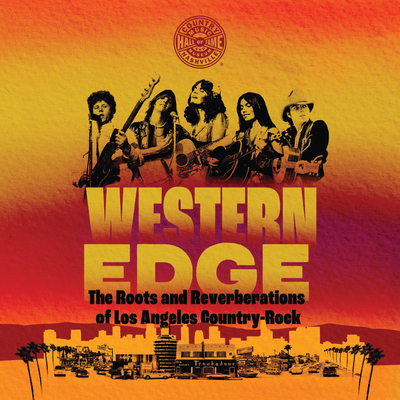 Description
---
In Los Angeles, from the early 1960s through the late 1980s, young musicians and singers formed tight-knit musical communities anchored by nightclubs such as the Ash Grove, the Troubadour, and the Palomino. These musicians injected elements of folk, bluegrass, and country to enliven and reinvigorate the sounds of pop and rock.
The music flowing from these scenes exerted a lasting influence that would stretch the boundaries and alter the course of both rock and country music. This book, a companion to a major multi-year exhibition at the Country Music Hall of Fame and Museum, traces a musical evolution beginning with California folk and bluegrass groups, which led to the country-rock sounds of the Byrds, CSN&Y, Linda Ronstadt, Emmylou Harris, the Eagles, and many more. In the 1980s, a new wave of L.A. roots-rock ushered in Dwight Yoakam, Los Lobos, and Lone Justice.
Richly illustrated with photographs of key musicians on the scene along with treasured items loaned to the museum for the exhibition, the book takes readers on a dazzling journey to a time and place when the beat and grit of rock met the harmonies and the twang of country to produce sounds that reverberate to this day.
About the Author
---
Along with the staff of the Country Music Hall of Fame and Museum, a cadre of expert journalists, music researchers, and musicians tell the story of this musical movement—often from personal experience. They include Grammy-winning recording artist Linda Ronstadt, former Los Angeles Times music reporter Randy Lewis, author Holly George-Warren, record-label executive James Austin, researcher Mary Katherine Aldin, and musicians Dave Alvin, Alison Brown, and Steve Fishell.
Praise For…
---
"Part coffee table book, part liner notes for the records playing in your head, and part scrapbook of a time that was as cool to look at as to listen to — from the "cosmic cowboy couture" of the Flying Burrito Brothers' Nudie suits to Alvin's stupendous pompadour." --Chapter 16

"Western Edge is lavish with photos from the '60s to the near present, and its smartly written history essays encompasses the genre's development across the U.S." --Shepherd Express

"Western Edge provides an excellent and picturesque history of country-rock. Highly recommend." --Diane Diekman's Country Music Newsletter

"As a calling card for this new publishing partnership between the Country Music Hall of Fame and Museum and the University of Illinois Press, it's hard to imagine they could have put out anything more impressive. If you've ever had any interest in country-rock you will want to see this book." --Americana UK