Sarajevo Marlboro (Paperback)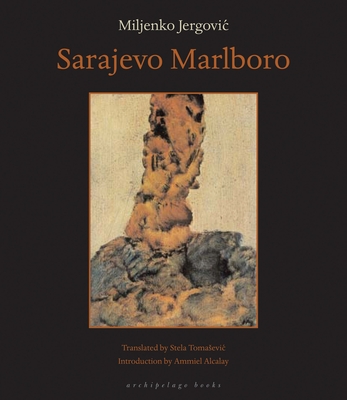 $18.00

Special Order - Subject to Availability
Description
---
A remarkable and bracing collection of "classic anti-war writing" (Richard Flanagan) from Croatian writer Miljenko Jergović, whose piercing prose recalls Kurt Vonnegut and Aleksander Hemon
 
Miljenko Jergović's remarkable début collection of stories, Sarajevo Marlboro, earned him wide acclaim throughout Europe. In "melancholy, dreamlike" prose, the stories in Sarajevo Marlboro "recall Alan Lightman's Einstein's Dreams and Italo Calvino's Invisible Cities, but Jergovic's book is the strongest of the three" (Maud Newton). Croatian by birth, Jergović spent his childhood in Sarajevo and chose to remain there throughout most of the war. These stories are distinctly of the material world, and they are shaped by Jergović's deeply personal vision, subterranean humor, and a razor-sharp understanding of the fate of the city's young Muslims, Croats, and Serbs – the minute details of their interior lives in the foreground, the killing zone in the background.
About the Author
---
Miljenko Jergović is a Bosnian and Croatian writer and journalist. One of the most significant Balkan writers of his generation, his work has been translated into more than 20 languages. His landmark collection of stories Sarajevo Marlboro received the Erich Maria Remarque Peace Prize. Mama Leone won the Premio Grinzane Cavour for the best foreign book in Italy in 2003. In 2012, he received the Angelus Central European Literature Award for Srda Sings At Dusk On Pentecost. His critically acclaimed autobiographical novel Kin earned starred reviews in both Kirkus and Publishers Weekly. Jergović currently lives and works in Zagreb, Croatia.
Stela Tomasevic was born in Belgrade in 1963. She studied literature at the University of East Anglia. She has translated numerous works of non-fiction from the Bosnian and the French. She currently works for the UN International Criminal Tribunal for Former Yugoslavia.
Praise For…
---
"Miljenko Jergovic's Sarajevo Marlboro relies on minute details, such as a dead cactus and a grandmother's ring, to distinguish individuals' numbed reactions to the devastation of the Bosnian war. There's a melancholy, dreamlike sameness to Jergovic's war stories that recalls Alan Lightman's use of time in Einstein's Dreams and Italo Calvino's meditations on place in Invisible Cities, but Jergovic's book is the strongest of the three."
—Maud Newton, Newsday, "Favorite Book of the Year"
 
"A remarkable collection . . . Grim, beautiful ruminations on how the familiarities of life can, in the instant a bomb drops, become unrecognizable . . . With a natural sense of stopping point and courage to spare, Jergovic has the mien of the rare author whose gift is so innate he need only conquer a few demons and steady his hands enough to write it all down."
—San Diego Union Tribune

"Poetic and moving . . . Of the many books written on Bosnia, this collection of stories is perhaps the best."
—Slavenka Drakulic
 
Praise for Kin:
 
"Vast, generous-spirited story of family across the face of the 20th century in the turbulent Balkans . . . There is beauty aplenty, and ample monstrosity, in Jergović's account, as well as many moments of mystery: a beekeeper's coded journal, the alpenglow that surrounds Sarajevo as surely as a besieging army, the "living torment" that is existence, all come under Jergović's empathetic eye. A masterwork of modern European letters that should earn the author a wide readership outside his homeland."
— Kirkus, starred review
 
 
"[Jergović's] astonishing project offers endless rewards."
—Publishers Weekly, starred review
 
"A superb English translation . . . Kin is deeply interested in moments that trickle down through the years, and how, even when languages and the names of countries have changed, when wars have completely reshaped the region, these fleeting seconds have stayed rooted in a family's mind."
—Sarah McEachern, The Los Angeles Review of Books


"Part novel, part memoir, part philosophical discourse and part historical account, I couldn't wait to start reading this one every morning: Its peaks are some of the most bracing reading I've done in a decade. Highest recommendation."
—John Darnielle