Inspiration for a Woman's Soul: Opening to Gratitude & Grace (Paperback)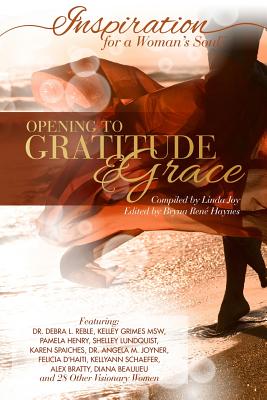 $16.97

Not Available In-Store - Usually Ships from Warehouse in 1-5 Days
Description
---
Discover the transformative power of gratitude From the publisher behind the international best-selling phenomena, Inspiration for a Woman's Soul: Cultivating Joy and Inspiration for a Woman's Soul: Choosing Happiness comes the final book in this life-changing trilogy - a brand new collection of original stories that prove the miraculous power of gratitude in our daily lives.
In Inspiration for a Woman's Soul: Opening to Gratitude & Grace, publisher Linda Joy has gathered intimate, soul-powered narratives from thirty-eight women who have shifted their perceptions, strengthened their hearts, and found ease in their daily lives through the power of gratitude. These incredible stories prove that when we embrace gratitude in every moment, even when our current circumstances reflect something vastly different than what we desire, we invite grace into our lives. Three Reflection Questions after each story will help you apply these vital lessons in your own life.
Gratitude has a power that everyone, no matter her circumstances, can embrace. When we can ease into a state of gratitude within ourselves, regardless of what is happening around us, we make space for grace to take over - and that is when miracles start to happen
Contributing authors for Opening to Gratitude and Grace include: Dr. Debra L. Reble; Diana Beaulieu; Dr. Bonnie Nussbaum, PhD; Felicia D'Haiti; Dr. Kimberly McGeorge, ND, CNH; Dr. Mary E. Pritchard, PhD, HHC; Peggy Nolan; Cindy Hively; Mal Duane; Dr. Angela Joyner; Stacey Hoffer; Laura Clark; Melissa Rapoport; Sheila Callaham; Stacey Curnow; Pamela Henry; Stacey Murphy; Stacey Martino; Jill Celeste, MA; Kailean Welsh, MS, LPC; Shelley Riutta, MSE, LPC; Suzanne Moore; Kellyann Schaefer; Beth Marshall; Dr. Colleen Georges; Alex Bratty; Kelley Grimes, MSW; Bailey Frumen, MSW, LCSW; Karen Spaiches; Shelley Lundquist; Tonya Melendez; Bev Janisch; Dr. Taura L. Barr, PhD, RN, FAHA; Zinnia Gupte; Karen Smith; Sara Turner; Lore Raymond; and Lisa Marie Rosati.
The book also includes a foreword by Di Riseborough, Intuitive Life Strategist. #1 best-selling author of Forgiveness: How To Let Go When It Still Hurts and featured on Oprah's OWN Network's "Life Story Project".
Advance Praise for Opening to Gratitude and Grace:
"I couldn't put down Inspiration for a Woman's Soul: Opening to Gratitude & Grace. I loved this book and I loved meeting all these courageous women. I laughed, I cried, I was deeply moved and profoundly inspired to bring even more grace and gratitude into my life." - Dr. Margaret Paul, co-creator of Inner Bonding, coauthor of Do I Have To Give Up Me To Be Loved By You? and Healing Your Aloneness, and author of Inner Bonding and Do I Have To Give Up Me To Be Loved By God?
"Gratitude is a superpower that, once fully embraced, is truly life changing. In Inspiration for a Woman's Soul: Opening to Gratitude & Grace, Linda Joy has compiled a beautiful collection of moving stories from women who have experienced the abundant powers of gratitude and grace, as they share how their lives have been changed. This is an important book that will inspire true transformation." - Kristi Ling, best-selling author of Operation Happiness: The 3-Step Plan to Creating a Life of Lasting Joy, Abundant Energy, and Radical Bliss
"In Inspiration for a Woman's Soul: Opening to Gratitude & Grace, once again Linda Joy has brought together a moving and inspiring collection of stories from experts in the fields of health and wellness. This book is a feel-good gem of goodness to read to start the day, close out the night, or uplift you whenever you need it. Highly recommended " - Amy Leigh Mercree, best-selling author of A Little Bit of Chakras, The Spiritual Girl's Guide to Dating, and Joyful Living: 101 Ways to Transform Your Spirit and Revitalize Your Life