Inspiration for a Woman's Soul: Cultivating Joy (Paperback)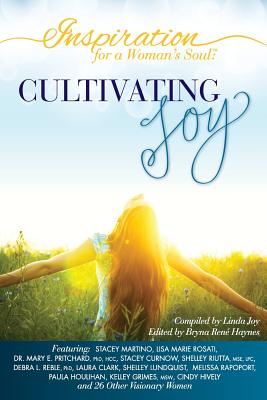 $16.97

Not Available In-Store - Usually Ships from Warehouse in 1-5 Days
Description
---
From the publisher behind the international best-selling phenomenon, Inspiration for a Woman's Soul: Choosing Happiness, as well as three other bestselling books, comes a brand new collection of thirty-eight original stories to make your heart smile and your soul soar In this powerful volume, publisher Linda Joy has gathered intimate stories from women who know what it means to live in joy, every day. These moving, heartfelt tales illustrate how authenticity, inner courage, and a deep belief in the power of choice guided each of these amazing women to create lives of peace, beauty, and abundant joy.
The three Reflection Questions after each story create a unique "active reading experience" which will empower you to dive deeply into your own joy creation process.
Like a beautiful, blooming rose, joy can be cultivated-day by day, hour by hour, moment by moment. These raw, honest stories from real women will prove to you that, no matter your past experience or current circumstances, joy is there in your life, too, just waiting for you to help it blossom.
Contributing authors for Cultivating Joy include: Lisa Marie Rosati, Stacey Martino, Stacey Curnow, Dr. Mary E. Pritchard, Ph.D., HHC, Laura Clark, Debra L. Reble, PhD, Shelley Lundquist, Shelley Riutta, MSE, LPC, Paula Houlihan, Melissa Rapoport, Kelley Grimes, MSW, Cindy Hively, Peggy Nolan, Felicia D'Haiti, Christine Malenda, MhD, Dr. Angela M. Joyner, Sheila Callaham, Marianne MacKenzie, Jill Celeste, MA, Kailean Welsh, MS, LPC, Zinnia Gupte, Jen Flick, Dr. Veronique Desaulniers, Martha Tassinari, Kim Lachapelle, Sara Turner, Casey Kerr, Pamela Henry, Jill E. Greinke, MSW, LCSW, SAC, Beth Marshall, Kellyann Schaefer, Patricia Young, Katie Mazzocco, Tina van Leuven, Maggie Chula, Paula Foster, Tiffany Kane, Mazie Zdanowich
Praise for Cultivating Joy:
"The sweet spot of your joy rests between the worst day of your life and the best day of your life. It is the e-ticket to your truth, your highest calling, and your authentic self. Cultivating Joy eloquently shares passages of spirited women authors' brave moments of tragedy to triumph. Linda Joy has an uncanny way of bringing poignant moments in our lives, gift-wrapped in her book, where you will discover the "how" to your true joy. - Jackie Ruka, America's Happyologist; author of the best-selling book, Get Happy and Create a Kick -Butt Life ; Founder of the GetHappyZone.com
"This collection of stories will ignite a new sense of wonder and awe, helping you reconnect to your best self with joy as your inspirational compass."-Shannon Kaiser, the Joy Guru and best-selling author of Adventures for Your Soul
"Cultivating Joy shares touching and triumphant stories from women of all ages. This book shows us that joy is available in every moment and situation if we only open our eyes and behold its beauty. Read this book and be uplifted." Amy Leigh Mercree, author of The Spiritual Girl's Guide to Dating: Your Enlightened Path to Love, Sex and Soul Mates
"With warmth, humor, and courage, the stories shared in Cultivating Joy will touch your heart and transform your life. No matter where you are on your journey, the deeply personal stories shared in this book will inspire you to invite more joy into your daily routine. Infinite love and gratitude to the extraordinary women who contributed their stories to Cultivating Joy."- Shann Vander Leek, Transformation Goddess, best-selling author, award-winning podcaster.