I Loved You More (Paperback)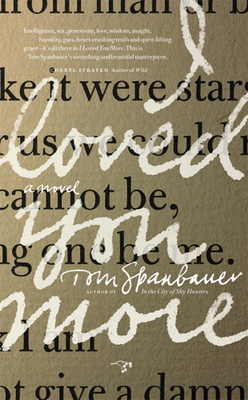 $18.95

Special Order - Subject to Availability
Staff Reviews
---
So many different ways we love. So unmanageable where love takes us. Grunewald is gay. His best friend, Hank, is straight. They both profess their love for each other, but does that love mean the same thing to both men? And when Ruth, a straight woman, enters their lives, how will her love for both men impact that relationship and her own life's story? Spanbauer deftly captures the small moments that can make or break a relationship, and deepen or shatter a love. The insecurities. The misunderstandings. The vulnerabilities. Words unspoken.. Regrets. Spanbauer lays them all bare in the most heartbreaking of ways. Yet the author also reminds us of the reasons we take those risks. He is a master of the lovely little moments that change our lives in the most miraculous of ways. Beautifully written, raw, and powerful. Gay or straight, if you have loved, you will find someone to connect with in this novel.  
—
Walt
I came to Tom Spanbauer through a long, and sometimes tumultuous, relationship with Chuck Palahniuk. I had no idea what to expect when I came to this book, but anything I could have imagined would have been wrong. I'll admit I was nervous going into this book because at its core it is about a love triangle. The difference between this and the typical love triangle portrayed in books and movies is that this particular love triangle feels organic; it is the product of time, and of the strange ways that life can bring people together and pull them apart. The characters feel alive, and more real than should be possible. This book opens with emotional force, and it never relents. Fans of Chuck Palahniuk will recognize the style, but the punch packed by Spanbauer's writing is more emotional, his prose lyrical and moving.
—
Kaitlyn
Description
---
Tom Spanbauer's first novel in seven years is a love story triangle akin to The Marriage Plot and Freedom, only with a gay main character who charms gays and straights alike. I Loved You More is a rich, expansive tale of love, sex, and heartbreak, covering twenty-five years in the life of a striving, emotionally wounded writer. In New York, Ben forms a bond of love with his macho friend and foil, Hank. Years later in Portland, a now ill Ben falls for Ruth, who provides the care and devotion he needs, though they cannot find true happiness together. Then Hank reappears and meets Ruth, and real trouble starts. Set against a world of struggling artists, the underground sex scene of New York in the 1980s, the drab, confining Idaho of Ben's youth, and many places in between, I Loved You More is the author's most complex and wise novel to date.
About the Author
---
Tom Spanbauer was born in a trunk in the Princess Theater in Pocatello, Idaho. Not really. The Princess Theater wasn t anymore by the time he came on the scene. He went to Catholic School until the eighth grade and then to Pocatello High School, then graduated from the newly finished Highland High. Five years at Idaho State University and he received a BA in English with a minor in German. In 1969 Tom went into the Peace Corps and he spent two years in Kenya, East Africa. Then came the 70s and the Married Years in Boise, Idaho. In 1978, Tom set himself free and moved to New England, then Key West, the finally settled in New York City for seven years. Tom, a survivor of AIDS, has lived and worked in Portland for fifteen years where he teaches Dangerous Writing. His novels include Faraway Places, The Man Who Fell In Love With The Moon, In The City of Shy Hunters, and Now Is The Hour."