Love Beyond Time: A Scottish, Time Travel Romance (Morna's Legacy #1) (Paperback)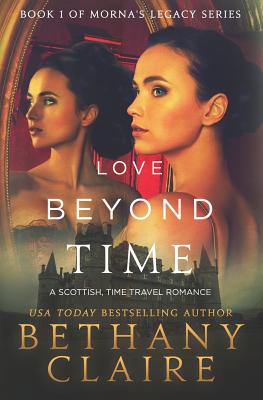 $14.99

Not Available In-Store - Usually Ships from Warehouse in 1-5 Days
Description
---
A hunky Scottish laird. A time-traveling teacher. A tragic history only she can prevent.

Schoolteacher Brielle "Bri" Montgomery wonders where all the good men have gone. They certainly don't waltz through her meticulous life in Texas. Venturing out of her comfort zone, she joins her archaeologist mother on a dig in Scotland... and finds herself transported 400 years into the past. Shocked and bewildered, Bri learns she's just moments away from marrying an impossibly sexy Scotsman...

Eoin Conall has no interest in wedding the woman who irritates him to no end. But with the promise to his dying father fresh in his mind, he ties the knot with his insufferable bride. To his surprise, something has changed about her. Something irresistible. Could he be falling for the wife he never wanted?

With the chiseled man of her dreams standing before her, Bri wishes she wasn't well aware of history's impending slaughter of Eoin and the entire Conall Clan. Unable to accept his gruesome fate, she sets out to rewrite history.

Will Bri and Eoin succeed in protecting their impossible romance or is their heartbreaking fate already sealed?
Read all the books in Morna's Legacy Series:
Love Beyond Time (Book 1)
Love Beyond Reason (Book 2)
A Conall Christmas - Novella (Book 2.5)
Love Beyond Hope (Book 3)
Love Beyond Measure (Book 4)
In Due Time - A Novella (Book 4.5)
Love Beyond Compare (Book 5)
Love Beyond Dreams (Book 6)
Love Beyond Belief (Book 7)
A McMillan Christmas - A Novella (Book 7.5)
Love Beyond Reach (Book 8)
Morna's Magic & Mistletoe - A Novella (Book 8.5)
Love Beyond Words (Book 9)
Love Beyond Wanting (Book 10)
The Haunting of Castle Dune (Book 10.5)
Love Beyond Destiny (Book 11)
About the Author
---
Bethany's love of storytelling has been a life-long passion. Even in her toddler years, she would sit down with anybody that would listen as she theatrically told them fairytales as if she was sharing life-saving information. As she grew, she began creating stories of her own, but convinced it would serve her best to follow a "conventional" career path, she tucked them away and went off to college. Fast forward four years and about six major changes later, she realized the stories simply were not going to stay tucked away. Six months away from graduating with a degree in Elementary Education, and growing more miserable with every day that brought her closer to a career she truly didn't want, she finally realized writing was the only career that was going to make her happy. So, one day in the middle of a summer education course, she got up in the middle of class and walked to the Registrar's office and withdrew from the university on the spot. Since then, she has devoted herself to writing full-time and is following her dreams. Bethany is the author of the Scottish, time-travel romance novels Morna's Legacy Series, which includes the novels, Love Beyond Hope, Love Beyond Reason, and her debut novel, Love Beyond Time. She lives in the Texas Panhandle.