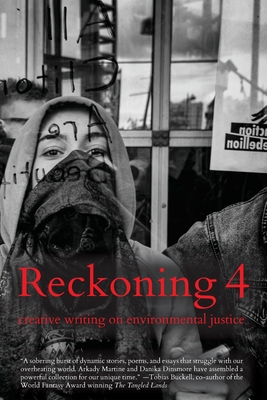 $15.00

Not Available In-Store - Usually Ships from Warehouse in 1-5 Days
Description
---
Our future isn't dried up yet, but its shape is not like you imagine.
Reckoning is a nonprofit, annual journal of creative writing on environmental justice. Reckoning 4, guest-edited by Danika Dinsmore and (the Hugo, Nebula and Locus Award nominated ) Arkady Martine, focuses on the challenges of urban environments.
"A sobering burst of dynamic stories, poems, and essays that struggle with our overheating world. Arkady Martine and Danika Dinsmore have assembled a powerful collection for our unique time." -Tobias Buckell, co-author (with Paolo Bacigalupi) of The Tangled Lands
Featuring poetry, essays, fiction and art by Arkady Martine, Leah Bobet, Jude Wetherell, Anna Kate Blair, Lissa Harris, Brigit A. Truex, E. M. Wright, Deborah L. Davitt, Wavery SM, Nicole Walker, Fran Wilde, Juliana Roth, Shikhandin, Emery Robin, Kaye Boesme, Rebecca Campbell, William Squirrell, Holly Hughes, Don Dussault, Noa Covo, Laurinda Lind, Geoffrey W. Cole, Tim Fab-Eme, Hal Y. Zhang, Alan Bao, Sydney Rossman-Reich, Commando Jugendstil and Didier Graves.