Inhuman Materiality in Gothic Media (Routledge Research in Cultural and Media Studies) (Paperback)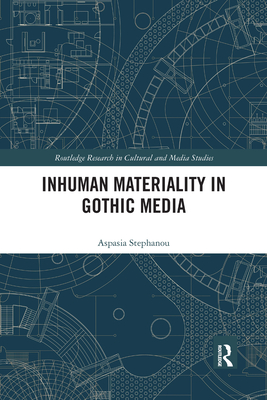 Description
---
This book examines the manifestations of materiality across different gothic media to show the inhuman at the heart of literature, film and contemporary media, outlining a philosophy of horror that deals with the horror of the nonhuman, the machine and the nonorganic.
The author explores how materiality lends itself ideally to discussions of gothic and horror and acts as a threat to attempts to control meaning which falls outside the realm of consciousness. It brings the two together by examining the manifestations of this materiality to focus on a form of horror that is concerned with the (in) human by reading blood as the conduit of an unnameable materiality that circulates through gothic media, seducing with its familiar mask of gothic aesthetics only to uncover the horror of a totally alienating and inhuman otherness. Film, media, popular culture, philosophy and nineteenth-century literature are brought together and juxtaposed to create a continuity of ideas, and highlighting differences. The book offers innovative readings of notions of blood inscription in different media, of the Dark Web, accelerationism and technoscience to account for the widespread haemophilia in contemporary culture.
This title is an essential read for researchers, undergraduate and postgraduate students in film studies, media studies, literature, philosophy, cultural theory and popular culture. Its interdisciplinary nature, clear exposition of thought and theoretical ideas will make it a key resource for both students and for general readers with an interest in contemporary horror, media and pop culture.
About the Author
---
Aspasia Stephanou is an independent scholar who has written extensively on the gothic, cultural theory and media. Her publications include Reading Vampire Gothic Through Blood: Bloodlines (Palgrave 2014), Glossator: Practice and Theory of the Commentary: Black Metal (2012) (with Steven Shakespeare, Ben Woodard and Eugene Thacker), and Transgression and Its Limits (co-edited, 2012).