Mine Waste Utilization (Hardcover)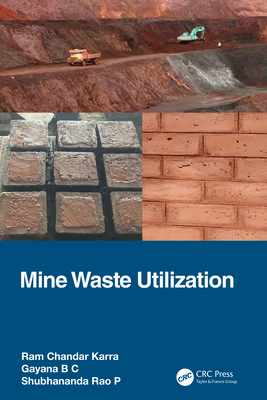 Description
---
This book is a comprehensive work on utilization of overburden waste, ash, tailings, and other processed waste produced by mining industry. It details various laboratory tests to identify the suitability of mine waste. It explains varied usage of different types of mine waste as in concrete pavements, bricks and to enhance fertile characteristics of waste lands. Various physico-mechanical properties of mine waste material and their optimum percentage for replacement with sand and coarse aggregate along with additives for optimum strength of concrete / bricks are discussed.
Key features:
Covers the technical approach in terms of testing and characterizing mine waste
Focusses on effective use of mining waste to make sustainable and ecofriendly mining
Presents analysis of physical properties of iron ore waste and their usage
Describes testing methods for each type of mine waste and its physical property characterization for every application
Includes detailed study to use iron ore waste and tailings in concrete pavements
This book is aimed at researchers, professionals and graduate students in mining, geotechnical, and civil engineering.
About the Author
---
Ram Chandar Karra holds B.Tech., M.Tech and Ph.D degrees in Mining Engineering, and he is presently working as Associate Professor of Mining Engineering at National Institute of Technology Karnataka (NITK) Surathkal (Govt. of India) and also served as Head of the Department. His areas of research expertise are rock blasting, slope stability & mine waste management. He has involved in 8 R&D projects, 115 Industry sponsored projects and published more than 100 research papers. He received 6 National awards and is a Fellow/member of more than 10 professional societies like ISRM, IE, ISTE, MGMI MEAI etc. He travelled USA, Australia, Japan, UAE, Singapore, Hongkong, Malaysia etc. Gayana B C has graduated in Civil Engineering, obtained her M.Tech degree in Transportation Engineering and did her Ph.D from National Institute of Technology Karnataka, Surathkal- India in the area of Mine Waste Utilization in Concrete Pavements. Dr. Gayana is a student member of International Society for Concrete Pavements (ISCP), American Society of Testing and Materials (ASTM) and American Concrete Institute (ACI).Shubhananda Rao. P is a Civil Engineer, obtained his M.Tech degree in Construction Technology & Management, and Ph.D in the area of Thermal Efficient Non-Fired Bricks using Iron Ore Tailings and Perlite from National Institute of Technology Karnataka, Surathkal- India.