Intergovernmental Relations: State and Local Challenges in the Twenty-First Century (Paperback)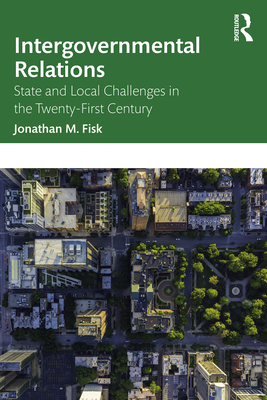 Description
---
Who governs? On the surface, such a question should be easy to answer by simply reading the law. Taking a deeper examination, it is one of the most hotly contested questions, often without a clear-cut answer. With recent controversies in the United States related to confederate monuments, transgender rights, and unconventional oil and gas development, for example, the answer is: it depends and is subject to change. Intergovernmental Relations: State and Local Challenges in the Twenty-First Century examines the sources behind state-local conflict to better understand where this critical intergovernmental relationship may be breaking down, and to ultimately identify solutions and policy tools that build upon the strengths of state and local governments, mitigate conflicts, and improve the quality of life for citizens.
Author Jonathan M. Fisk begins by defining the basic institutional structures and offices and addressing the intergovernmental legal environment. He then offers a framework for understanding possible sources behind state-local conflict, with a recognition that intergovernmental relationships have historical roots, are place-based, and dependent on context, before examining concrete issues that have become ensnared in intergovernmental conflict via case studies including environmental (plastic bags, climate change), social and constitutional (confederate statues, transgender bathrooms), and economic (living wage, affordable housing) to name a few. Each case study possesses its own history, intergovernmental actors, costs, benefits, opportunities, and challenges. Readers are asked to confront difficult questions about property and constitutional rights, intergenerational equity, economic growth, wage fairness, and local democracy. This book offers an ideal supplement for students enrolled in courses on public policy, federalism, state and local government, and public administration.
About the Author
---
Jonathan M. Fisk is an Associate Professor in the Department of Political Science at Auburn University, USA, where he teaches courses on public personnel management, environmental politics, ethics and leadership, local government, and federalism as well as being the Faculty Advisor to the Auburn student chapter of the International City and County Management Association. He is also the Chairperson for the American Society for Public Administration's Section on Environment and Natural Resource Administration. He is the author of The Fracking Debate: Intergovernmental Politics of the Oil and Gas Renaissance (Routledge, 2017) and his research has appeared in: American Review of Public Administration, State and Local Government Review, Society and Natural Resources, Politics and Policy, Energy Policy, Public Integrity, and Review of Policy Research.