Lawfare: New Trajectories in Law (Hardcover)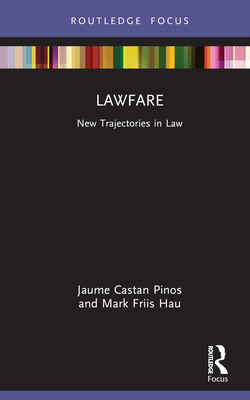 Description
---
This book develops a new conceptualisation of lawfare that recognises the polysemantic nature of the term.
Drawing on theoretical developments from legal anthropology, international relations, and social theory, the book scrutinises the multiple dimensions of this phenomenon. It illustrates the multifaceted character of lawfare with a wide range of historical and contemporary cases from across the globe and analyses the implications of actors pursuing political objectives through legal means. This includes the use of lawfare by states as a legal instrument to accomplish geopolitical objectives, domestic lawfare, or the use of legal instruments to undermine internal opposition, and state lawfare used by governments to 'protect' the state from internal territorial-secessionist challenges. Finally, the book shows that lawfare is not exclusively a tool for hegemonic actors, as it can also be used by civil society actors that aim to uphold their rights through legal instruments in asymmetric lawfare.
This book contributes to new developments in lawfare without shying away from controversy, acknowledging its sometimes-brutal efficacy as well as its potential pitfalls. The book will appeal to scholars and students of law, international relations, political science, anthropology, and sociology.
About the Author
---
Jaume Castan Pinos is Associate Professor at the Department of Political Science and Public Management, University of Southern Denmark.Mark Friis Hau is a postdoctoral researcher at the Employment Relations Research Centre (FAOS) at the Department of Sociology at the University of Copenhagen, Denmark.