Los primeros cristianos: Un recuento bíblico e histórico (Paperback)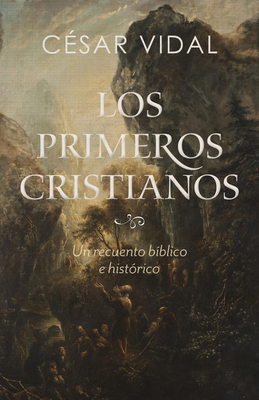 $16.99

Not Available In-Store - Usually Ships from Warehouse in 1-5 Days
Description
---
Continuando su obra biográfica, el autor Dr. César Vidal, nos invita a explorar la pregunta: «¿Cómo lucía el cristianismo en la iglesia primitiva?». Esta pregunta ha sido abordada con mucho escepticismo a lo largo de los años, ya que muchos han argumentado que los recuentos de la iglesia primitiva son, en el mejor de los casos, ficción.

Con estilo elocuente y persuasivo, César Vidal será tu guía a través de datos bíblicos y fuentes confiables para demostrar la certeza y carácter del testimonio de aquellos que conocieron personalmente a Jesús.

The First Christians

Continuing his biographical work, the author Dr. César. Vidal, invites us to explore the question «what was Christianity like in the early church?». This question has been met by much skepticism over the years, for many have argued that the accounts of the early church are at best fictional.

In his eloquent and persuasive style, César Vidal will serve as a tour guide through both biblical data and reliable sources to show the certainty and character of the eyewitness testimony of those who personally knew Jesus.
About the Author
---
César Vidal Manzanares nació en Madrid en 1958. Es locutor de radio, abogado y también historiador y autor. Es Doctor en Historia de la UNED, la universidad española más importante en números, donde fue tutor y profesor por 8 años. Tiene un doctorado en leyes de la Universidad Alfonso X, el Sabio y en Teología y Filosofía de la Universidad Logos, donde es miembro del la junta de directores. También es miembro del concilio ejecutivo del Instituto Interamericano por la democracia. Es miembro de la Academia Norteamericana de la Lengua Española desde el 2015. Ha sido colaborador de media para El mundo, Diario 16, Periódico de Aragón y La razón. Fue el conductor del programa radial La linterna de la cadena COPE desde el 2004 al 2009, y ese mismo año renunció a COPE para lanzar junto a Federico Jiménez Losantos una radio liberal llamada esRadio. En el 2013 abandonó ese proyecto también debido a diferencias con Jiménez Losantos. Desde el 2014 es el conductor del programa La voz, un programa transmitido desde los Estados Unidos que tiene una audiencia internacional de más de 600 mil personas.

César Vidal Manzanares, born 1958 in Madrid, is a Spanish radio host, lawyer turned historian and author. He is doctor in history from UNED, the most important Spanish University in numbers, where he was Professor-tutor during 8 years. His thesis received the Valedictorian Academic Award in 1991. He has a PhD in Law in University Alfonso X, El Sabio, in Theology and Philosophy by Logos University, where he is a member of the Board of Regents. He is also a member of the Executive Council of the Inter-american Institute for Democracy. He is also member of the Academia Norteamericana de la Lengua Española [North American Academy of the Spanish Language] since 2015. He has been collaborator of several media, as El Mundo, Diario 16, Periódico de Aragón and La Razón. He has hosted the radio show La Linterna [The Lantern] on Cadena COPE from 2004 to 2009. That year he quit COPE to launch with Federico Jiménez Losantos a liberal radio, esRadio. In 2013 he abandoned that project too, due to disagreements with Jiménez Losantos. Since 2014 he is the host of La Voz [The Voice], a radio program broadcast from U.S.A, that has an international daily audience of over 600.000.