The Children Act (Paperback)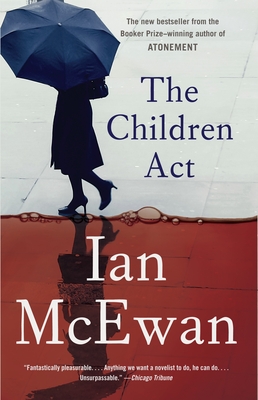 $15.95
Not Available In-Store - Usually Ships from Warehouse in 1-5 Days
Staff Reviews
---
Four of us read this at the beach this year and all loved it. McEwan's prose is exquisite — not a wasted word and some paragraphs so beautifully written you want to read them out loud to a friend. The story centers around a family law judge who makes life and death decisions in her professional life and whose own family life is in crisis. She is forced to decide if an underage boy should be forced to receive medical help against the wishes of his parents and church. In making the decision, she must also confront her own emotional issues and life choices.
—
GAYLE'S STAFF PICKS
Description
---
Now a Major Motion Picture starring Emma Thompson, Stanley Tucci, and Fionn Whitehead. 

One of the Best Books of the Year: The Washington Post, NPR, Vogue, BookRiot

Fiona Maye is a leading High Court judge who presides over cases in the family division. She is renowned for her fierce intelligence, exactitude, and sensitivity. But her professional success belies private sorrow and domestic strife. There is the lingering regret of her childlessness, and now her marriage of thirty years is in crisis.

At the same time, she is called on to try an urgent case: Adam, a beautiful seventeen-year-old boy, is refusing for religious reasons the medical treatment that could save his life, and his devout parents echo his wishes. Time is running out. Should the secular court overrule sincerely expressed faith? In the course of reaching a decision, Fiona visits Adam in the hospital—an encounter that stirs long-buried feelings in her and powerful new emotions in the boy. Her judgment has momentous consequences for them both.
About the Author
---
IAN McEWAN is the bestselling author of fifteen books, including the novels Sweet Tooth; Solar, winner of the Bollinger Everyman Wodehouse Prize; On Chesil Beach; Saturday; Atonement, winner of the National Book Critics Circle Award and the W. H. Smith Literary Award; The Comfort of Strangers and Black Dogs, both short-listed for the Booker Prize; Amsterdam, winner of the Booker Prize; and The Child in Time, winner of the Whitbread Award; as well as the story collections First Love, Last Rites, winner of the Somerset Maugham Award, and In Between the Sheets.
Praise For…
---
"Fantastically pleasurable. . . . Anything we want a novelist to do, he can do. . . . Unsurpassable." —Chicago Tribune

"A svelte novel as crisp and spotless as a priest's collar. . . . Another notable volume from one of the finest writers alive." —The Washington Post

"Masterful. . . . Begins with the briskness of a legal brief written by a brilliant mind, and concludes with a gracefulness found in the work of few other writers." —Meg Wolitzer, NPR
 
"Powerful. . . . Convincingly presents a complex woman in all her nuances. . . . A paragon becomes all too human in this aching tale." —New York Daily News

"The first thing to do about Ian McEwan is stipulate his mastery. Anything we want a novelist to do, he can do, has done. His books are fantastically pleasurable. Their plots click forward, the characters lifted into real being by his gliding, edgeless, observant, devastating prose—his faultless prose. . . . Every novelistic mode is at his command, from the dark fabulism of The Child in Time to the vibrant sweep of Atonement to the modest but beautiful realism of his more recent work, On Chesil Beach, Saturday, Solar." —Chicago Tribune

 "Highly subtle and page-turningly dramatic. . . . Only a master could manage, in barely over 200 pages, to engage so many ideas, leaving nothing neatly answered." —The Boston Globe

"It's a joy to welcome The Children Act. . . . [The novel's] sense of life-and-death urgency never wavers. . . . Profound. . . . You would have to go back to Saturday or Atonement to find scenes of equivalent intensity and emotional investment." —The Wall Street Journal

"McEwan here crafts a taut morality tale in crystalline sentences." —O, The Oprah Magazine

"A quietly exhilarating book. . . . Reveals an uncanny genius for plucking a resonant subject from the pages of lifestyle journalism and teasing it out into full scenes and then pressing them hard for their larger, enduring meanings." —Los Angeles Times

 "Powerful. . . . Heartbreaking and profound. . . . Skillfully juxtaposes the dilemmas of ordinary life and tabloid-ready controversy." —People

"Smart and elegant. . . . Reminds us just how messy life can be and how the justice system, despite the best of intentions and the best of minds, doesn't always deliver justice." —USA Today

"A finely written, engaging read. . . . Poignant, challenging, and lyrical." —The Huffington Post

"Haunting. . . . [A] brief but substantial addition to the author's oeuvre." —Entertainment Weekly, A-

"One of the most extraordinary, powerful, moving reading experiences of my life. . . . An utterly remarkable novel, delicately balanced, perfectly crafted, beautifully written." —Alberto Manguel, author of A History of Reading

"Captivating. . . . Achingly romantic. . . . Entertain[s] some messy dualities: the limits of the law and the expansiveness of humanity, youth and age, guilt and innocence, the confines of religion and the boundlessness of free thought." —The Houston Chronicle

"Fascinatingly complex and finally heartbreaking. . . . A quite beautiful work of fiction." —The Times (London)
"Masterly. . . . As one begins an Ian McEwan novel—this is his 13th—one feels an immediate pleasure in returning to prose of uncommon clarity, unshowiness and control. . . . The best novel he has written since On Chesil Beach." —The Guardian (London)

"As ever, McEwan achieves the rich, fine-grained realistic texture that makes his novels, sentence by sentence, a pleasure to read." —The London Review of Books

"Swift and compelling, asking to be read in a single sitting. . . . So skillfully composed and fluently performed, it's a pleasure from start to finish, one not to be interrupted.' —Evening Standard (London)