Who We Are and How We Got Here: Ancient DNA and the New Science of the Human Past (Paperback)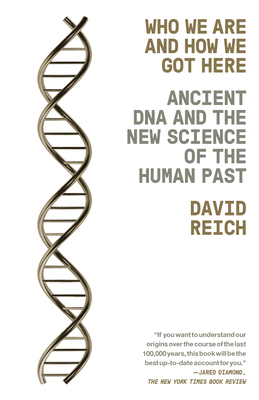 $18.00

Not Available In-Store - Usually Ships from Warehouse in 1-5 Days
Description
---
A groundbreaking book about how ancient DNA has profoundly changed our understanding of human history.
 
Geneticists like David Reich have made astounding advances in the field of genomics, which is proving to be as important as archeology, linguistics, and written records as a means to understand our ancestry. 
 
In Who We Are and How We Got Here, Reich allows readers to discover how the human genome provides not only all the information a human embryo needs to develop but also the hidden story of our species. Reich delves into how the genomic revolution is transforming our understanding of modern humans and how DNA studies reveal deep inequalities among different populations, between the sexes, and among individuals. Provocatively, Reich's book suggests that there might very well be biological differences among human populations but that these differences are unlikely to conform to common stereotypes.
 
Drawing upon revolutionary findings and unparalleled scientific studies, Who We Are and How We Got Here is a captivating glimpse into humankind—where we came from and what that says about our lives today.
About the Author
---
DAVID REICH, Professor of Genetics at Harvard Medical School, and a Howard Hughes Medical Institute Investigator, is one of the world's leading pioneers in analyzing ancient human DNA. In a 2015 article in Nature, he was named one of ten people who matter in all of the sciences for his contribution to transforming ancient DNA data "from niche pursuit to industrial process." Awards he has received include the Newcomb Cleveland Prize from the American Association for the Advancement of Science and the Dan David Prize in the Archaeological and Natural Sciences for his computational discovery of intermixing between Neanderthals and Homo sapiens.
Praise For…
---
"Few subjects fascinate us as much as human origins. . . . If you want to understand our origins over the course of the last 100,000 years, this book will be the best up-to-date account for you."
—Jared Diamond, The New York Times Book Review

"The work in [Reich's] lab has reshaped our understanding of human prehistory. . . . He and his colleagues have shed light on the peopling of the planet and the spread of agriculture, among other momentous events."
—Carl Zimmer, The New York Times

"Reich documents an extraordinary moment in the history of science. . . . A potential political bombshell."
—The Wall Street Journal

"In Who We Are and How We Got Here: Ancient DNA and the New Science of the Human Past, David Reich . . . introduces us to the 21st-century Rosetta Stone: ancient DNA, which will do more for our understanding of prehistory than radiocarbon dating did. . . . Who We Are and How We Got Here is less than 300 pages of text, but it is packed with startling facts and novel revelations that overturn the conventional expectations of both science and common sense."
—The National Review

"An excerpt from David Reich's new book, Who We Are and How We Got Here: Ancient DNA and the New Science of the Human Past, recently touched off a media and cultural firestorm in the United States. Appearing as an op-ed in The New York Times, 'How Genetics is Changing Our Understanding of "Race"', it had Reich stating that he is 'worried that well-meaning people who deny the possibility of substantial biological differences among human populations are digging themselves into an indefensible position, one that will not survive the onslaught of science.' This was not unlike tossing a grenade into the public square. But perched at Harvard, as one of his generation's most eminent human population geneticists, Reich will move forward unscathed. The reason is simple: Who We Are . . . is mostly not a controversial book, but a wondrous one. It sheds light on the nascent field of ancient DNA, paleogenetics, which is exposing the human past by tracing population histories. Give a paleogeneticist a single genome, and they will unfurl the history of whole peoples."
—India Today

"Ancient DNA is rewriting human (and Neanderthal) history. The genomes of the long dead are turning up all sorts of unexpected and controversial findings. Who We Are and How We Got Here, charts the myriad ways the study of ancient DNA is lobbing bombs into the halls of established wisdom."
—The Atlantic

"A thrilling account of mapping humans through time and place. . . . Genomics and statistics have drawn back the curtain on the sort of sex and power struggles you'd expect in Game of Thrones. . . . We do need a non-loaded way to talk about genetic diversity and similarities in populations. This book goes some way to starting that conversation."
—Nature

"In this comprehensive and provocative book, David Reich exhumes and examines fundamental questions about our origin and future using powerful evidence from human genetics. What does 'race' mean in 2018? How alike and how unlike are we? What does identity mean? Reich's book is sobering and clear-eyed, and, in equal parts, thrilling and thought provoking. There were times that I had to stand up and clear my thoughts to continue reading this astonishing and important book."
—Siddhartha Mukherjee, Pulitzer Prize-winning author of The Emperor of All Maladies
 
"Reich's book reads like notes from the frontline of the 'Ancient DNA Revolution' with all the spellbinding drama and intrigue that come with such a huge transformation in our understanding of human history."
—Anne Wojcicki, CEO and Co-Founder of 23andMe

"In just five years, the study of ancient DNA has transformed our understanding of world prehistory. The geneticist David Reich, one of the pioneers in this field, here gives the brilliantly lucid first account of the resulting new view of human origins and of the later dispersals that went on to shape the modern world."
—Colin Renfrew, Disney Professor of Archeology Emeritus, University of Cambridge
 
"Reich's magisterial book gives a riveting account of human prehistory and history through the new lens provided by ancient DNA data. The story of human populations, as he shows, is ever one of widespread and repeated mixing, debunking the fiction of 'pure' populations."
—Molly Przeworski, Professor of Biological Sciences, Columbia University
 
"This breathtaking book dramatically revises our understanding of the deep history of our species in our African homeland and beyond. Beautifully written, it reads like a detective novel and demonstrates a hard truth that often makes many of us uncomfortable: not only are all human beings mixed, but our intuitive understanding of the evolution of the population structure of the world around us is not to be trusted."
—Henry Louis Gates Jr., University Professor, Harvard University, and Executive Producer of Finding Your Roots
 
"This absorbing book will blow you away with its rich and astounding account of where we came from and why that matters. Reich tells the surprising story of how humans got to every corner of the planet, which was revealed only after he and other scientists unlocked the secrets of ancient DNA. The courageous, compassionate, and highly personal climax will transform how you think about the meaning of ancestry and race."
—Daniel E. Lieberman, Professor of Human Evolutionary Biology, Harvard University, and author of The Story of the Human Body: Evolution, Health, and Disease
 
"Powerful writing and extraordinary insights animate this endlessly fascinating account, by a world scientific leader, of who we modern humans are and how our ancestors arrived in the diverse corners of the world. I could not put the book down."
—Robert Weinberg, Professor of Biology, Massachusetts Institute of Technology

"David Reich uses the power of modern genome analysis to show the fascinating complexity of human migration and history. By letting the data lead him, he treads a narrow path between racists and xenophobes on one side and left-wing ideologues on the other. Although many of his conclusions will be controversial, he starts a necessary conversation about what modern genome analysis can tell us about the variability of human populations."
—Sir Venki Ramakrishnan, Nobel Laureate and President of the Royal Society, London


[Praise from the UK]:

"Remarkable. . . . Spectacular. . . . In making constant new discoveries about humanity, Reich and his Harvard team are now plunging into uncharted academic waters. . . . Reich's influence in this field has been immense and the output of his department monumental. . .  . Thrilling in its clarity and its scope."
—The Guardian

"David Reich of Harvard Medical School is one of the leading lights in the field of ancient DNA. His team's work has cast a new perspective on human history, reconstructing the epic migrations and genetic exchanges that shaped the people of different regions worldwide."
—BBC

"This is a compendious book . . . its importance cannot be overstated and neither can some of its best stories." 
—Sunday Times

"Who We Are and How We Got Here provides a marvellous synthesis of the field." 
—Financial Times