The Moth Presents All These Wonders: True Stories About Facing the Unknown (Hardcover)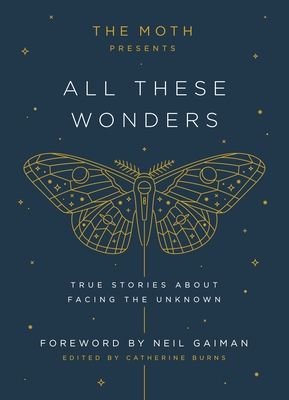 $25.00

Not Available In-Store - Usually Ships from Warehouse in 1-5 Days
Other Books in Series
This is book number 1 in the The Moth Presents series.
Staff Reviews
---
This is an incredibly moving collection of stories. The authors are all from different backgrounds and circumstances, and each story is as unique as the person telling it. There is a story about counseling a grieving family, and what children can teach us about grief and love. There is one story about being a teacher in North Korea, and one about stumbling into a job doing Bowie's hair during the Ziggy Stardust days. Each story, while different, has a sense of wonder about it, one that makes you sit and reflect, and perhaps ponder all of the wonders you yourself have encountered in this life. — From Amy's Picks (page 3)
Description
---
"Wonderful." —Michiko Kakutani, New York Times

Celebrating the 20th anniversary of storytelling phenomenon The Moth, 45 unforgettable true stories about risk, courage, and facing the unknown, drawn from the best ever told on their stages

Carefully selected by the creative minds at The Moth, and adapted to the page to preserve the raw energy of live storytelling, All These Wonders features voices both familiar and new. Alongside Meg Wolitzer, John Turturro, Tig Notaro, and Hasan Minhaj, readers will encounter: an astronomer gazing at the surface of Pluto for the first time, an Afghan refugee learning how much her father sacrificed to save their family, a hip-hop star coming to terms with being a "one-hit wonder," a young female spy risking everything as part of Churchill's "secret army" during World War II, and more.

High-school student and neuroscientist alike, the storytellers share their ventures into uncharted territory—and how their lives were changed indelibly by what they discovered there. With passion, and humor, they encourage us all to be more open, vulnerable, and alive.
About the Author
---
THE MOTH is an acclaimed not-for-profit organization dedicated to the art and craft of storytelling. Inspired by friends telling stories on a small-town Georgia porch, The Moth garnered a cult following in New York City, and then rose to international acclaim with the wildly popular podcast and Peabody Award–winning weekly public radio show The Moth Radio Hour (produced by Jay Allison and presented by PRX.) The Moth is a celebration of both the raconteur, who breathes fire into true tales of ordinary life, and the storytelling novice, who has lived through something extraordinary and yearns to share it. At the center of each performance is the story, and The Moth's directors work with each storyteller to find, shape, and present it. Since its launch in 1997, The Moth has presented tens of thousands of stories, told live and without notes, to standing-room-only crowds worldwide. The Moth received a 2012 MacArthur Award for Creative and Effective Institutions, and The Moth: 50 True Stories (Hachette) was an international best seller. themoth.org
Praise For…
---
NATIONAL BESTSELLER

"Some [stories] are heartbreakingly sad; some laugh-out-loud funny; some momentous and tragic; almost all of them resonant or surprising. They are stories that attest to the startling varieties and travails of human experience, and the shared threads of love, loss, fear and kindness that connect us."
—Michiko Kakutani, New York Times

"All These Wonders is replete with wondrous true stories of loves, losses, rerouted dreams, and existential crises of nearly every unsugarcoated flavor."
—Maria Popova, Brain Pickings

"[The Moth] has this indescribable energy that comes with people allowing themselves to be honest without fear. Translated to the page, this book…really becomes an incredible syllabus of vulnerability, one that invites you to cherry pick and re-read stories as you need them."
—Goop (16 Great Reads for the Summer)

"All These Wonders is a compelling read, by turns uplifting, heartbreaking, and ultimately redemptive. If there is a real hero of the book, it is surely the human spirit, which, time and again, transcends whatever life throws at it."
—Daily Mail

"The stories are gripping, insightful, addictive.... [It's] hard not to laugh, cry, or be a little moved by each one."
—Toronto Star

"All These Wonders is divided into seven expertly curated chapters. The effect is an anthology of seven Mainstage shows, averaging six stories per show. Each juxtaposes sensational stories by famous names...with those by relatively unknown storytellers, whose narratives, quite often, deliver the biggest emotional punches."
—Megan Labrise, Kirkus Reviews

"All These Wonders is a journey through the mysteries of the unexpected.... Every tale is its own surprising glimpse into the human story."
—Mary Elizabeth Williams, Salon

"The Moth's 20-year retrospective contains all the hope, sadness, triumphs, and tribulations that have defined the pioneering live reading series since its modest debut in 1997.... Overall, the two decades of the Moth remain as entertaining and powerful off-stage as they were onstage." 
—Kirkus Reviews

"[The stories] are all arresting tales."
—Buffalo News (Editor's Choice)

"[The Moth is] New York's hottest and hippest literary ticket." 
—Wall Street Journal