El teorema Katherine: (An Abundance of Katherine--Spanish-language Edition) (Paperback)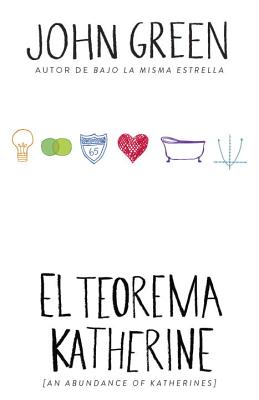 $12.95
Email or call for price.
Description
---
Según Colin Singleton existen dos tipos de personas: los que dejan y los que son dejados. Él, sin duda, pertenece al segundo. Su última ex, Katherine XIX, no es una reina, sino la Katherine número diecinueve, que le ha roto el corazón. Para escapar de su mal de amores, y con el propósito de hallar un teorema que explique la maldición de las Katherines, Colin emprende junto a su amigo Hassan una aventura que le llevará a Gutshot, un pueblecito de Tennessee, y a la sospecha de que en la vida la inteligencia no siempre es la mejor compañera de viaje.
John Green, el autor de Bajo la misma estrella, nos regala una historia tocada por la emoción de un road trip, en una trama que combina de forma magistral golpes de humor, brillantes reflexiones sobre el amor y diálogos cargados de vida.
About the Author
---
John Green nació en Indianápolis en 1977, y se graduó en Lengua y Literatura Inglesa y Teología de Kenyon College. Tras iniciar su carrera en el mundo editorial como crítico y editor, ha sido galardonado con el Premio de honor Printz y el Premio Edgar por sus diversas novelas para el público juvenil. Con su última novela ha demostrado su capacidad para emocionar a lectores de todas las edades y se ha convertido en uno de los autores más vendidos.
Praise For…
---
"Imagínate en un quirófano al empezar un complicado, pero ya perfeccionado procedimiento, y podrás figurarte el ambiente de El teorema Katherine: cada detalle considerado, la trama desarrollándose con gracia y inevitabilidad". —New York Times Book Review