Girl in Pieces (Library Binding)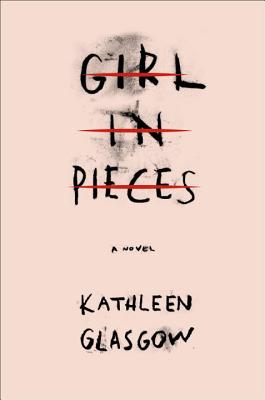 Description
---
Fans of Girl, Interrupted, Thirteen Reasons Why, and All the Bright Places will love the New York Times bestselling novel Girl in Pieces.

"A haunting, beautiful, and necessary book that will stay with you long after you've read the last page."—Nicola Yoon, #1 New York Times bestselling author of Everything, Everything
 
   Charlotte Davis is in pieces. At seventeen she's already lost more than most people do in a lifetime. But she's learned how to forget. The broken glass washes away the sorrow until there is nothing but calm. You don't have to think about your father and the river. Your best friend, who is gone forever. Or your mother, who has nothing left to give you.
   Every new scar hardens Charlie's heart just a little more, yet it still hurts so much. It hurts enough to not care anymore, which is sometimes what has to happen before you can find your way back from the edge.
  A deeply moving portrait of a girl in a world that owes her nothing, and has taken so much, and the journey she undergoes to put herself back together. Kathleen Glasgow's debut is heartbreakingly real and unflinchingly honest. It's a story you won't be able to look away from.

"Girl, Interrupted meets  Speak."—Refinery29.com
 
"A dark yet powerful read."—PasteMagazine.com
 
"One of the most affecting novels we have read."—Goop.com
 
"Breathtaking and beautifully written."—Bustle
 
"Intimate and gritty."—The Irish Times

And don't miss Kathleen Glasgow's newest novel How to Make Friends with the Dark, on shelves spring 2019, about a girl who deals with love, loss, and learning to cope when you feel like you're surrounded by darkness.
About the Author
---
Kathleen Glasgow's debut novel is the New York Times bestseller Girl in Pieces. She lives and writes in Tucson, Arizona. To learn more about Kathleen and her writing go to her website, kathleenglasgowbooks.com, follow @kathglasgow on Twitter, or find @misskathleenglasgow on Instagram.
Praise For…
---
A New York Times Bestseller
An Amelia Bloomer Project Award Selection
A New York Public Library Best Book for Teens, 2016

"Girl, Interrupted meets Speak."—Refinery29.com
 
"A dark yet powerful read."—PasteMagazine.com
 
"One of the most affecting novels we have read."—Goop.com
 
"Breathtaking and beautifully written."—Bustle
 
"Intimate and gritty."—The Irish Times

"A haunting, beautiful, and necessary book that will stay with you long after you've read the last page." —Nicola Yoon, #1 New York Times bestselling author of Everything, Everything

"Equal parts keen-eyed empathy, stark candor, and terrible beauty. This book is why we read stories: to experience what it's like to survive the unsurvivable; to find light in the darkest night."-Jeff Zentner, author of The Serpent King

"Raw, visceral, and starkly beautiful, with writing that is at times transcendent in its brilliance. . . . An unforgettable story of trauma and resilience."--Kerry Kletter, author of The First Time She Drowned

"A breathtakingly written book about pain and hard-won healing . . . I want every girl to read Girl In Pieces."-Kara Thomas, author of The Darkest Corners

"A Girl, Interrupted for a new generation….The story of the mad girl is ultimately a story about being a girl in a mad world, how it breaks us into pieces and how we glue ourselves back together."—Melissa Febos, author of Whip Smart and Abandon Me 

"Girl In Pieces is like the friend you wish you had by your side for every hard choice and every time you've felt lost or alone. It's fearless and uncompromising, but overflowing with heart and wisdom."—Anthony Breznican, author of Brutal Youth.
 
"Dark, frank, and tender, Girl in Pieces keeps the reader electrified for its entire journey. You're so uncertain if Charlie will heal, so fully immersed in hoping she does."—Michelle Wildgen, author of Bread and Butter and You're Not You

"Girl in Pieces has the breath of life; every character in it is fully alive. Charlie Davis' complexities are drawn with great understanding and subtlety."-Charles Baxter, author of National Book Award finalist The Feast of Love

"Charlie Davis has been damaged and abused after several years of living on the streets, but she is fiercely resilient.  Though it will appeal to readers of Ellen Foster, Speak, and Girl, Interrupted, Girl in Pieces is an entirely original work, compulsively readable and deeply human."-Julie Schumacher, author the New York Times bestseller Dear Committee Members

"In this sharp and beautiful portrait of eighteen-year-old Charlie Davis, Kathleen Glasgow illuminates not only the anxiety of youth but the vulnerability and terror of life in general. What a shock it is to engage with such a sensitive, sad, rage-filled soul: Glasgow's rendering of experience and emotion is so succinct and honest that I kept catching my breath in recognition, and admiration for her sensibility and empathy which glows on every page. Girl in Pieces hurts my heart in the best way possible."-Amanda Coplin, author of the New York Times bestseller The Orchadist

"Charlie Davis' voice is diamond-beautiful and diamond-sharp which, when strung together by a delicious story and memorable characters, creates a rare and powerful read. Kathleen Glasgow's Girl in Pieces is a treasure of a novel."-Swati Avasthi, author of Split and Chasing Shadows

"Written with wit and authenticity, Girl in Pieces is an extraordinary coming-of-age story, an unsentimental and affecting tale of a girl who almost doesn't make it to adulthood. Glasgow has a terrific ear for dialogue and an enviable gift for creating vivid characters, and her narrator--eighteen-year-old Charlie Davis--brings a backstreet eloquence to bear on a wrenching subject. Wise, unflinching, and balm for the kind of heartbreak that can't ever be fully mended, Girl in Pieces is a very, very good novel."-Summer Wood, author of Arroyo and Raising Wrecker

★ "In Glasgow's riveting debut novel, readers are pulled close to Charlie's raw, authentic emotions as she strains to make a jagged path through her new life. Love and trust prove difficult, and Charlie's judgment is not well honed, but her will to survive is glorious."—Booklist, Starred review

★ "[Readers] will find themselves driven to see Charlie's story through. They will better understand a world that often makes no sense to outsiders. Glasgow's debut novel is a dark read, but the engaging writing will win an audience for [Glasgow]."-VOYA, Starred review

"Heartbreaking and thick with emotion,...[Girl in Pieces is] for avid fans of Jennifer Niven's All the Bright Places or Susanna Kaysen's Girl Interrupted."-SLJ