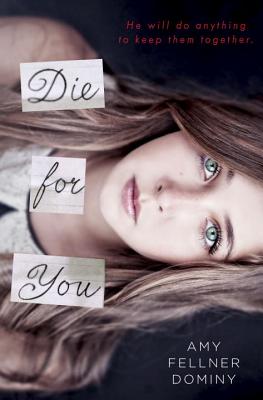 $17.99

Special Order - Subject to Availability
Staff Reviews
---
With Die for You, Amy Dominy has entered a small but necessary world, that of authors who write about subjects some consider taboo. She manages to take on abusive relationships and mental illness with a level of grace and aplomb that is sometimes lacking in other literature.
This is the type of book that will change lives. Maybe not thousands or even hundreds but one day someone in a situation similar to Emma will read it and make a connection; and it will change them for the better. And I think that makes everything worth it.
 
—
Faith
Preorder Die For You and receive a signed copy as well as a cute necklace (while supplies last). More Info
Description
---
Not everything is as perfect as it seems in this dark romance by A Matter of Heart author, Amy Dominy. 

Theirs was the perfect love story.
 
After Emma Lorde's parents' divorce forces her to move halfway across the state of Arizona to live with her father, Emma must face her senior year in a new school knowing absolutely no one.
         Then she meets Dillon Hobbs and something just clicks.
         Dillon introduces Emma to friends she can call her own. He provides a refuge from the chaos of her past and the security of a commitment that he promises will last forever. And because circumstances of her messy life forced Emma to put aside her dream of pursuing archaeology, Dillon creates a blueprint for a future together.
He saves her, over and over, by loving her more than she thought anyone ever would.
But just when everything seems picture-perfect, Emma is offered an opportunity that will upend the future they've planned. Uncertainty grows, and fear spirals into something darker.
         Now Dillon is the one who needs saving.
         But how much do you sacrifice for the one you love? What if saving Dillon means losing herself?  


"In this delicate, tense exploration of teenage relationship abuse, both the slow progression of Dillon's illness and Emma's refusal to see the signs until it is nearly too late ring true. The violence is handled sensitively, and readers are left hopeful for Emma's recovery. A perceptive portrait of relationship abuse."--Kirkus Reviews 

"This taut thriller unrolls hidden messages of abusive relationships with a sharp edge and well-drawn gray areas, leaving readers on the edge of their seats."--Booklist 

"With a fresh voice, Dominy adeptly depicts how love can grow dark and that abuse isn't always physical."--SLJ


About the Author
---
Amy Fellner Dominy is a former advertising copywriter, playwright, and hula-hoop champion. Her previous novels for tweens and teens include A Matter of Heart; OyMG, a Sydney Taylor Notable Book; and Audition & Subtraction. Amy lives with her husband and various pets in Phoenix. Visit her online at amydominy.com. Follow Amy on Facebook and Twitter.