Thus Bad Begins: A novel (Hardcover)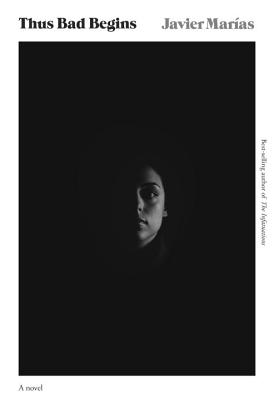 $27.95

Special Order - Subject to Availability
Staff Reviews
---
Sometimes I'll read a novel not written by Javier Marias and think, "ugh, what's the point?" Nothing really compares to one of his stories, except perhaps, another Marias' story. It's a bit like a game of chess -- the pieces are always the same but the combinations are endless, inventive and continuously entertaining. This new work has all the classic Marias' tropes: the long, musing sentences, the odd historical facts, a central character named Luisa or Beatriz, lots of intrigue, and always with the shadow of the Spanish Civil War in the background. Fans of Elena Ferrante and Roberto Bolano should love this latest masterpiece by one the world's best living writers!
—
Jeremy
Description
---
**Named a Best Book of the Year by the Boston Globe and Los Angeles Times**

From the internationally acclaimed author of The Infatuations comes the mesmerizing story of a couple living in the shadow of a mysterious, unhappy history--a novel about the cruel, tender punishments we exact on those we love.

Madrid, 1980. Juan de Vere, nearly finished with his university degree, takes a job as personal assistant to Eduardo Muriel, an eccentric, once-successful film director. Urbane, discreet, irreproachable, Muriel is an irresistible idol to the young man. But Muriel's voluptuous wife, Beatriz, inhabits their home like an unwanted ghost; and on the periphery of their lives is Dr. Jorge Van Vechten, a family friend implicated in unsavory rumors that Muriel now asks Juan to investigate. As Juan draws closer to the truth, he uncovers only more questions. What is at the root of Muriel's hostility toward his wife? How did Beatriz meet Van Vechten? What happened during the war? Marías leads us deep into the intrigues of these characters, through a daring exploration of rancor, suspicion, loyalty, trust, and the infinitely permeable boundaries between the deceptions perpetrated on us by others and those we inflict upon ourselves.
About the Author
---
JAVIER MARÍAS was born in Madrid in 1951. The recipient of numerous prizes, including the International IMPAC Dublin Literary Award and the Prix Femina Étranger, he has written fourteen novels, three story collections, and twenty works of collected articles and essays. His books have been translated into forty-three languages, in fifty-five countries, and have sold more than eight million copies throughout the world.

Translated from the Spanish by Margaret Jull Costa.
Praise For…
---
*Named the #1 Best Book of the Year in Spain by El País*

"As a literary mystery, Thus Bad Begins calls to mind Paul Auster, Donna Tartt, and Carlos Ruiz Zafón; purely as literature, it feels like an heir to the searching human nuance of the novels of Gabriel García Márquez . . . Javier Marías is the real deal . . . Mesmerizing." —USA Today

"The book that defines Marías's oeuvre as one of Spain's most celebrated contemporary writers . . . Marías creates a symphony." —Boston Globe

"A demonstration of what fiction at its best can achieve." —Hari Kunzru, The Guardian 

"A major work from a global talent, Thus Bad Begins knits Hitchcockian suspense into a hypnotic tale crackling with erotic tension and political strife." —Minneapolis Star-Tribune 

"Erudite, strange, hypnotic, and beautiful . . . One reads Javier Marías for his ability to make the smallest parts of the world come alive . . . I found myself most loving the book for its pages of brilliant observations, its musings and its suspenseful elegant voice . . . I could not put it down." —Los Angeles Times
 
"'Rear Window' in Madrid . . . Thus Bad Begins delivers all of Marías's trademark qualities—chewy philosophical meditation, prose of fastidious elegance, and the suspense of an old-fashioned potboiler . . . It's now clear that Margaret Jull Costa and Javier Marías have forged one of the most fruitful author-translator partnerships in current literature." —Sam Sacks, Wall Street Journal

"Fascinating . . . Hypnotic . . . As de Vere and Muriel try to get to the heart of matters, they discover secrets they wish they hadn't . . . but the reader will devour every exquisitely wretched revelation." —TIME
 
"I read the final pages in full thrall of Marías's novelistic power . . . I was reminded too that Marías is a master of a kind of suspense that is rare in the modern novel." —Karan Mahajan, New York Times Book Review

"Marías is the leading light of a generation of Spanish novelists . . . Thus Bad Begins has lots to say about the political and social changes that have shaped Marías's outlook. It's also a kind of tragedy in comic form, or perhaps the other way round . . . Marías never seems seriously troubled by the long list of technical challenges he has to tackle to develop all this. With immense adroitness, he makes sure that Eduardo isn't simply a wronged husband or a vengeful sadist and keeps Beatriz from turning into a doormat, a hysteric, or a vamp, and thereby maintains the reader's sympathy for both." —Christopher Tayler, Harper's

"On the surface, the novel is part detective caper and part domestic drama. [But] Thus Bad Begins isn't merely a novel about specific characters and their specific scandals; rather, they are stand-ins for the universal . . . If novels can be calls to action, then this one is a clarion for open dialogue." —Village Voice 

"Javier Marías captures his nation's long-lasting trauma . . . In Madrid of 1980, the setting for Thus Bad Begins, an entire country finds itself at a crossroads . . . Each of Marías's characters must decide how much is worth forgiving and how much might be worth forgetting." —Washington Post

"Javier Marías has entered that rarefied space in which a writer becomes essential to society. He is a critical conscience who can express what philosophers and political scientists can't…. Thus Bad Begins is a novel, of course, but it could be perfectly read, too, as a beautiful, savage essay on hypocrisy." —Álvaro Enrigue, Publishers Weekly 
 
"Enticing and absolutely addictive . . . Marías is a writer of formidable skills and achievement." —Washington Times

"In highly respected Spanish novelist Marías's new work, we quickly see that political tensions have continued to reverberate [from the Spanish Civil War] . . . Marías reveals how insidiously oppression skews personal lives and relationships year after year." —Booklist

"Marías's marvelously idiosyncratic sentences achieve a dazzling textual equivalent of life's endless complexity. Another challenging, boundary-stretching work from Marías, complete with a jaw-dropping last-chapter revelation." —Kirkus Reviews (starred)

"Marías's latest resumes his trademark themes of the quest for truth and the haunting presence of Spain's civil war . . . It wallops audiences with some startling twists." —Library Journal

"A novel that teases, tantalises, entertains, and is easily as engrossing as anything he's written before . . . Marías manages to tread the tightrope between a very literary fiction and an absorbing plot; the book dangles the promise of dark, sexual secrets revealed, even as it draws you into a contemplation of the wrenching dilemmas that have shaped modern Spain." —Siobhan Murphy, The Times

"Marías is Spain's own modern-day Cervantes . . . His style is less showy than Umberto Eco's, and wittier and more playful than Elena Ferrante's." —Robert Collins, The Sunday Times
 
"A simply unputdownable psychological and erotic and political thriller." —Amanda Craig, BBC Radio 4 Saturday Review
 
"One of Marías's most enjoyable and accessible novels." —Luke Brown, Financial Times
 
"A ferociously addictive, troubling, seductive read . . . I was gripped by every word." —Emma Townshend, Independent on Sunday
 
"Hypnotic . . . There's a slow-building sense of Hitchcock in Vertigo mode that keeps us engaged." —Lee Langley, The Spectator
 
"Magnificent." —John Harding, Daily Mail
 
"Never less than seamlessly elegant . . . As brilliantly well conceived and emotionally profound as one has come to expect from this master." —Rosemary Goring, The Herald (Scotland)