The Heavenly Table (Paperback)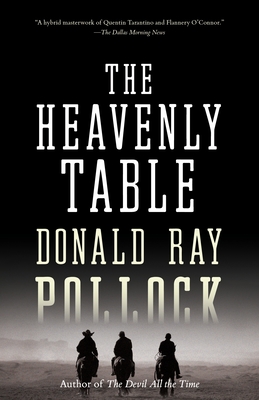 $16.95
Special Order - Subject to Availability
Staff Reviews
---
Three brothers, dirt poor, become an infamous bank robbing trio that is headed for Canada with their stolen money. That's the main plot, but many subplots thread their way through the novel, all coming together by the end. This is the work of a good writer maturing into a great one. The world is complete and every single character feels whole and authentic. It's a gritty tragedy in the southern Gothic style (though most of the novel takes place in Southern Ohio) that allows redemption and hope to still exist in a bleak and unforgiving world.
—
Danny
July 2016 Indie Next List
---
"After murdering the tyrannical owner of the land they farmed on the Georgia/Alabama border, three brothers make a desperate run for Canada and manage, along the way, to acquire national reputations as the kind of ruthless outlaws who are immortalized in dime store novels. This is a rollicking and ribald adventure story, populated with shady characters and told in vivid, sparkling prose reminiscent of Patrick DeWitt's The Sisters Brothers -- and there is hardly a higher compliment."
— Alden Graves (M), Northshire Bookstore, Manchester Center, VT
Description
---
In 1917, in that sliver of border land between Georgia and Alabama, Pearl Jewett ekes out an existence as a dispossessed farmer along with his three criminally-minded sons Cane, Cob, and Chimney. Hundreds of miles away, another farming family, the good-natured Fiddlers, have been swindled out of their family fortune while reeling from the disappearance of their son Eddie, who left to fight the Germans. When a crime spree sets the Jewetts on a collision course for the Fiddlers, an unlikely--and turbulent--relationship begins between the families. In the gothic tradition of Flannery O'Connor with a heavy dose of cinematic violence reminiscent of Quentin Tarantino, Donald Ray Pollock pens a bloody tale of dark and horrific conflict between two families in an era not so distant from today.
About the Author
---
DONALD RAY POLLOCK is the author of the novel The Devil All the Time and the story collection Knockemstiff, recipient of the 2009 PEN/Robert W. Bingham Fellowship. He worked as a laborer at the Mead Paper Mill in Chillicothe, Ohio, from 1973 to 2005. He holds an MFA from Ohio State University.
Praise For…
---
Praise for The Heavenly Table:

"Yes, The Heavenly Table is an old-fashioned yarn with a pretty predictable plot ─ but that's the point, and as with The Adventures of Huckleberry Finn (an obvious influence), it is also a riotous satire that takes on our hopeless faith in modernity, along with our endless capacity for cruelty and absurd pretension…As much as we'd like to take comfort in the thought that all of this happened far away and a century ago, the fact is that Pollock's funny, damning novel belongs, more than ever, to the country we live in now."
— Alexander Maksik, New York Times Book Review

"Like a hybrid masterwork of Quentin Tarantino and Flannery O'Connor, Donald Ray Pollock's second novel, The Heavenly Table, is a comic Southern Gothic romp, hell-bent on making the reader squirm and laugh, often at the same time...The literary feast the novel offers becomes its own heavenly table..."
— William J. Cobb, Dallas Morning News

"There's just no way to emerge unsullied and unscathed from Donald Ray Pollock's Southern Gothic outlaw tale The Heavenly Table. Readers venturing into this grim territory, out beyond Cormac McCarthy and Patrick DeWitt, in the bizarre vicinity of Harry Crews' manic intensity and the depraved noir of Jim Thompson, are apt to be startled and disturbed by what they witness, and not least of all by the sound of their own laughter...While some readers will feel that Pollock goes too far, others will find him very much in step with the times."
— David Wright, Seattle Times

"Pollock, the author of a previous novel, The Devil All The Time, and a collection of stories, has a rare gift of creating compelling characters that interact in a believable manner even in unbelievable circumstances. Heavenly, despite its dour premise, is a delight to read, absorbing and thought-provoking. As a historical novel, it reveals a world that is poised between the past and the present in meaningful ways."
— Jim Ewing, Jackson Clarion-Ledger
 
"The Heavenly Table disgorges a smorgasbord of horrors yet this reviewer could not stop laughing. Agony can be hilarious. This book is Donald Ray Pollock's masterpiece."
— Vick Mickunas, Dayton Daily News

"In its bloody, violent, terrible collisions, The Heavenly Table feels like Blood Meridian if Cormac McCarthy had been born with a streak of black humor in him rather than just terseness and rage. Or like an early, freaky Tom Robbins novel if Robbins had been a mean-hearted sadist to whom death (ugly, swift and meaningless) had been the only natural conclusion to every paragraph. It is a book that leaves a sheen of filth on you when you read it. Which makes you taste the road dust and pig's feet (and worse), and see some things that you can never un-see.
But by the end of it — by the time the curling paths of the Fiddlers and the Jewetts and a dozen-odd other random characters have twined together — it has also turned a smart and complicated corner, asking (without ever really asking) who are the bad men and who are the good?"
— Jason Sheehan, Npr.org

One of Amazon.com's 10 Best Books of July

"Like Mr. Pollock's 2011 "The Devil All the Time," this is a jauntily amoral, amusingly macabre and somewhat juvenile entertainment—a beach read to enjoy on the shore of a lake of fire." 
— Sam Sacks, Wall Street Journal

"To read this book, you'll need a strong stomach and may want a hot shower afterward, but you'll never forget Pollard's compelling characters." — Vicki Weisfeld, Christian Science Monitor

"The Heavenly Table succeeds in unifying a series of long and short narrative strands into a cohesive whole. Without sacrificing irony, [Pollock's] writing possesses a sincerity that has no time for late-postmodern gaming, and while remaining committed to realist conventions, his blue-collar sensibility distinguishes him from contemporary practitioners like Jonathan Franzen and Jeffrey Eugenides."
— Aaron Botwick,Open Letters Monthly

PW Picks: Book of the Week
"With furious prose and a Faulknerian eye for character, Pollock (The Devil All the Time) populates his second novel with dozens of memorable people who embody America's headlong leap toward the future in the early 20th century...Pollock knocks it out of the park."

One of Vol. 1 Brooklyn's Best Books of July

"In a dark yet redeeming Gothic story set in the farmlands of Georgia and Ohio in the early 1900s, the three Jewett brothers set out on a cross-country journey of crime and violence. Little do they know that fate has arranged for their paths to cross with a farmer and his wife who will change their trajectory."
—The Sacramento Bee


"With furious prose and a Faulknerian eye for character, Pollock (The Devil All the Time) populates his second novel with dozens of memorable people who embody America's headlong leap toward the future in the early 20th century.
 
In 1917, everything changes for the Jewett brothers—Cane, the capable one; Cob, the "slow" one; and Chimney, the hothead—upon their father's sudden ascension to the "heavenly table." With the exploits of their pulp fiction hero Bloody Bill Bucket fresh in their minds, the brothers embark on a violent journey north, escaping the backbreaking, fetid swamps on the Georgia-Alabama border and their lives under the thumb of sadistic landowner Maj. Thaddeus Tardweller. In southern Ohio, aging farmer Ellsworth Fiddler and his wife wait for their prodigal son to return home after a brief absence, during which he may or may not have enlisted in the United States Army to fight in Europe. Facing inexorable change—automobiles, airplanes, the machinery of war and agriculture—Ellsworth and others who frequent the local mercantile are "in agreement that the world now seemed head over heels in love with what tycoons and politicians kept referring to as 'progress.' " But the Fiddlers cannot fathom how their lives will be transformed when the Jewetts ride into town on a crime spree that has made them the most wanted men in the country.
 
Set against the backdrop of America's involvement in WWI and the rise of motorized and electrical technology, Pollock's gothic, relentless imagination seduces readers into a fertile time in America's history, exploring the chaos, wonder, violence, sexuality, and ambition of a nation on the cusp of modernity—and the outmoded notion of redemption in a world gone to hell."
—Publishers Weekly (starred)

"Donald Ray Pollock is a master-worker.  This great novel flows like buttermilk, so smooth and entertaining that you won't be ready for the left hook it delivers to your heart or its sophisticated moral analysis of human life.  Pollock has an omniscient eye like Gogol, taking in a vast scene while spinning tales within tales.  Readers will love him, writers will study him." 
 —Atticus Lish, author of Preparation for the Next Life

"The Heavenly Table is brilliant and unforgettable.  In his trademark blend of humor and pathos, Donald Ray Pollock gives us a view into life's darkest corners, without ever forgetting there is a lighter side as well."
 —Philipp Meyer, author of American Rust and The Son

"Think of The Heavenly Table as an antic, shambolic, guilty pleasure. Pollock's prose is compulsively readable and often very funny."
—Booklist

"A darkly comic gorefest by a gifted writer." 
—Kirkus

"In a crowded room full of voices, Don Pollock's voice is so distinct you'll hear first and won't ever, ever forget it. Nor will you want to. And the kicker is this: He somehow keeps getting better."
—Tom Franklin, author of Poachers and Crooked Letter, Crooked Letter
 
"The Heavenly Table is the latest and strongest evidence that Donald Ray Pollock is one of the most talented and original writers at work today. With uniquely vivid and graceful prose he renders a tale destined to linger in the reader's mind, a story by turns violent and darkly amusing, and always powerful. The novel is sure to be ranked among the year's best."
—Michael Koryta, New York Times-bestselling author of Those Who Wish Me Dead

"The Heavenly Table is a ferociously gothic ballad about desperate folks with improbable dreams and scant means. It is potent and chimeric, dank, violent, swamped in tragedy—and funny as hell."
—Daniel Woodrell, author of The Maid's Version and Winter's Bone