The Girl Who Takes an Eye for an Eye: A Lisbeth Salander novel, continuing Stieg Larsson's Millennium Series (Paperback)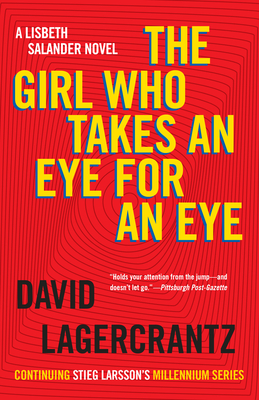 Staff Reviews
---
In this 2nd sequel to Stieg Larsson's Millennium Series, Lisbeth Salander and Mikael Blomkvist are once more at the center of well crafted fast-moving tale that is totally faithful to Larsson's original characters. Ultimately about revenge, it moves between nail-biter and tear-jerker with short excursions into financial market analysis and biogenetic research. Except for a scattering of sex and humor, there's never a pause in the action. It's also available in an audio version from Libro.fm, the independent choice for audiobooks.
—
Bob
Description
---
INSTANT NEW YORK TIMES BEST SELLER
 
Lisbeth Salander is serving time in Flodberga Prison. When a sadistic gang leader nicknamed Benito starts to torture Faria, a young Bangladeshi prisoner, Salander finds it impossible not to intervene. Now a target of Benito and her gang, Salander's time in prison is further complicated by news from her old guardian, who tells her she may have been a subject in a secret experiment known as the Registry. She enlists her friend Mikael Blomkvist, crusading editor of Millennium magazine, to help her look into it.

Once Salander is released, she devotes her time to uncovering the truth in the case that landed Faria in prison, and Blomkvist continues his search into Salander's background. But when the two cases start to dovetail, Salander and Blomkvist must join together to fight for justice and their lives.
About the Author
---
DAVID LAGERCRANTZ was born in 1962 and is an acclaimed author and journalist. He has written numerous biographies (including the internationally best-selling I Am Zlatan Ibrahimović, for which he was the ghostwriter) and four novels, including Fall of Man in Wilmslow and the #1 best-selling The Girl in the Spider's Web.
Praise For…
---
"Wonderful . . . It would be hard to imagine a sequel more faithful to its work of origin than this one. . . . Salander, though, emerges as the most dramatic, charismatic and effective investigator of them all: weak in social skills but unmatched in speaking blunt truth to corrupt power."
—Tom Nolan, The Wall Street Journal
 
"Engrossing . . . arresting . . . imbued with a grit and gumption that would make Larsson proud."
—Patrick Ryan, USA Today

"The enduring draw at the center of the Millennium series is that image of a strange and solitary young woman trying to even the score with all manner of bullies by dint of her brains and, when called for, some martial arts moves."
—Maureen Corrigan, The Washington Post
 
"Like The Girl in the Spider's Web, this book is a worthy successor to Larsson's trilogy. But, The Girl Who Takes an Eye also feels like a tipping point, in which Lagercrantz begins to march the saga in a direction all his own."
—Ed Swedlund, Paste magazine
 
"Somewhere, beyond the grave in the Great Hereafter, Stieg Larsson must be smiling. . . . Swedish journalist and author David Lagercrantz has produced a multilayered and even better thriller this time around in his second outing continuing Larsson's Millennium series, crafting an intricate web of intrigue. . . . Lagercrantz is a master."
—Jean Westmoore, The Buffalo News
 
"Hacker extraordinaire Lisbeth Salander and crusading journalist Mikael Blomkvist do social good as the thrills accelerate in The Girl Who Takes an Eye for an Eye. They're a winning couple."
—Carlo Wolff, Pittsburgh Post-Gazette
 
"Lagercrantz's excellent second contribution to Stieg Larsson's Millennium series [is a] complicated, fascinating mystery."
—Publisher's Weekly (starred review)
 
"Always satisfying . . . Lisbeth, as always, serves as an avenging angel who herself isn't the nicest of people."
—Kirkus Reviews
 
"The legacy of Lisbeth Salander lives on. . . . Lagercrantz succeeds in carefully staying true to the framework created by the late Stieg Larsson. . . . In this new world where everything is suspect, including proclaimed facts, it is the dragons that protect and avenge the downtrodden."
—Michael Ruzicka, Booklist (starred review)