Leaving Lucy Pear (Paperback)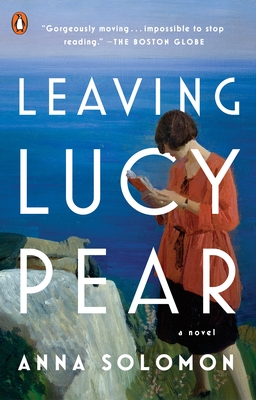 Staff Reviews
---
"Leaving Lucy Pear" is a beautiful tale, its talent nestled in every nook of this intricate, intimate, culturally and psychologically interesting tale. Solomon deftly and elegantly balances the story upon a period and characters that are fascinating, brilliantly crafting even what is unsaid. As I reached its final scene, I felt beyond profoundly satisfied, deeply moved. A tale that reads like a modern classic, and could very well become one.
 
—
Claudia
Description
---
"From the first page, I was under Anna Solomon's spell." --Sue Monk Kidd Chosen as a must-read book by TIME Magazine, InStyle, Good Housekeeping, The Millions, the Minneapolis Star Tribune, and BookPage Set in 1920s New England, the story of two women who are both mothers to the same unforgettable girl--a big, heartrending novel from award-winning writer Anna Solomon One night in 1917 Beatrice Haven sneaks out of her uncle's house on Cape Ann, Massachusetts, leaves her newborn baby at the foot of a pear tree, and watches as another woman claims the infant as her own. The unwed daughter of wealthy Jewish industrialists and a gifted pianist bound for Radcliffe, Bea plans to leave her shameful secret behind and make a fresh start. Ten years later, Prohibition is in full swing, post-WWI America is in the grips of rampant xenophobia, and Bea's hopes for her future remain unfulfilled. She returns to her uncle's house, seeking a refuge from her unhappiness. But she discovers far more when the rum-running manager of the local quarry inadvertently reunites her with Emma Murphy, the headstrong Irish Catholic woman who has been raising Bea's abandoned child--now a bright, bold, cross-dressing girl named Lucy Pear, with secrets of her own. In mesmerizing prose, award-winning author Anna Solomon weaves together an unforgettable group of characters as their lives collide on the New England coast. Set against one of America's most turbulent decades, Leaving Lucy Pear delves into questions of class, freedom, and the meaning of family, establishing Anna Solomon as one of our most captivating storytellers. "Anna Solomon writes with a poet's reverence for language and a novelist's ability to keep us turning the page. A gorgeous and engrossing meditation on motherhood, womanhood, and the sacrifices we make for love." --J. Courtney Sullivan
About the Author
---
Anna Solomon is the author of The Little Bride and a two-time winner of the Pushcart Prize. Her short fiction and essays have appeared in publications including The New York Times Magazine, One Story, Ploughshares, Slate, and MORE. Coeditor with Eleanor Henderson of Labor Day: True Birth Stories by Today's Best Women Writers, Solomon previously worked as a journalist for National Public Radio. She was born and raised in Gloucester, Massachusetts, and lives in Brooklyn, New York, with her husband and two children. From the Hardcover edition.