Extreme Measures: Finding a Better Path to the End of Life (Hardcover)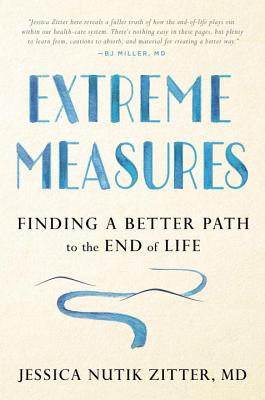 $27.00
Special Order - Subject to Availability
Staff Reviews
---
This is not an easy book to read, even for a former physician, yet most of us SHOULD read it. It discusses end of life issues from the point of view of an intensive care physician who has slowly become a specialist in palliative care as well. Many of us think we don't want to be placed on life support if our existence would always be dependent on it, but there are many ways for our wishes to end up being ignored, as the fascinating and heartbreaking cases in this book make clear. Physicians and patients alike need to understand the complexities standing in the way.
—
Georgeann
Description
---
For readers of Being Mortal and Modern Death, an ICU and Palliative Care specialist offers a framework for a better way to exit life that will change our medical culture at the deepest level


In medical school, no one teaches you how to let a patient die.

Jessica Zitter became a doctor because she wanted to be a hero. She elected to specialize in critical care—to become an ICU physician—and imagined herself swooping in to rescue patients from the brink of death. But then during her first code she found herself cracking the ribs of a patient so old and frail it was unimaginable he would ever come back to life. She began to question her choice.

Extreme Measures charts Zitter's journey from wanting to be one kind of hero to becoming another—a doctor who prioritizes the patient's values and preferences in an environment where the default choice is the extreme use of technology. In our current medical culture, the old and the ill are put on what she terms the End-of-Life  Conveyor belt. They are intubated, catheterized, and even shelved away in care facilities to suffer their final days alone, confused, and often in pain. In her work Zitter has learned what patients fear more than death itself: the prospect of dying badly. She builds bridges between patients and caregivers, formulates plans to allay patients' pain and anxiety, and enlists the support of loved ones so that life can end well, even beautifully.

Filled with rich patient stories that make a compelling medical narrative, Extreme Measures enlarges the national conversation as it thoughtfully and compassionately examines an experience that defines being human.
About the Author
---
Jessica Nutik Zitter, M.D., MPH, is an expert on the medical experience of death and dying. She attended Stanford University and Case Western Reserve Medical School, and completed her residency in internal medicine at the Brigham and Women's Hospital in Boston. She was a fellow in pulmonary and critical care medicine at the University of California San Francisco. Zitter is double-boarded in the two specialties of pulmonary/critical care medicine and palliative care medicine—a rare combination. She writes for The New York Times, The Huffington Post, Pacific Standard, The Atlantic, and Journal of Palliative Medicine, and is featured in Extremis, an Oscar-nominated Netflix documentary about end-of-life decision-making in an ICU.
Praise For…
---
"Like Atul Gawande's Being Mortal, Zitter's book shows how knowing when do to nothing is as vital to being a good doctor as knowing when do to everything."
—New York Times Book Review

"Jessica here reveals a fuller truth of how the end-of-life plays out within our healthcare system. There's nothing easy in these pages, but plenty to learn from, cautions to absorb, and material for creating a better way." 
—BJ Miller, MD, Assistant Clinical Professor of Medicine at UCSF

"Part memoir, part exposé, this book is an insider's view of intensive care in America and its impact on how we die, written by a physician uniquely positioned to examine end-of-life care. Dr. Jessica Zitter's wisdom derives from a career whose trajectory – she specializes in both ICU and palliative medicine – models a rethinking of care for the dying. Her book is a trenchant critique and a clarion call for end-of-life care that aligns with what each patient values most."
—Lucy Kalanithi, MD

"Dr. Zitter has pulled back the curtain on the needless suffering undergone by the dying in Intensive Care. Honest about her own uncertainties, mistakes and limitations, she spares no one, not even herself. The average person will learn much about the pitfalls of navigating the strange subculture of medicine close to the end of life."
—Katy Butler, author of Knocking on Heaven's Door: The Path to a Better Way of Death and A Good End of Life: a Practical Guide
 
"America's healthcare system inadvertently makes things worse for dying patients and their families. This situation calls for Extreme Measures – and this book is the remedy we need. Dr. Zitter's guidance is an elixir of medical sophistication, practical savvy, and timeless soulfulness.  She writes with the clinical mastery of an intensivist and the personal sensitivity of a trusted friend."
—Ira Byock, MD, author of The Best Care Possible
 
"Required reading for every young medical student and every family member wondering how to help the people they love live well to the end." 
—Ellen Goodman, founder of The Conversation Project
 
"With compassion, intelligence, and a rare expertise, Jessica Zitter shines a light on some of the most difficult issues we face in our lives." 
—Angelo Volandes, MD, author of The Conversation: A Revolutionary Plan for End-of-Life Care
 
"You wouldn't take a trip to a foreign country without learning as much as you could about its rituals, its culture, and its landscape. The ICU, a place many of us will pass through at least once in our lives, is as foreign as it gets.  Thus Dr. Zitter provides an essential illumination for her fellow humans."
—Diane E. Meier, MD.  Director, Center to Advance Palliative Care
 
"A stunning portrait of the ways decisions in the intensive care unit shape the way we live—and die—now.  Whether we live with illness, love someone who is facing these decisions, or care for them professionally, Dr. Zitter has written a call to action that none of us can ignore."
—Anthony Back MD, author of Mastering Communication with Seriously Ill Patients: Balancing Honesty with Empathy and Hope
 
"Extreme Measures provides a gripping and intimate tour of the experiences and dilemmas  physicians, patients and families  face dealing with terminal illness in the modern ICU. A tour de force for those seeking to better understand and improve care of patients and families at end of life."
—James Mittelberger MD, MPH, FACP, FAAHPM, Optum Director and Chief Medical Officer, Center for Palliative Care and Supportive Care

"Clarity and compassion unite in this touching and convincing new conversation on comfortable, patient-centered end-of-life care."
—Kirkus Reviews 
Coverage from NPR