The Interstellar Age: The Story of the NASA Men and Women Who Flew the Forty-Year Voyager Mission (Paperback)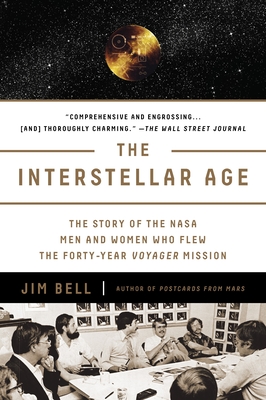 $17.00
Not Available In-Store - Usually Ships from Warehouse in 1-5 Days
Staff Reviews
---
Interstellar Age was such a fun, exciting read that I finished it in two sittings. Even though I knew the outcomes of these far-off space-traveling probes and their continuing journeys, I still found myself on the edge of my seat as events unfolded. A must read for those excited about where we have been and where we are going in the final frontier. The first I have read of Jim Bell, an Arizona State University astronomy professor, but it will not be the last.
—
Drew
Description
---
The story of the men and women who drove NASA's Voyager spacecraft mission—the farthest-flung emissaries of planet Earth—told by a scientist who was there from the beginning.

Voyager 1 left our solar system in 2012; its sister craft, Voyager 2, did so in 2018. The fantastic journey began in 1977, before the first episode of Cosmos aired. The mission was planned as a grand tour beyond the moon; beyond Mars, Jupiter, Saturn, Uranus and Neptune; and maybe even into interstellar space. The fact that it actually happened makes this humanity's greatest space mission.

In The Interstellar Age, award-winning planetary scientist Jim Bell reveals what drove and continues to drive the members of this extraordinary team, including Ed Stone, Voyager's chief scientist and the one-time head of NASA's Jet Propulsion Lab; Charley Kohlhase, an orbital dynamics engineer who helped to design many of the critical slingshot maneuvers around planets that enabled the Voyagers to travel so far; and the geologist whose Earth-bound experience would prove of little help in interpreting the strange new landscapes revealed in the Voyagers' astoundingly clear images of moons and planets.

Speeding through space at a mind-bending eleven miles a second, Voyager 1 and Voyager 2 are now beyond our solar system's planets, the first man-made objects to go interstellar. By the time Voyager passes its first star in about 40,000 years, the gold record on the spacecraft, containing various music and images including Chuck Berry's "Johnny B. Goode," will still be playable.

*An ALA Notable Book of 2015*
About the Author
---
Jim Bell is currently a professor in the School of Earth and Space Exploration at Arizona State University, an adjunct professor in the Department of Astronomy at Cornell University, and president of The Planetary Society. He and his teammates have received more than a dozen NASA Group Achievement Awards for work on space missions, and he was the recipient of the 2011 Carl Sagan Medal from the American Astronomical Society, for excellence in public communication in planetary sciences. He is a frequent contributor to popular astronomy and science magazines like Sky & Telescope, Astronomy, and Scientific American, and to radio shows and internet blogs about astronomy and space. He has appeared on television on the NBC Today show, on CNN's This American Morning, on the PBS NewsHour, and on the Discovery, National Geographic, Wall St. Journal, and History Channels. He is the author of Postcards from Mars.
Praise For…
---
Praise for The Interstellar Age

"Comprehensive and engrossing...charming."—The Wall Street Journal
 
"Is there any intelligent life out there in the cosmos? And if so, are they into Chuck Berry? Thanks to the Voyager space probes, launched in 1977, we may find out."—New York Post 

"Part memoir, part anecdotal history and part sermon on the delights of science, The Interstellar Age is a captivating read."—Nature

"A lucid account of the magnificent scientific accomplishments of the Voyager Missions with a cheerfulness that it deserves."—Publishers Weekly

"A highly enjoyable read for anyone with an interest in popular science."—Library Journal 

"In The Interstellar Age Professor Jim Bell celebrates Voyager—NASA's most famous space probe. In this task, Bell not only shines as a leading planetary scientist, you get the sneaky feeling he knew the probe personally, serving in this case as Voyager's personal biographer to the benefit of us all."—Neil deGrasse Tyson, Astrophysicist, host of Cosmos: A Spacetime Odyssey, author of Space Chronicles: Facing the Ultimate Frontier 

"Come along with Dr. Bell on an extraordinary adventure....These voyages changed what we know of the cosmos and our place within it. Jim Bell's story will change you, too."—Bill Nye, CEO, the Planetary Society

"The Interstellar Age is dawning and this book recounts the saga of humanity's greatest solar system exploration on the way out. Part scientific autobiography, part top-notch science writing, Jim Bell's book is a welcome addition to the history of the Voyager Missions."—Jon Lomberg, space artist, science journalist, and co-creator of the Voyager Interstellar Record

"Now that Voyager 1 has passed beyond the veil of the helioshere and plunged into interstellar space, Jim Bell takes up the narrative of what that mission has meant and makes his personal relationship, which dates from his days as a student, stand for the near-universal bond most of us feel. A timely, humane, and informative read."—Stephen Pyne, historian, and author of Voyager: Seeking New Worlds in the Third Great Age of Exploration

"The space mission that turned points of light into worlds...the Grandest Tour...Voyager...Live the incredible adventure in Jim Bell's personal yet sweeping and comprehensive account, the story of one of the greatest explorations in history and the extraordinary people who made it happen."— Andrew Chaikin, author of A Man on the Moon and A Passion for Mars

Praise for Postcards from Mars

"Postcards From Mars is a masterpiece. It promises the future for all of us."—Ray Bradbury, author of The Martian Chronicles and Fahrenheit 451
 
"Jim Bell has put together a beautiful, inspiring, and powerful book."—Dr. Buzz Aldrin, one of the two astronauts aboard the Apollo 11 lunar module, the first manned mission to land on the Moon