All Our Wrong Todays (Hardcover)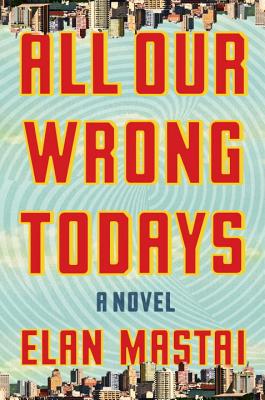 $26.00
Not Available In-Store - Usually Ships from Warehouse in 1-5 Days
Staff Reviews
---
Alternate realities, time travel, wit, what's not to love about this book? Tom Barren comes from a technological utopia. That is until he screws up reality by a time travel mistake and creates the reality we live in now. Thanks a lot Tom. Told in first person narrative directly to the reader, Tom gives a hilarious recap of his many mistakes and his bumbling attempts to make things right. Told in short chapters, you'll find yourself saying,"Just one more chapter," until you find that there are no chapters left. Not since the Hitchhiker's Guide to the Galaxy have I laughed so much. So, pick up a copy, read and enjoy!
—
Brandi
Description
---
One of Wall Street Journal's Best of 2017 "Entertainingly mixes thrills and humor."--Entertainment Weekly " An] amazing debut novel. . . . Dazzling and complex. . . . Fearlessly funny storytelling."--The Washington Post "Instantly engaging. . . . A timeless, if mind-bending, story about the journeys we take, populated by friends, family, lovers, and others, that show us who we might be, could be--and maybe never should be--that eventually leads us to who we are."--USA Today

Elan Mastai's acclaimed debut novel is a story of friendship and family, of unexpected journeys and alternate paths, and of love in its multitude of forms. It's 2016, and in Tom Barren's world, technology has solved all of humanity's problems--there's no war, no poverty, no under-ripe avocadoes. Unfortunately, Tom isn't happy. He's lost the girl of his dreams. And what do you do when you're heartbroken and have a time machine? Something stupid. Finding himself stranded in a terrible alternate reality--which we immediately recognize as our 2016--Tom is desperate to fix his mistake and go home. Right up until the moment he discovers wonderfully unexpected versions of his family, his career, and the woman who may just be the love of his life. Now Tom faces an impossible choice. Go back to his perfect but loveless life. Or stay in our messy reality with a soulmate by his side. His search for the answer takes him across continents and timelines in a quest to figure out, finally, who he really is and what his future--our future--is supposed to be. Filled with humor and heart and packed with insight, intelligence, and mind-bending invention, All Our Wrong Todays is a powerful and moving story of life, loss, and love.
About the Author
---
Elan Mastai was born in Vancouver and lives in Toronto with his wife and children. He is an award-winning screenwriter. This is his first novel.