Seven Simple Secrets: What the BEST Teachers Know and Do! (Eye on Education Books) (Paperback)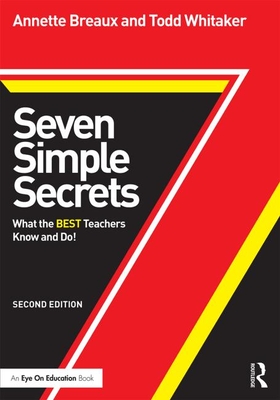 Description
---
Want to know a secret? Regardless of what classroom challenges, standards or initiatives you're faced with from year to year, there are seven keys to great teaching that never change--and that are often overlooked In this bestselling book, internationally-acclaimed authors Annette Breaux and Todd Whitaker reveal the seven simple secrets of effective teaching that can be applied in any classroom. Whether you're a new or experienced teacher, you'll gain valuable insights on improving instruction, classroom management, discipline, student motivation, and much, much more This updated Second Edition contains timely topics such as incorporating technology to enhance your lessons and using social media appropriately.
Special Features:
Easy-to-use format: The book is divided into seven secrets shared by highly effective teachers. Each secret is then divided into seven parts filled with practical information on why the secret matters and how to implement it effectively.
Reflection questions: At the end of each section, there are seven questions to help you determine whether you have mastered each secret.
Bonus lists: This special new section contains lists on the qualities of effective teaching and why these qualities matter. These lists can be copied and used during book studies, PLC meetings, or staff meetings to provoke thoughtful discussions and enhance teaching and learning.
Study guide: A study guide is available to help you extend your learning independently or with colleagues.
www.routledge.com/books/details/9781138783621
Companion website: For more inspiring, informative books from Todd and Annette, check out our special site, www.routledge.com/cw/breaux, going live this summer.
Throughout the book, you'll find practical examples and heartfelt advice to encourage you as you implement the seven secrets. As you improve your teaching, you profoundly influence the lives of those who matter most--your students
About the Author
---
Annette Breaux is an internationally-renowned speaker and bestselling author of numerous books on teaching, learning, and leading. She is best known for her work in the areas of classroom management and new-teacher induction.Todd Whitaker is a leading presenter in the field of education and the author of more than 30 books for teachers and school leaders. He is a professor of educational leadership at Indiana State University in Terre Haute, Indiana.