The Social Process of Lobbying: Cooperation or Collusion? (Routledge Research in American Politics and Governance) (Paperback)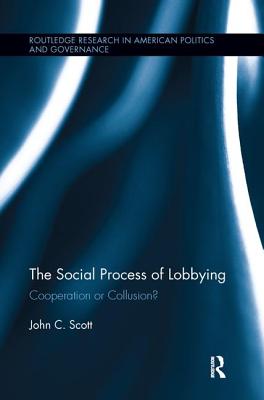 Description
---
Despite a wealth of theorizing and research about each concept, lobbying and norms still raise a number of interesting issues. Why do lobbyists and politicians engage in cooperative behavior? How does cooperative behavior in lobbying affect policy making? If democratic participation is good, why do we view lobbying as bad?
Lobbying engenders debate about its effects on the political process and on policy development. Sociologists and other social scientists remain concerned about how norms emerge, the content of norms, how widely they are distributed, and how they are enforced. Political scientists study how interest groups work together and influence the political process. Based on the experience of the author, a former lobbyist, this book looks at the social norms of lobbying and how such norms work in a general framework of other norms and legal institutions in the political process. In developing this argument, John C. Scott claims that:
Embedded social relationships and trust-based social norms underpin everyday interactions among policy actors.
These relationships and norms have concrete impacts on the policy making process.
Social relationships and norms inhibit participation in the political process by outside actors.
The investigation is conducted through an innovative theoretical framework, combining existing theoretical perspectives from different disciplines, and using a variety of data and methods, including longitudinal quantitative and social network data, interviews with lobbyists, activists, and policymakers, and anecdotal and historical examples.
The Social Process of Lobbying provides refreshingly new empirical evidence and theoretical analysis on how networks of trust are neither all good nor all bad but are ambivalent: they can both improve policy and fuel collusion.
About the Author
---
John Scott is an Assistant Professor of Public Policy at the University of North Carolina at Chapel Hill. His research interests include social network analysis of political and social phenomena as well as social policies related to aging populations.