Cress (The Lunar Chronicles #3) (Paperback)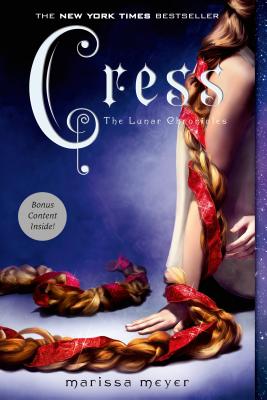 Other Books in Series
This is book number 3 in the The Lunar Chronicles series.
Staff Reviews
---
I've been addicted to Marissa Meyer's dystopian fairy tales since I first laid eyes on Cinder (in some cases you really can judge a book by the cover!) Now with Cress, Meyer continues Cinder's and Scarlet's stories and adds another—her fractured version of Rapunzel. Cress is an expert hacker and has been trapped in a satellite orbiting Earth and her native Lunar since she was a little girl. Now she is a teenager and ready to break free by whatever means necessary. She is the Damsel in Distress, now where is her Prince Charming? I couldn't put this down and, even though it is a hefty 500-odd pages, I wanted it to just keep going! Winter can't come fast enough!
—
Lauren's Staff Picks
Description
---
The third book in the #1 New York Times- and USA Today-Bestselling Lunar Chronicles series by Marissa Meyer! The evil space queen gives an imprisoned hacker orders to track down our cyborg heroine and her team of reimagined fairytale characters. Can the Rapunzel-like hacker break free and help them instead?
"An interesting mash up of fairy tales and science fiction . . . a cross between Cinderella, Terminator, and Star Wars."—Entertainment Weekly on the Lunar Chronicles
"Prince Charming among the cyborgs." —The Wall Street Journal on the Lunar Chronicles
Cinder and Captain Thorne are fugitives on the run, with Scarlet and Wolf in tow. Together they're plotting to overthrow Queen Levana and her army.
Their best hope lies with Cress, who has been trapped on a satellite since childhood with only her netscreens as company. All that screen time has made Cress an excellent hacker; unfortunately, she's just received orders from Levana to track down Cinder and her handsome accomplice.
When a daring rescue goes awry, the group is separated. Cress finally has her freedom, but it comes at a high price. Meanwhile, Queen Levana will let nothing stop her marriage to Emperor Kai. Cress, Scarlet, and Cinder may not have signed up to save the world, but they may be the only ones who can.
Find out what happens in another richly imagined adventure in Marissa Meyer's world of fairytale (with characters based off of Cinderella, Little Red Riding Hood and Rapunzel), science fiction, and intergalatic intruigue.
Don't miss these other books from #1 New York Times- and USA Today-Bestselling author Marissa Meyer:
The Lunar Chronicles:
Cinder
Scarlet
Cress
Winter
Stars Above
Fairest
The Lunar Chronicles Coloring Book
Wires and Nerve: Vol. 1
Wires and Nerve: Vol. 2
Renegades:
Renegades: Book One
Heartless
Praise for the Lunar Chronicles:
#1 New York Times-Bestselling Series
USA Today Bestseller
Publishers Weekly Bestseller
"Terrific." —Los Angeles Times
"Marissa Meyer rocks the fractured fairytalegenre." —The Seattle Times
"Epic awesome." —Bustle
"A binge-reading treat." —MTV
"Takes the classic to a whole new level." —NPR
About the Author
---
Marissa Meyer's first book in the Lunar Chronicles, Cinder, debuted on the New York Times bestseller list. Marissa lives in Tacoma, Washington, with her husband and their three cats.
Praise For…
---
Praise for the Lunar Chronicles:
#1 New York Times-BestsellingSeries
USA Today Bestseller
Publishers Weekly Bestseller

"An interesting mash up of fairy tales and science fiction . . . a cross between Cinderella, Terminator, and Star Wars." —Entertainment Weekly
"Prince Charming among the cyborgs." —The Wall Street Journal
"Terrific." —Los Angeles Times
"Marissa Meyer rocks the fractured fairytalegenre." —The Seattle Times
"Epic awesome." —Bustle
"A binge-reading treat." —MTV
"Takes the classic to a whole new level." —NPR
"Meyer continues to show off her storytelling prowess, keeping readers engaged in a wide cast of characters while unfolding a layered plot that involves warring governments and a fast-spreading plague." —Publishers Weekly, starred review for Cress
"Once again, Meyer offers up a science fiction fantasy page-turner that salutes women's intelligence and empowerment. . . . Old and new romances, unfinished story lines, and the prognostication of wartime horrors . . . ." —Booklist on Cress