Execution: Escape from Furnace 5 (Paperback)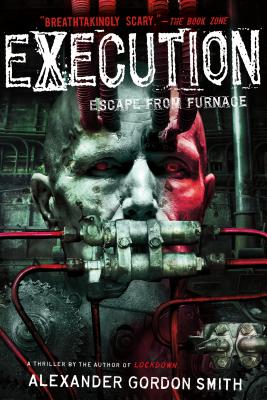 $13.99

Not Available In-Store - Usually Ships from Warehouse in 1-5 Days
Other Books in Series
This is book number 5 in the Escape from Furnace series.
Description
---
The explosive fifth and final book in the Escape from Furnace series features a shocking showdown!

Alex Sawyer has escaped his underground nightmare to discover the whole world has become a prison, and Alfred Furnace is its master. Monsters rule the streets, leaving nothing but murder in their wake. Those who do not die become slaves to Furnace's reign of cruelty.

Alex is a monster too. He is the only one who can stop Furnace but in doing so he could destroy everything. Is he the executed or the executioner? Who will die?

All Alex knows is that one way or another, it all ends now.

Execution is an Escape from Furnace book from Alexander Gordon Smith.

Praise for Death Sentence (Escape from Furnace Book 3):

"In this third installment of the Furnace series, Gordon-Smith has pulled out all the stops. It is a tour de force of action and adventure… Honestly, this reviewer could not put this book down, having thoroughly enjoyed all of the novels in this series, and will anxiously await the release of Fugitives: Escape from Furnace 4. . . . Please continue to wow us, Mr. Gordon Smith--your books are a pleasure to read." —VOYA

Praise for Solitary (Escape from Furnace Book 2):

"Fast paced and packed with nail-biting scenarios . . . This is a dark story with a dark ending, but the gritty action and compelling characters will have reluctant readers enthralled." —School Library Journal

"Once again, Smith has created a thrill ride that will leave the audience wanting more. Smith's prose is fast paced, witty, and sometimes downright terrifying. Some of the images he creates could manifest into a nightmare or two. Teens who are looking for a great thriller/horror story will definitely want to pick up these novels." —VOYA

"Adrenaline-fueled action infuses the narrative as it did in Lockdown (2009), keeping the pages turning. . . . The author knows what keeps his readers locked to the page and delivers it soundly." —Kirkus Reviews

"Breathlessly paced." --Booklist

Praise for Lockdown (Escape from Furnace Book 3):

"Fresh and ferocious, Lockdown will hook boys with its gritty, unrelenting surprises." —James Patterson

"Furnace is hotter than hell and twice as much fun! Sign me up for a life sentence of Alexander Gordon Smith!" —Darren Shan, author of the Demonata series

Also by Alexander Gordon Smith:

The Devil's Engine series
The Devil's Engine: Hellraisers (Book 1)
The Devil's Engine: Hellfighters (Book 2)
The Devil's Engine: Hellwalkers (Book 3)

The Fury

The Escape from Furnace series
Lockdown (Book 1)
Solitary (Book 2)
Death Sentence (Book 3)
Fugitives (Book 4)
Execution (Book 5)
About the Author
---
Alexander Gordon Smith lives in Norwich, England. "The Stephen King of YA horror," he is the author of The Fury; The Inventors; the Escape from Furnace series, which has sold nearly half-a-million copies; and the Devil's Engine series.
Praise For…
---
"Fresh and ferocious . . . will hook boys with its gritty, unrelenting surprises." —James Patterson

"Furnace is hotter than hell and twice as much fun! Sign me up for a life sentence of Alexander Gordon Smith!" —Darren Shan, author of the Demonata series

"Uniquely horrifying." —Realms of Fantasy

"Gritty action and compelling characters will have reluctant readers enthralled." —School Library Journal

"Breathlessly paced and soaked with blood, mucus, and less savory substances . . . Readers who relish lurid imagery . . . will continue to be riveted and left eager for the next disgust-o-rama episode." —Booklist

"A thrill ride that will leave the audience wanting more. Smith's prose is fast paced, witty, and sometimes downright terrifying. Some of the images he creates could manifest into a nightmare or two. Teens who are looking for a great thriller/horror story will definitely want to pick up these novels." —VOYA

"My biggest success story last year was when a student, a 5th year senior, attended a booktalk and couldn't wait to read Lockdown. It was the first book he read all the way through in five years of high school." —Librarian, Washington High School, Sioux Falls, SD