Flat Water Tuesday (Hardcover)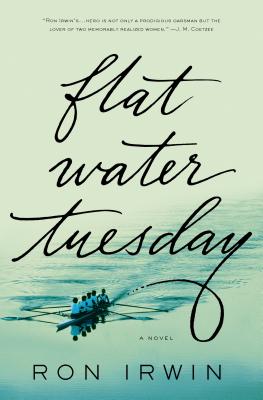 Staff Reviews
---
Flat Water Tuesday is a coming of age novel that brings to life the rituals of team sports, most specifically rowing. Our main character is from a lower-class family and has won a rowing scholarship at an elite boarding school. The novel weaves together stories of rivalry, class differences, tragedy, and romance. This is a great read for anyone who liked The Art of Fielding and Dead Poets Society.
—
Cindy
June 2013 Indie Next List
---
"Rob, Connor, John, and Chris are the 'God Four' crew of the famed varsity boat at the Fenton Prep School. These four, along with their coxswain, Ruth, form a tight group with one common goal - to defeat their strongest rival, the Warwick School. This beautifully written novel explores the camaraderie, competition, joy, sorrow, and unbelievable guilt that follow this crew team from their youth to adulthood. Irwin skillfully weaves the past with the present in this story of pain and forgiveness that brings the reader to a heart-wrenching conclusion. A compelling read with a poignant message."
— Beverly Bartczak, The Fine Print, Lakeside, OH
Description
---
The son of a working-class cabinet maker, Rob Carrey arrives on the prestigious Fenton School's campus with a scholarship to row...and a chip on his shoulder. Generations of austere Fenton men have led the four-man rowing team, commonly known as the God Four, to countless victories but none more important or renowned than the annual Tuesday afternoon race in April against their rival boarding school, Warwick.
Before boats can be launched, Rob must complete months of grueling preparation driven by their captain Connor Payne's vicious competitive nature. Payne is a young man so plagued by family pressure and uwillingness to lose that the lines between dedication and obsession are increasingly blurred. As the Warwick race nears, the stakes steadfastly rise, and tempers and lusts culminate until, finally, no one can prevent the horrible tragedy that ensues.
Now, fifteen years later, Rob is an accomplished documentary filmmaker. Returning home from a recent shoot in Africa, he arrives in New York City to clear out his shared apartment and end his heartbreaking relationship with his film editor and girlfriend, Carolyn. But when a phone call from one of the God Four compels him to attend the fifteen-year reunion at Fenton, Rob sees the invitation as an opportunity to confront the past and perhaps even steer his own life in a new direction.
Ron Irwin's "Flat Water Tuesday" shares in the grand tradition of sagas about athletic young men on the brink of greatness, who either embrace their talent or are devastatingly consumed by it. As much about the art of rowing as it is a novel of finding oneself, this is a memorable and deeply moving testament to what it means to train and fight for both love and victory, in sport and in life.
About the Author
---
RON IRWIN was born and raised in Buffalo, New York, and attended boarding school and college in New England, where he was a member of a number of winning rowing crews. He currently lectures in the Centre for Film and Media at the University of Cape Town, where he has taught since 1999. Irwin holds a master's in Literary Studies and a master's in Creative Writing, and has worked as a freelance documentary filmmaker and journalist. He is married and has three children.
Praise For…
---
"All you ever wanted to know about the world of competitive rowing is contained in the pages of Ron Irwin's new novel, whose hero is not only a prodigious oarsman but the lover of two memorably realized women."—J.M. Coetzee

"Flat Water Tuesday is the best debut novel I've read this year, a compulsively readable dark drama that weaves multiple storylines toward one marvelous denouement. Ron Irwin writes with confidence and skill and authenticity in this exploration of identity and the poisonous fuel of ambition. It will call other books -- A Separate Peace, The Art of Fielding -- to mind but stands alone as an original and powerful work. I'll read anything Irwin writes after this."—Michael Koryta, New York Times bestselling author of The Prophet

"Irwin debuts with movingly rendered literary fiction about love and loss, youth and maturity, ambition and its cost...a powerful study of the muddled, stumbling steps from youth into adulthood...Irwin's descriptions are observant and intimate—readers become immersed in the Darwinian cruelty of the young reflected against the loneliness of a lost, jaded teacher, then confront a man finding purpose, and close the book after bathing in a deeply evocative, hope-filled conclusion. An elegy to love and loss and reconciliation."—Kirkus Reviews (starred review)

"In Ron Irwin's capable hands, past and present fuse into a haunting meditation on class, guilt, and the perils of victory.  You don't need to have set foot in a scull to be swept along by this affecting book.  Flat Water Tuesday is the debut of a deft and talented new voice."—Eric Puchner, author of Pen/Faulkner Award finalist Model Home

"With echoes of A Separate Peace, Ron Irwin's wonderful Flat Water Tuesday is a masterful coming of age story about making one's place in the world, about the sacrifices love asks of us and of the rewards it may give us, about friendship and responsibility and so many other aspects of being human. It's compelling, moving and often heart-breaking -- all of the things we want good novels to be."—Joe Schuster, author of The Might Have Been

"A gripping read.  If you've ever marveled at the fluidity of a quadruple scull cutting through water in first light, and wondered what makes its 4-man motor work, this book will provide the answers, and then some.  Irwin is adept at revealing the tricky bonds between rowers, and the way those bonds can shape—and misshape—a life."—Tom McNeal, author of To Be Sung Underwater, USA Today 2011 Best Book of the Year

"The opening scene of Ron Irwin's lovely debut novel left me breathless.  Irwin writes astutely about finding one's place in the world, testing the limits of our endurance, and how we find the strength to carry on."—Amanda Eyre Ward, author of Close Your Eyes

"In taut, muscular prose Irwin details the punishing training regimen of The God Four, a crew of competitive oarsmen who commit themselves body and soul to the pain and glory of their sport. Flat Water Tuesday is a powerful consideration of the exhilarating love of competition and the high cost of victory. Ron Irwin has written a propulsive, heart-stopping story in the tradition of such sporting classics as Alan Sillitoe's "The Loneliness of The Long Distance Runner," and Bernard Malamud's The Natural.  Flat Water Tuesday is a world-class champion of a novel."—Amber Dermont, New York Times bestselling author of The Starboard Sea

"Ron Irwin's rowing tale —Flat Water Tuesday – brings to life a rite of passage that is complex, insightful, and stirring.  Inside the gunnels of the rowing shell secrets are kept. Powerful fathers produce legendary sons, and legends arise that haunt some forever.  His artistry weaves heroism, rivalry, romance, tragedy, and raw life together inside the ethereal dynamics of a boarding school crew—not any crew, but "The God Four"—which, in the end, leaves all to wrestle with the reckoning that God was indeed watching.  Written in the tradition of Dead Poets Society, Ron Irwin's story is a must for anyone who loves rowing, sports, or just a darn good read."—Susan Saint Sing, member of the 1993 U.S. National Rowing Team and author of The Wonder Crew

"Flat Water Tuesday is more than just a wonderful coming-of-age novel, it's a gripping and beautifully drawn portrait of a man coming to grips with his demons. His unforgettable story will take you through heartbreak and back, where resilience can teach you not just about achievement, but also about love."
—Elizabeth Percer, author of An Uncommon Education

"A biting, beautiful novel about the cost of winning and the lessons of loss. In Robert Carrey, Ron Irwin has created a character of precision and depth, a man who must learn that he cannot scull through life alone." —Jennifer Miller, author of The Year of the Gadfly