The Edge of Normal (Hardcover)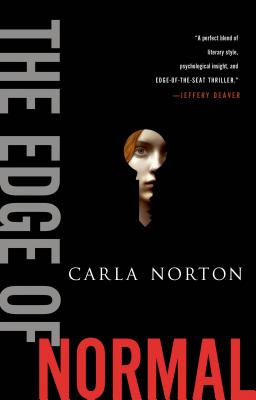 $25.99
Email or call for price.
Staff Reviews
---
Norton's debut thriller, featuring a girl who endured unimaginable torture at the hands of her kidnapper, definitely takes the reader to the edge! Upon starting the book, I only managed to tear myself away to make sure all my doors and windows were locked and secured. Other than that, I hid in my bed reading to the very end! I would recommend this book to anyone who loves a good psychological thriller, and I hope to see more fiction from this author!
—
Lauren's Staff Picks
Description
---
''Norton has given us living, breathing characters that we know and understand . . . and who inhabit our imaginations after we've finished this book." Jeffery Deaver
In many ways, Reeve LeClaire looks like a typical twenty-two year old girl. She's finally landed her own apartment, she waitresses to pay the bills, and she wishes she wasn't so nervous around new people. She thinks of herself as agile, not skittish. As serious, not grim. But Reeve is anything but normal.
Ten years ago, she was kidnapped and held captive. After a lucky escape, she's spent the last six years trying to rebuild her life, a recovery thanks in large part to her indispensable therapist Dr. Ezra Lerner. But when he asks her to help another girl rescued from a similar situation, Reeve realizes she may not simply need to mentor this young victim she may be the only one who can protect her from a cunning predator who is still out there, watching every move.
From the author of the #1 non-fiction bestseller "Perfect Victim: The True Story of the Girl in the Box" comes a novel that draws you into a chilling and engrossing world. With masterful plot twists and shifting points of view that make it as irresistible as "Gone Girl, " Carla Norton's "The Edge of Normal" is a stunning debut thriller.
About the Author
---
CARLA NORTON is the author of the #1 New York Times bestseller Perfect Victim, which the FBI put on their Behavioral Sciences Unit reading list. She served as the special sections editor for the San Jose Mercury News and has written for numerous publications. She has an MFA from Goddard College and has twice served as a judge for the Edgar Awards. The Edge of Normal, which won a Royal Palm Literary Award for best unpublished mystery, is her debut novel. She lives in California and Florida.
Praise For…
---
"A heart-pounding thrill ride that had me holding my breath to the very end. With a compelling, tough-as-nails heroine and a truly terrifying villain, this is a book you won't soon forget." —Chevy Stevens
"True-crime author Norton delivers an impressive mystery debut with a subject that leaps from the headlines…Norton has created a page-turner with well-developed characters, a truly horrible villain, and the psychological depth of Jonathan Kellerman at his best."—
Booklist
(starred review)"Norton has written a nail-biter, but it's Reeve's complicated courage that lingers."—
People
"Carla Norton's debut is a fast-paced novel of psychological suspense.
The Edge of Normal
is a perfect blend of literary style, psychological insight, and edge-of- the-seat thriller." —Jeffery Deaver "True crime writer Norton (
Perfect Victim
) makes her first foray into fiction with a compelling—and timely—story about a woman kidnapped when she was 12 and held for four years…Norton skillfully keeps the suspense taut with myriad surprises while giving a tender look at victims whose ordeals are rehashed by lawyers, the media, and pop psychologists…[An] intriguing story."—
Publishers Weekly
(starred review) "Norton's deep background in true crime coverage…informs her fiction. The revolving points of view she uses keep the plot steadily building to the kind of page-turning suspense that makes a true thriller."—
New York Journal of Books
"Told with lyrical intensity and convincing authority,
The Edge of Normal
is a terrifying trip into a world of pure evil. Carla Norton introduces a spectacularly flawed heroine in Reeve LeClaire — a young woman confronting the specter of her horrific past and becoming the target of a psychopath so foul the ink practically rises from the page in an attempt to stop him. Guaranteed to keep you up at night." —Karen Engelmann "This debut thriller by the bestselling author of
Perfect Victim
features a suspenseful storyline that realistically mirrors recent news headlines of captivity and sadism. Winner of a Royal Palm Literary Award for best unpublished mystery, this nail-bitingly delicious tale will be a treat for psychological thriller fans."—
Library Journal
(starred review)
"Told with exceptional insight and a Hitchcock-like capacity for suspense, it shows Norton could become one of the finest female thriller writers of her generation." —
The Daily Mail