Humans of New York (Hardcover)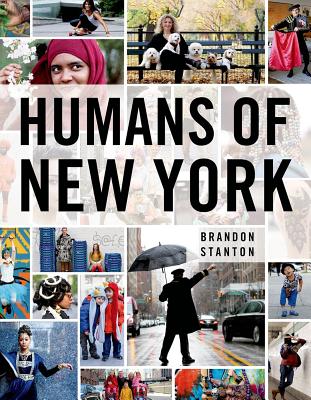 $29.99
Not Available In-Store - Usually Ships from Warehouse in 1-5 Days
Staff Reviews
---
It is easy to see other people and make assumptions about them, to file them away under stereotypes or to trivialize their struggles. It is easy to forget that other people are just as human as you are. Brandon Stanton makes you remember. Humans of New York opens your eyes to the myriad forms of humanity—the young and old, the rich and poor, the smiling and scowling. The coupled stories and photographs allow the reader an essential glimpse into the lives of regular, extraordinary people. The stories are tragic and heartwarming and ultimately beautiful, and after reading just a few, you'll try to put a little more value in the people around you.
—
Jenna's Staff Picks
I love New York—the museums, the shows, old friends, people on the streets. I have wondered so many times what is going on in the lives of the faces I see. Brandon Stanton has captured, in a moment and a sentence or two, thought-provoking and deeply insightful views into the lives of the people he has photographed. The book is brilliant and beautiful in my eyes.
—
Pinna
This was such a fulfilling book. I loved how the photographer was able to capture the many sides of humanity. If you ever find yourself needing a gentle nudge and reminder that beauty still exists in this messy, broken world -- I recommend this title. — From Ryan's picks
Description
---
Based on the blog with more than four million loyal fans, a beautiful, heartfelt, funny, and inspiring collection of photographs and stories capturing the spirit of a city

Now an instant #1 New York Times bestseller, Humans of New York began in the summer of 2010, when photographer Brandon Stanton set out to create a photographic census of New York City. Armed with his camera, he began crisscrossing the city, covering thousands of miles on foot, all in an attempt to capture New Yorkers and their stories. The result of these efforts was a vibrant blog he called "Humans of New York," in which his photos were featured alongside quotes and anecdotes.

The blog has steadily grown, now boasting millions of devoted followers. Humans of New York is the book inspired by the blog. With four hundred color photos, including exclusive portraits and all-new stories, Humans of New York is a stunning collection of images that showcases the outsized personalities of New York.

Surprising and moving, printed in a beautiful full-color, hardbound edition, Humans of New York is a celebration of individuality and a tribute to the spirit of the city.


With 400 full-color photos and a distinctive vellum jacket
About the Author
---
BRANDON STANTON is the creator of the #1 New York Times bestselling books Humans of New York and Humans of New York: Stories as well as the children's book, Little Humans. His photography and storytelling blog, also called Humans of New York, is followed by a global audience of over thirty million people across several social media platforms. In addition to sharing thousands of stories from around the world, the blog has raised over $12 million for featured individuals and nonprofits. Stanton is a graduate of the University of Georgia and lives in New York City.
Praise For…
---
"An instant publishing phenomenon." —The New York Times

"Visually arresting and disarmingly deep... The photographs in this volume, some of which have never been published before, capture the city's inhabitants with a commendable eye for demographic diversity and everyday street fashion. But it's Stanton's interviews with his subjects, usually excerpted from their rawest moments, that are the most captivating as they highlight both the hardship and the little victories of an often-unforgiving city." —The Atlantic

"[A] lovely collection of photos and essays... The images are gorgeous, and the effect is like walking through a version of our city where startlingly honest thought bubbles appear over everyone's heads." —New York Magazine

"There's no judgment, just observation and in many cases reverence, making for an inspiring reading and visual experience." —Publishers Weekly (starred review)

"Some street photographers hide behind phone booths like paparazzi so their subject won't be aware of their presence, but for Stanton it's precisely that awkward interaction, the tearing down of the wall between strangers, that he covets." —The Huffington Post