Fangirl: A Novel (Paperback)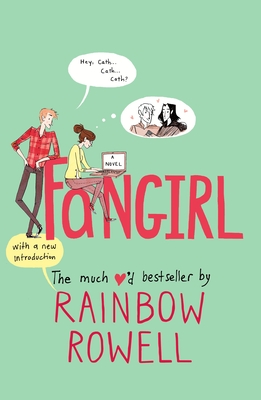 Staff Reviews
---
What can I say about Rainbow Rowell that hasn't already been said? She gets me. She's a Nora Ephron for the digital age. Each of her three excellent books, while standing alone, share the same clever sweetness - the same wit. I knew I would love Fangirl before I even opened it, and of course I did! Although I've never read or written "fan-fiction" as the main character Cather does, I identified with her intense love of books, her unabashed nerdiness and her weakness for guys with floppy hair. Do yourself a favor and buy this book for yourself and everyone you know!
—
Lauren's Staff Picks
Cath writes. Fanfiction, for the most part, in the world of bestselling book series, Simon Snow. She lives and breathes everything Simon along with her twin, Wren. Now she's at her first year of college, and although she doesn't seek independence and new friends like her sister, she does travel deeper into the magical world of Simon. For Cath, fictional places and people are easier to deal with than the real boring world. I absolutely lost myself within this book. It's quite a big book, which is good because I didn't want it to end. And as soon as I did finish, I wanted to read it all over again. Fangirl is honest, sweet, and at times laugh out loud funny. It's a light read and manages to balance a friendly charm a là Anna and the French Kiss, with an honest portrayal of exactly what it's like to be young and in love. If you consider yourself a part of any fandom or Harry/Draco shipper, then guys, this book was written for you.
—
LEAH'S STAFF PICKS
Description
---
With a New Introduction!

In Rainbow Rowell's Fangirl, Cath is a Simon Snow fan. Okay, the whole world is a Simon Snow fan, but for Cath, being a fan is her life—and she's really good at it. She and her twin sister, Wren, ensconced themselves in the Simon Snow series when they were just kids; it's what got them through their mother leaving.

Reading. Rereading. Hanging out in Simon Snow forums, writing Simon Snow fan fiction, dressing up like the characters for every movie premiere.

Cath's sister has mostly grown away from fandom, but Cath can't let go. She doesn't want to.
Now that they're going to college, Wren has told Cath she doesn't want to be roommates. Cath is on her own, completely outside of her comfort zone. She's got a surly roommate with a charming, always-around boyfriend, a fiction-writing professor who thinks fan fiction is the end of the civilized world, a handsome classmate who only wants to talk about words . . . And she can't stop worrying about her dad, who's loving and fragile and has never really been alone.

For Cath, the question is: Can she do this? Can she make it without Wren holding her hand? Is she ready to start living her own life? And does she even want to move on if it means leaving Simon Snow behind?

A New York Times Book Review Notable Children's Book of 2013
A New York Times Best Seller!
About the Author
---
RAINBOW ROWELL lives in Omaha, Nebraska, with her family. She's the author of Eleanor & Park, Fangirl, Attachments, Landline, the graphic novel Pumpkinheads (illustrated by Faith Erin Hicks), and the Simon Snow trilogy.
Praise For…
---
"Absolutely captivating." —Kirkus Reviews (starred review)

"A funny and tender coming-of-age story that's also the story of a writer finding her voice...touching and utterly real." —Publishers Weekly (starred review)

"The magic here is cast not with wands but with Rowell's incredible ability to build complex, vivid, troubling and triumphant relationships...Fans of Eleanor & Park and other bookish, nerdy types will thrill at finding such a fantastic and lasting depiction of one of their own." —Booklist (starred review)

"A charming coming-of-age novel...filled with complex subjects (such as divorce, abandonment, and mental illness) handled in a realistic manner, and the writing effortlessly and seamlessly weaves these threads together." —School Library Journal (starred review)

"Eleanor & Park reminded me not just what it's like to be young and in love with a girl, but also what it's like to be young and in love with a book." —John Green, The New York Times Book Review on Eleanor & Park

"This sexy, smart, tender romance thrums with punk rock and true love. Teen readers--not to mention their Gen X parents--will swoon for Eleanor & Park." —Gayle Forman, New York Times bestselling author of If I Stay and Where She Went on Eleanor & Park

"A breathless, achingly good read about love and outsiders." —Stephanie Perkins, author of Anna and the French Kiss and Lola and the Boy Next Door on Eleanor & Park

"Sweet, gritty and affecting...an unforgettable story about two misfits in love." —Courtney Summers, author of This is Not a Test and Cracked Up To Be on Eleanor & Park

"Rowell shows us the beauty in the broken." —Stewart Lewis, author of You Have Seven Messages on Eleanor & Park