How To Be a Good Wife: A Novel (Paperback)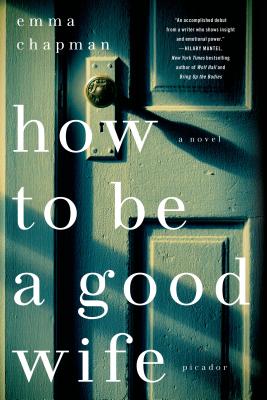 $15.00
Special Order - Subject to Availability
Staff Reviews
---
Aided by the old-fashioned guide her mother-in-law gave her, Marta has always striven to be the perfect wife. But lately she's begun to feel different, off-kilter, as though something has subtly shifted. She's seeing things that aren't there and remembering things that never happened...or did they? I loved this book: from the first page, I felt engrossed and deeply moved by Marta's story. Chapman perfectly conveys Marta's state of mind, leaving the reader feeling as unbalanced as she does. An undercurrent of fear and dread runs throughout the book, becoming more and more palpable as it nears the end. I didn't know what to expect, even to the very last page, making this the perfect psychological thriller for fans of Gillian Flynn and Sophie Hannah!
—
LAUREN'S STAFF PICKS
Description
---
HOW TO BE A GOOD WIFE BY EMMA CHAPMAN IS A HAUNTING LITERARY DEBUT ABOUT A WOMAN WHO BEGINS HAVING VISIONS THAT MAKE HER QUESTION EVERYTHING SHE KNOWS
Marta and Hector have been married for a long time. Through the good and bad; through raising a son and sending him off to life after college. So long, in fact, that Marta finds it difficult to remember her life before Hector. He has always taken care of her, and she has always done everything she can to be a good wife—as advised by a dog-eared manual given to her by Hector's aloof mother on their wedding day.
But now, something is changing. Small things seem off. A flash of movement in the corner of her eye, elapsed moments that she can't recall. Visions of a blonde girl in the darkness that only Marta can see. Perhaps she is starting to remember—or perhaps her mind is playing tricks on her. As Marta's visions persist and her reality grows more disjointed, it's unclear if the danger lies in the world around her, or in Marta herself. The girl is growing more real every day, and she wants something.
About the Author
---
EMMA J. CHAPMAN was born in 1985 and grew up in Manchester, England. She studied English Literature at the University of Edinburgh, followed by a Masters in Creative Writing at Royal Holloway, University of London.  After university, she travelled solo in Scandinavia, where she learned to camp, bathe in fjords, and carry everything she needed.  She is currently living in Perth, Western Australia. How to Be a Good Wife is her first novel.
Praise For…
---
"An accomplished debut from a writer who shows insight and emotional power." —Hilary Mantel, New York Times bestselling author of Wolf Hall and Bring Up the Bodies
"[An] extraordinary book...Chapman has written a brilliant twist." —The New York Times Book Review
"On the surface the book is a highly competent, creepy little chiller, but beneath, like a silent, bolted, and half-dark room, there's a much bigger, equally disconcerting story about the nature of feminine experience." —Hilary Mantel, New York Times–winning author of author of Wolf Hall and Bring Up the Bodies
"[The] claustrophobic, interior-driven narrative harks back to Charlotte Perkins Gilman's disturbing feminist classic The Yellow Wallpaper, or even Ibsen's A Doll's House." —The Guardian (London)
"[A] chilling debut...Chapman excels at creating tension and suspense." —Publishers Weekly
"How To Be a Good Wife is at once claustrophobic, startling and hauntingly beautiful. It's that amazing, awful kind of book that will stay with you long after you wish it would let you go." —Liza Klaussmann, author of Tigers in Red Weather
"A compelling, twisty tale of deception and distrust. Beautifully written, and very clever." —Elizabeth Haynes, author of Into the Darkest Corner