The Winner's Curse (The Winner's Trilogy #1) (Paperback)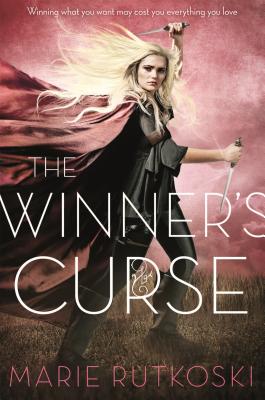 $11.99

Not Available In-Store - Usually Ships from Warehouse in 1-5 Days
Staff Reviews
---
In another world, within the magnificent city of Valoria, Kestral is an aristocratic young woman thrown into the deceptive and precarious game of politics. With traitors hiding in plain sight, she has allies switching sides from one day to another. She has her work cut out for her, but it is this life, or a forced life of marriage. Kestral is no perfect character, and in every one of her flaws and acts of stubbornness, I adore her. One day while out shopping, she takes a gamble and buys the slave Arin at an auction house. But she pays a high price--the cost of the winner's curse. This story is told back and forth between the two, and each voice is independently strong. Arin isn't just "the guy" in here, he's interesting, and one of the most fleshed out counterparts I've read in a long while. He's just as much a part of the bigger picture as Kestral. These two won't easily become friends; they're on opposite sides of a decade-won war. Relations between the Valorians and its poorer neighbors the Herrani are precarious once again, and rebellion is on the rise. Who will come out on top this time? The Winner's Curse has everything from elaborate world and language building, to a killer ending that'll make you crave the next installment. For fans of Graceling, I can't recommend this book enough. This is your next fantasy read.
—
LEAH'S STAFF PICKS
Description
---
In the tradition of Kristin Cashore and Cassandra Clare comes The Winner's Curse, a brilliant, unputdownable, star-crossed romance from New York Times bestselling author Marie Rutkoski.

Winning what you want may cost you everything you love

They were never meant to be together. As a general's daughter, seventeen-year-old Kestrel enjoys an extravagant and privileged life. Arin has nothing but the clothes on his back. Then Kestrel makes an impulsive decision that binds Arin to her. Though they try to fight it, they can't help but fall in love. In order to be together, they must betray their people . . . but to be loyal to their country, they must betray each other.

Set in a new world, The Winner's Curse is a story of rebellion, duels, ballroom dances, wicked rumors, dirty secrets, and games where everything is at stake, and the gamble is whether you will keep your head or lose your heart.
About the Author
---
Born in Illinois, Marie Rutkoski is a graduate of the University of Iowa and Harvard University. She is a professor of English literature at Brooklyn College and a New York Times bestselling author of books for children and young adults, including The Shadow Society and the Kronos Chronicles, which includes The Cabinet of Wonders. She lives in Brooklyn with her family.
Praise For…
---
"*[A] spellbinding first book in a trilogy about a pair of star-crossed lovers in a society marred by class warfare....Like any epic page-turner worth its salt, Rutkoski's richly imagined world is full of dynamic repartee, gruesome battle scenes, and shifting alliances. A high-stakes cliffhanger will leave readers eagerly awaiting the next book." —Publishers Weekly, STARRED REVIEW

"*Rich characterization, exquisite worldbuilding and rock-solid storytelling make this a fantasy of unusual intelligence and depth...Precise details and elegant prose make this world fresh and vivid. The intricate and suspenseful plot, filled with politics, intrigue and even graphic violence, features neither heroes nor villains; every character displays a complex mixture of talents, flaws and motives...Breathtaking, tragic and true." —Kirkus Reviews, STARRED REVIEW

"*A forbidden romance. The romance is heartstoppingly lovely and admittedly steamy . . . but the raising of stakes and the reluctance of the couple to give up their respective cause, even as they confess their love for each other, lends their relationship a complexity not often seen in the genre . . . A last-minute compromise between the lovers secures a sequel, and fans of Kristin Cashore and Robin Lefevers will be pleased to have a new romance to follow." —Bulletin of the Center for Children's Books (BCCB), STARRED REVIEW

"Every line in The Winner's Curse is beautifully written. The story is masterfully plotted. The characters' dilemmas fascinated me and tore at my heart. This book gave me a rare and special reading experience: I never knew what was going to happen next. I loved it. I want more." —Kristin Cashore, New York Times bestselling author of the Graceling Realm books

"The Winner's Curse is breathtaking, a lyrical triumph in YA fantasy. Marie Rutkoski writes with tremendous power and has created an epic of fearless beauty. This book should not be missed." —Ann Aguirre, New York Times & USA Today bestselling author of the Razorland trilogy

"The Winner's Curse is magnificent. Gorgeous writing graces every page, and the story of Kestrel and Arin unfolds with all the complexity and beauty of a sonata. I was completely transfixed by them and their world." —Sarah Beth Durst, author of Conjured