Snowblind: A Novel (Paperback)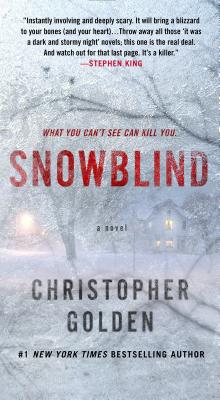 Staff Reviews
---
It's a rare breed of horror novel that can give me chills in the middle of an Arizona Spring, but in spite of a hundred degrees worth of dry heat outside, reading Christopher Golden's Snowblind left me frigid. I could almost feel the snow on my skin, and the icy dread was as real for me as it was for the people of Coventry, trapped in the winter of Golden's spectral blizzard. Reminiscent of Dean Koontz at his absolute best, this modern classic of supernatural horror is haunting and vivid, a nightmare as elegant and emotional as it is eerie. I'm not sure I'll ever be able to enjoy snow again without wondering what might be hiding in the whiteout…
— JASON'S STAFF PICKS
What's better than a book giving you something unexpected? I was looking forward to reading a book that might give me a chill during these hot summer months and Snowblind delivered. Its vivid depiction of a sleepy suburb being hit by a blizzard perfectly conveyed the hushed, otherworldly quiet that comes with snow. The first part of the story provided thrilling shivers that reminded me of when I was young and saw John Carpenter's The Fog for the first time. But then, it unexpectedly turns from a straightforward "what the heck is out there?" story to something….else. Beyond the mystery of what is the equally compelling question of how. How do we cope (or not) with unexpected and sometimes unexplained loss? How are our lives shaped by events outside of our control? How do we respond when we suddenly find the answers? Satisfyingly scary and unexpectedly heartbreaking.
— Elisa
s a rare breed of horror novel that can give me chills in the middle of an Arizona Spring, but in spite of a hundred degrees worth of dry heat outside, reading Christopher Golden's Snowblind left me frigid. I could almost feel the snow on my skin, and the icy dread was as real for me as it was for the people of Coventry, trapped in the winter of Golden's spectral blizzard. Reminiscent of Dean Koontz at his absolute best, this modern classic of supernatural horror is haunting and vivid, a nightmare as elegant and emotional as it is eerie. I'm not sure I'll ever be able to enjoy snow again without wondering what might be hiding in the whiteout…
— Jason
Description
---
ONE SMALL, NEW ENGLAND TOWN IS TAKEN BY STORM—AND NOTHING WILL EVER BE THE SAME.

Once upon a time, Coventry weathered a horrific blizzard, one that left many people dead—and others mysteriously lost. Twelve years later, the town is still haunted by the snow that fell that one fateful night…and now a new storm is on the way.
"A fun, bone chilling thriller."—Boston Globe on Snowblind

Photographer Jake Schapiro mourns the little brother he lost in the storm and, this time, he will see another boy go missing. Mechanic and part-time thief Doug Manning, whose wife was never found after she wandered into the whiteout, is starting over with another woman—and more ambitious crimes. Police detective Joe Keenan has never been the same since that night, when he failed to save the life of a young boy…and the boy's father vanished in the storm only feet away. And all the way on the other side of the country, Miri Ristani receives a phone call—from a man who died twelve years ago. Old ghosts are trickling back to life as a new threat rolls in. Could it be that this storm will be even more terrifying than the last?
"Horror fiction is starting to make a comeback…writers like Christopher Golden are a big part of the reason."—George R. R. Martin, New York Times bestselling author of Game of Thrones
"A ghost-house thrill-ride…A great read for a winter night, or any night."—John Ajvide Lindqvist, author of Let the Right One In

This edition of the book is the deluxe, tall rack mass market paperback.
About the Author
---
CHRISTOPHER GOLDEN is the award-winning, bestselling author of such novels as The Myth Hunters, The Boys Are Back in Town, Strangewood, and Of Saints and Shadows. He co-wrote the lavishly illustrated novel Baltimore, or, The Steadfast Tin Soldier and the Vampire with Mike Mignola, and the comic book series featuring the same character.
Praise For…
---
"Instantly involving and deeply scary. It will bring a blizzard to your bones (and your heart) even in the middle of July. Throw away all those old 'it was a dark and stormy night' novels; this one is the real deal. And watch out for that last page. It's a killer." —Stephen King
"A breathless [read]…Great fodder for a dark and snowy night." —Booklist
"Golden's Snowblind is an ethereal and nightmarish contemporary fairy tale. By turns horrific, moving, and ultimately redemptive, it's a hell of a ride." —David S. Goyer, screenwriter, The Man of Steel and (story) The Dark Knight Rises
"A ghost-house thrill-ride in the shape of a snowstorm, within the confines of a book. A great read for a winter night, or any night." —John Ajvide Lindqvist, author of Let the Right One In
"Horror with heart, Snowblind reminded me of classic Dean Koontz--the world is our own, the characters as knowable as our closest friends, but their adventures something altogether different, and altogether compelling. Christopher Golden writes with grace and beauty even while putting a chill to your spine. Read this and you'll never again peer through windswept snow without wondering what's behind it, I promise you." —Michael Koryta
"Working in an ensemble mode that may remind readers of classics like King's Salem's Lot and Straub's Floating Dragon, Christopher Golden's new novel is a real cannonball--fast-paced, suspenseful, and intense." —Dan Chaon, National Book Award-nominated author of Stay Awake
"With Snowblind, Christopher Golden brings serious chills to small town America. This is why people should lock their doors at night. Superb!" —Jonathan Maberry, New York Times bestselling author of Extinction Machine and Fire & Ash