Last Chance Mustang: The Story of One Horse, One Horseman, and One Final Shot at Redemption (Hardcover)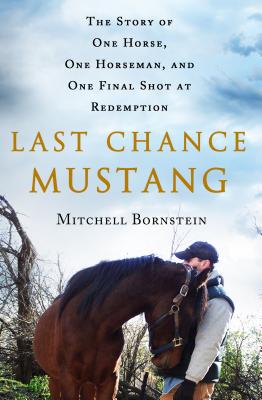 Staff Reviews
---
The thing I loved most about this book was its authenticity. Bornstein's journey with Samson has the ending you hope for when working with an abused animal - that ultimately the animal overcomes most of his issues and learns to trust again - but Bornstein doesn't gloss over the fact that dealing with an abused half-ton animal can be incredibly dangerous (in Samson's case, probably insanely dangerous), that there will always be good days and bad days, and that - like humans - most animals will never fully overcome a history of neglect, and that their past is something to be accepted and worked with, not something to be held against them.
—
Em
Description
---
Last Chance Mustang is the story of Samson, a formerly free-roaming, still wild-at-heart American mustang that was plucked from his mountainous Nevada home and thrown into the domestic horse world where he was brutalized and victimized. After years of abuse, Samson had evolved into a hateful and hated, maladjusted beast until the day he found his way to a rural Illinois farm, an ill-equipped owner, and one last chance. Mitch Bornstein's task was to tame the violent beast whose best defense had become offense. He had twenty years of experience fixing unfixable horses, but Samson would be his greatest challenge. Through the pair's many struggles and countless battles, Samson would teach Mitch about the true power of hope, friendship, redemption and the inspiring mettle of the forever wild and free American mustang.
Last Chance Mustang explains Samson's violent and antisocial behavior while addressing the remedial techniques employed to remedy these issues. The art of working with damaged horses is demystified. Though his story is sad, the reader is asked to respect Samson—not pity him. He has good and bad days, and he has a dark side. Like all of us, Samson is far from perfect. And his saga will move the reader to both tears and laughter. Part history lesson, part training manual, and part animal narrative, Samson's is a story that all readers will be able to relate to: a story of survival, of trust, and ultimately, finding love.
About the Author
---
At the age of six, Mitchell Bornstein jumped atop his first horse, and in the thirty-eight years since, he has pursued his life's dream of working with damaged, abused, and difficult horses. College, law school, and nineteen years as a practicing attorney have not stood in the way as Mitchell has followed his passion and one true calling: to save the horses that no one else will. From Illinois to Indiana, Wisconsin to Iowa, Mitchell has travelled the Midwest and entered stalls that others won't and mounted steeds that others can't. Practicing what he has termed "command and control horsemanship," Mitchell handles each of his horses with a firm yet respectful approach. For Mitchell, there is no such thing as a bad horse or a steed beyond repair. Mitch lives and works in Wheeling, Illinois.
Praise For…
---
"This deeply felt portrayal of the bond between man and a horse has universal appeal." —Elle
"Horse enthusiasts will be moved by Samson's tale, laughing at his quirky personality and weeping at the injustices experienced by this noble beast. Animal lovers will enjoy being introduced to the collection of formerly unloved, rejected animals that are part of Samson's new life. Bornstein, a talented storyteller, captures the distinct personality of each barnyard companion." —Library Journal
"The author's examination of the history of wild horses is informative....his sensitive portrayal of his evolving relationship with Samson is the highlight...moving." —Kirkus Reviews
"An engrossing tale of redemption, perseverance, and the bond between a horse and trainer" —Booklist
"Through Bornstein's masterful storytelling, we understand, sympathize and fall in love with his equine pupil, Samson, who is the very embodiment of the systematic abuses inflicted on our nation's wild Mustangs, our natural wonders. Last Chance Mustang should be required reading in every high school and by every adult American until our wild Mustangs and burros are as revered as the American eagle. Bornstein brilliantly shows us how they deserve no less." —Jo Anne Normile, author of Saving Baby
"Bornstein's story is far more than a tale of how one man tamed a wild horse. It is the story of man's dark history with horses and the heartbreaking consequences. Through his painstaking work with a traumatized wild Mustang named Samson, Bornstein reminds all of us that, when working with horses, we are among equals. It is this enlightened understanding that makes Bornstein's training techniques so successful. Three cheers for Last Chance Mustang." —Susan Richards, author of CHOSEN BY A HORSE
"I began reading Last Chance Mustang with the eye of an expert skeptic. At first, I scoffed at the folly of a lawyer working with such a challenging horse. But like the horse he redeemed, I was made a believer by Mitch Bornstein's compassion, authenticity and resiliency. I was expecting illusions but was delighted with insights and inspiration. In the language of the horse, I bow to this book." —Chris Irwin, author of HORSES DON'T LIE and DANCING WITH YOUR DARK HORSE