After the End of the World (Carter & Lovecraft #2) (Hardcover)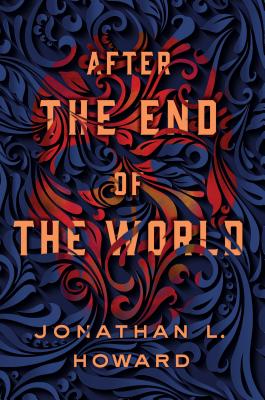 $26.99
Special Order - Subject to Availability
Other Books in Series
This is book number 2 in the Carter & Lovecraft series.
Description
---
After the End of the World by Jonathan L. Howard brings the H.P. Lovecraft mythos into the twenty-first century.

The Unfolded World is a bitter and unfriendly place for Daniel Carter and Emily Lovecraft. In this world, the Cold War never happened because the Soviet Union ceased to exist in 1941. In this world the Nazi Großdeutschland is the premier superpower, and is not merely tolerated but indulged because, in this world, the Holocaust happened behind the ruins of the Iron Curtain and consumed only Bolsheviks, Communists, and others the West was glad to see gone. In this world, there are monsters, and not all of them are human.

But even in the Unfolded World, there are still bills to pay and jobs to do. Carter finds himself working for the German secret security service to uncover the truth behind a major scientific joint project that is going suspiciously well. The trail takes Lovecraft and him to a distant, abandoned island, and a conspiracy that threatens everything. To fight it, Lovecraft must walk a perilously narrow path between forbidden knowledge and soul-destroying insanity.

Fortunately, she also has a shotgun.
About the Author
---
JONATHAN L. HOWARD is a game designer, scriptwriter, and a veteran of the computer-games industry since the early nineties, with titles such as the Broken Sword series to his credit. He is author of Johannes Cabal the Necromancer, Johannes Cabal the Detective, and Johannes Cabal: The Fear Institute, as well as the YA novels Katya's World and Katya's War. He lives in the United Kingdom with his wife and daughter.
Praise For…
---
Praise for After the End of the World

"This is an entertaining and meticulously crafted mix of speculative history, suspense, sardonic humor, and cosmic horror." —Publishers Weekly

"It's not often one sees the reboot of a series that's only one book old. But the second Carter and Lovecraft novel, following Carter & Lovecraft (2015), reboots the heck out of the series…This is a wonderful novel, ambitious on many levels and thoroughly successful. Its central characters are even more compelling than they were in their first appearance (here there's an added fishout-of-water element), and the story is diabolically clever and convoluted. As readers wait for the next installment, they will ask themselves where Howard will take Daniel and Emily next." –Booklist

Praise for Carter & Lovecraft

"This refreshingly original novel updates the eldritch horrors of H.P. Lovecraft for the 21st century." —Publishers Weekly

"Howard brings the fine writing and attention to detail (character, dialogue, environment) that he developed in the Cabal series to this new book, and his fans should follow him to Rhode Island. Those unfamiliar with the Cabal books, especially readers with a taste for modern-day urban fantasy, should also be pointed in this title's direction." —Booklist

"Providence (including its more imaginary pockets of cosmic wrongness) comes to life in this pleasant mix of mystery and eldritch horror from the author of the Johannes Cabal series. The two engaging protagonists could easily ground an ongoing series of otherworldly whodunits." —Library Journal

"Howard's take on Lovecraft and his influence is unexpected and somewhat unique – and one of several reasons why this inaugural title is noteworthy." —Bookgasm

"Carter & Lovecraft is a Pandora's Box loaded with all of the wonderfully twisted stuff I love, including a two-fisted homicide cop turned P.I., warped realities, a mysterious bookstore, the Cthulhu mythos, a dash of romance, and creepy fish-men. What's not to love? Jonathan L. Howard knows how to show his readers a wickedly good time." —Christopher Golden, New York Times bestselling author of Dead Ringers