The Sixth Extinction: An Unnatural History (Paperback)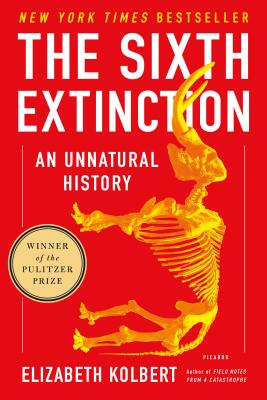 Staff Reviews
---
Kolbert is without a doubt my hero--for this book, she traveled around the world to explore the history of different species on Earth throughout time, tying in mass amounts of research with wit, genuine knowledge of her craft and comedic relief, despite the grim topic. It focuses on the Earth's current sixth mass extinction, brought about largely by human civilization's constant pressure against the planet as we quickly alter environmental conditions faster than many species can adapt to. Passionately written and adorned with charts and photos, Kolbert's dedication to exploring is obvious and infectious.
—
Becky
Description
---
WINNER OF THE PULITZER PRIZE
ONE OF THE NEW YORK TIMES BOOK REVIEW'S 10 BEST BOOKS OF THE YEAR
A NEW YORK TIMES BESTSELLER
A NATIONAL BOOK CRITICS CIRCLE AWARD FINALIST

A major book about the future of the world, blending intellectual and natural history and field reporting into a powerful account of the mass extinction unfolding before our eyes

Over the last half-billion years, there have been Five mass extinctions, when the diversity of life on earth suddenly and dramatically contracted. Scientists around the world are currently monitoring the sixth extinction, predicted to be the most devastating extinction event since the asteroid impact that wiped out the dinosaurs. This time around, the cataclysm is us.

In prose that is at once frank, entertaining, and deeply informed, New Yorker writer Elizabeth Kolbert tells us why and how human beings have altered life on the planet in a way no species has before. Interweaving research in half a dozen disciplines, descriptions of the fascinating species that have already been lost, and the history of extinction as a concept, Kolbert provides a moving and comprehensive account of the disappearances occurring before our very eyes. She shows that the sixth extinction is likely to be mankind's most lasting legacy, compelling us to rethink the fundamental question of what it means to be human.
About the Author
---
Elizabeth Kolbert is a staff writer at The New Yorker. She is the author of Field Notes from a Catastrophe: Man, Nature, and Climate Change. She lives in Williamstown, Massachusetts, with her husband and children.
Praise For…
---
"[The Sixth Extinction] is a wonderful book, and it makes very clear that big, abrupt changes can happen; they're not outside the realm of possibility. They have happened before, they can happen again." —President Barack Obama

"Riveting . . . It is not possible to overstate the importance of Kolbert's book." —San Francisco Chronicle

"Arresting . . . Ms. Kolbert shows in these pages that she can write with elegiac poetry about the vanishing creatures of this planet, but the real power of her book resides in the hard science and historical context she delivers here, documenting the mounting losses that human beings are leaving in their wake." —The New York Times

"Surprisingly breezy, entirely engrossing, and frequently entertaining . . . Kolbert is a masterful, thought-provoking reporter." —The Boston Globe

"Your view of the world will be fundamentally changed. . . . Kolbert is an astute observer, excellent explainer, and superb synthesizer, and even manages to find humor in her subject matter." —The Seattle Times

"Powerful . . . An invaluable contribution to our understanding." —Al Gore, The New York Times Book Review

"Natural scientists posit that there have been five extinction events in the Earth's history (think of the asteroid that wiped out the dinosaurs), and Kolbert makes a compelling case that human activity is leading to the sixth." —Bill Gates

"[Kolbert] makes a page-turner out of even the most sober and scientifically demanding aspects of extinction." —New York Magazine

"Ms. Kolbert's lively account is thought-provoking." —The Wall Street Journal

"[Kolbert] grounds her stories in rigorous science and memorable characters past and present, building a case that a mass extinction is underway, whether we want to admit it or not." —Discover Magazine

"Throughout her extensive and passionately collected research, Kolbert offers a highly readable, enlightening report on the global and historical impact of humans . . . a highly significant eye-opener rich in facts and enjoyment." —Kirkus (starred review)

"The factoids Kolbert tosses off about nature's incredible variety--a frog that carries eggs in its stomach and gives birth through its mouth, a wood stork that cools off by defecating on its own legs--makes it heartbreakingly clear, without any heavy-handed sermonizing from the author, just how much we lose when an animal goes extinct. In the same way, her intrepid reporting from far-off places--Panama, Iceland, Italy, Scotland, Peru, the Amazonian rain forest of Brazil, and the remote one tree Island, off the coast of Australia--gives us a sense of the earth's vastness and beauty." —Bookforum

"Kolbert accomplishes an amazing feat in her latest book, which superbly blends the depressing facts associated with rampant species extinctions and impending ecosystem collapse with stellar writing to produce a text that is accessible, witty, scientifically accurate, and impossible to put down." —Publishers Weekly (starred review)

"Rendered with rare, resolute, and resounding clarity, Kolbert's compelling and enlightening report forthrightly addresses the most significant topic of our lives." —Booklist (starred review)

"An epic, riveting story of our species that reads like a scientific thriller--only more terrifying because it is real. Like Rachel Carson's Silent Spring, Elizabeth Kolbert's The Sixth Extinction is destined to become one of the most important and defining books of our time." —David Grann, author of The Lost City of Z

"I tore through Elizabeth Kolbert's The Sixth Extinction with a mix of awe and terror. Her long view of extinction excited my joy in life's diversity -- even as she made me aware how many species are currently at risk." —Dava Sobel, author of Longitude and Galileo's Daughter

"With her usual lucid and lovely prose, Elizabeth Kolbert lays out the sad and gripping facts of our moment on earth: that we've become a geological force, driving vast swaths of creation over the brink. A remarkable addition to the literature of our haunted epoch." —Bill McKibben, author Oil and Honey: The Education of an Unlikely Activist

"Elizabeth Kolbert's cautionary tale, The Sixth Extinction, offers us a cogent overview of a harrowing biological challenge. The reporting is exceptional, the contextualizing exemplary. Kolbert stands at the forefront of what it means to be a socially responsible American writer today." —Barry Lopez, author of Arctic Dreams

"The sixth mass extinction is the biggest story on Earth, period, and Elizabeth Kolbert tells it with imagination, rigor, deep reporting, and a capacious curiosity about all the wondrous creatures and ecosystems that exist, or have existed, on our planet. The result is an important book full of love and loss." —David Quammen, author of The Song of the Dodo and Spillover

"Elizabeth Kolbert writes with an aching beauty of the impact of our species on all the other forms of life known in this cold universe. The perspective is at once awe-inspiring, humbling and deeply necessary." —T.C. Boyle, author of San Miguel
Coverage from NPR