Love Letters to the Dead: A Novel (Paperback)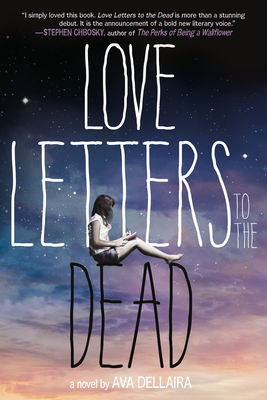 Staff Reviews
---
Love Letters to the Dead was one of those books that I just couldn't put down. I read it in a matter of hours, and was overcome with such a wave of emotion at the end of it that I simply had to close my eyes and take a breath. Laurel is given an English assignment at the beginning of the school year to write a letter to a dead person. Her first letter is to Kurt Cobain, Laurel's recently deceased sister's favorite musician. The book continues with a series of letters to historical figures like Amelia Earhart and John Keats, along with more contemporary figures like River Phoenix, Amy Winehouse, and Janis Joplin. One of the more powerful books I've read lately, Love Letters to the Dead is a book that I would highly recommend it to fans looking for something similar to Jay Asher's Thirteen Reasons Why.
—
STAFF PICKS BY HEATHER H.
Description
---
It begins as an assignment for English class: Write a letter to a dead person. Laurel chooses Kurt Cobain because her sister, May, loved him. And he died young, just like May did.

Soon, Laurel has a notebook full of letters to people like Janis Joplin, Amy Winehouse, Amelia Earhart, Heath Ledger, and more--though she never gives a single one of them to her teacher. She writes about starting high school, navigating new friendships, falling in love for the first time, learning to live with her splintering family. And, finally, about the abuse she suffered while May was supposed to be looking out for her.

Only then, once Laurel has written down the truth about what happened to herself, can she truly begin to accept what happened to May. And only when Laurel has begun to see her sister as the person she was--lovely and amazing and deeply flawed--can she begin to discover her own path in this stunning debut from Ava Dellaira, Love Letters to the Dead.
About the Author
---
Ava Dellaira is a graduate of the Iowa Writers' Workshop, where she was a Truman Capote Fellow. She grew up in Albuquerque, New Mexico, and received her undergraduate degree from the University of Chicago. Love Letters to the Dead is her debut novel. She currently lives in Santa Monica
Praise For…
---
"Reminiscent of Chbosky's The Perks of Being a Wallflower, this is powerfully emotional stuff." —BCCB

"Dellaira's characters are authentically conceived and beautifully drawn." —The Horn Book

"Best for teens who enjoyed Stephen Chbosky's The Perks of Being a Wallflower." —School Library Journal

"Laurel and her friends' struggles and hard-won successes are poignant, and seeing Laurel begin to forgive herself and May is extremely moving." —Publishers Weekly

"I simply loved this book. Love Letters to the Dead is more than a stunning debut. It is the announcement of a bold new literary voice." —Stephen Chbosky, author of The Perks of Being a Wallflower

"A brilliant story about the courage it takes to keep living after your world falls apart. A heart-wrenching celebration of love and friendship and family." —Laurie Halse Anderson, author of Speak

"With beautiful observations of where life can take us, from grieving to celebrating, disappointment to wonder, LOVE LETTERS TO THE DEAD is a love letter to living." —Jay Asher, author of 13 Reasons Why

"Dear Ava Dellaira: Your book broke my heart, and pieced it back together. As with Kurt, Janis, Amelia and the others who are gone but still somehow here, LOVE LETTERS TO THE DEAD leaves an indelible mark." —Gayle Forman, author of If I Stay

"As wondrous--and as fearless--as a shooting star." —Lauren Myracle, author, The Winnie Years

"Riveting, captivating, utterly disarming. I could not put this book down! LOVE LETTERS TO THE DEAD is like discovering a shoebox full of notes addressed to someone else. I read fast, afraid I'd be caught peeking at something I wasn't ever supposed to see. A voyeuristic delight!" —Siobhan Vivian, author of The List

"Effective and satisfyingly heartbreaking." —Kirkus Reviews

"Well paced and cleverly plotted, this debut uses a fresh, new voice to tell a sometimes sad, sometimes edgy, but always compelling narrative. Fans of Sarah Dessen and Jenny Han, get ready."—Booklist, starred review