The Brothers Cabal: A Novel (Johannes Cabal Novels #4) (Paperback)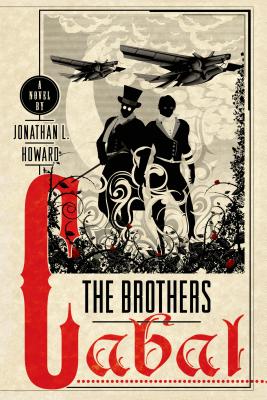 $18.99

Not Available In-Store - Usually Ships from Warehouse in 1-5 Days
Other Books in Series
This is book number 4 in the Johannes Cabal Novels series.
Staff Reviews
---
With each of Jonathan Howard's books I can't help but love the curmudgeon necromancer Johannes Cabal more, even though Mr. Cabal would probably hate me for saying that. In his latest book Howard has readers follow Johannes's brother Horst Cabal on an adventure that would could be described as a mix of steampunk airplane chases and deadly necromancer battles. Horst finds himself mixed up in a world filled with shapeshifters, secret societies, and zombies and there's only one person he knows who can help him in this crazy supernatural problem solving adventure, Johannes Cabal. This series is a must for those like twisted humor and good ol' sibling rivalry. 
—
Jess
Description
---
"The Brothers Cabal is smart, funny, and dark in all the right places. Imagine Mycroft and Sherlock-if one were a polite vampire and the other were a surly necromancer-up against an army of monsters and magicians. Like Pratchett and Fforde, Jonathan L. Howard puts it all together and makes it look effortless." -Christopher Farnsworth, author of Blood Oath

Horst Cabal has risen from the dead. Again. Horst, the most affable vampire one is ever likely to meet, is resurrected by an occult conspiracy that wants him as a general in a monstrous army. Their plan: to create a country of horrors, a supernatural homeland. As Horst sees the lengths to which they are prepared to go and the evil they cultivate, he realizes that he cannot fight them alone. What he really needs on his side is a sarcastic, amoral, heavily armed necromancer.

As luck would have it, this exactly describes his brother.

Join the brothers Cabal as they fearlessly lie quietly in bed, fight dreadful monsters from beyond reality, make soup, feel slightly sorry for zombies, banter lightly with secret societies that wish to destroy them, and-in passing-set out to save the world.
About the Author
---
JONATHAN L. HOWARD is a game designer, scriptwriter, and a veteran of the computer-games industry since the early nineties, with titles such as the Broken Sword series to his credit. He is author of Johannes Cabal the Necromancer, Johannes Cabal the Detective, and Johannes Cabal: The Fear Institute, as well as the YA novels Katya's World and Katya's War. He lives in the United Kingdom with his wife and daughter.
Praise For…
---
"Jonathan L. Howard has such an effortless way with monsters and the undead that you might suspect him of being, like his creation, Johannes Cabal, a necromancer. The series is addictive." —Richard Kadrey, author of the Sandman Slim series

"The Brothers Cabal is smart, funny, and dark in all the right places. Imagine Mycroft and Sherlock -- if one were a polite vampire and the other were a surly necromancer -- up against an army of monsters and magicians. Like Pratchett and Fforde, Jonathan L. Howard puts it all together and makes it look effortless." —Christopher Farnsworth, author of Blood Oath

"In the vein of the comic horror/fantasies of Tom Holt and Christopher Moore, but substantially weirder. Although it's part of a series, the book can be read as a stand-alone, and fans of the genre should definitely be encouraged to give it a look." —Booklist

"Howard is a supremely talented writer and the Johannes Cabal series makes for superb reading. It would be easy at this point to say if you like Rankin or Fforde or Pratchett or Holt, then you will love these books, but while it may well be true it would be doing Howard a disservice." —Sci-Fi-London

"Howard makes it look easy to paint a soul-stealing murdering necromancer as a sympathetic character; that, folks, is worth the price of admission." —San Diego Union-Tribune

"Cabal, the detective and necromancer, is full of charismatic amorality, making him both a classical and refreshing antihero." —Time Out Chicago

"Howard's ear for witty banter and his skill at rendering black comedy bode well for the future." —Publishers Weekly

"Johannes Cabal would kill me for saying this, but he's my favorite Zeppelin-hopping detective. The fellow has got all the charm of Bond and the smarts of Holmes--without the pesky morality." —Daniel H. Wilson, author of Robopocalypse

"Howard's characters, relentless imagination, twisting plotlines, and use of language make the Johannes Cabal series a real pleasure to read." —Richard Kadrey, author of the Sandman Slim novels