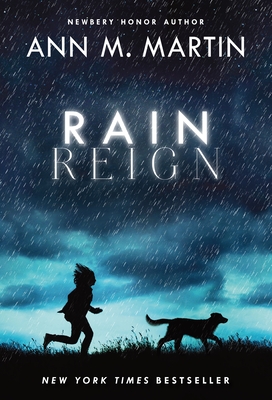 Staff Reviews
---
My favorite books are the ones with characters so vivid I want to read them again just to spend a little more time with them. This is one of those books and Rose is one such character. Rose is different. And not the quirky, cute solve-it-with-a-haircut and take-off-her-glasses quick fix kind of different. She's a lonely little girl whose life starts to change for the better when she gets a dog. When her dog goes missing Rose will stop at nothing to find her. Rose tells her story so beautifully she made me cry, and not for the reasons you might think given there is a dog on the cover. As a bonus and quite by accident, Rose taught me valuable lessons about following the rules, doing what is right, accepting people different from myself and learning to connect with the world around me. I am ever so grateful.
—
Elisa
Description
---
From Newbery Honor author Ann M. Martin, who wrote the Baby-sitters Club series, comes a New York Times-bestselling middle grade novel about a girl, her dog, and the trials of growing up in a complicated and often scary world.

Rose Howard is obsessed with homonyms. She's thrilled that her own name is a homonym, and she purposely gave her dog Rain a name with two homonyms (Reign, Rein), which, according to Rose's rules of homonyms, is very special. Not everyone understands Rose's obsessions, her rules, and the other things that make her different—not her teachers, not other kids, and not her single father.

When a storm hits their rural town, rivers overflow, the roads are flooded, and Rain goes missing. Rose's father shouldn't have let Rain out. Now Rose has to find her dog, even if it means leaving her routines and safe places to search.


"A story about honorable living in the autistic narrator genre that sets the bar high. . . . Martin has penned a riveting, seamless narrative in which each word sings and each scene counts." —Kirkus Reviews, starred review

This title has Common Core connections.
About the Author
---
Ann M. Martin is the New York Times-bestselling author of Rain Reign and many other award-winning novels and series, including the much-loved Baby-Sitters Club. She lives in upstate New York.
Praise For…
---
"Newbery Honor author Martin (A Corner of the Universe) is extremely successful in capturing Rose's perspective and personality." —Publishers Weekly, starred review

"A story about honorable living in the autistic narrator genre that sets the bar high. . . . Martin has penned a riveting, seamless narrative in which each word sings and each scene counts." —Kirkus Reviews, starred review

"Simplicity, clarity, and emotional resonance are hallmarks of Rose's first-person narrative, which offers an unflinching view of her world from her perspective . . . A strong story told in a nuanced, highly accessible way." —Booklist, starred review

"Anna M. Martin, a Newberry Honor winner, offers this affecting, elegantly burnished middle-grade book about a girl with autism. . . . And yet the book isn't actually about autism, or even any coming-of-age theme. It's about love and fealty, fear, hope, the release from burdens, and what kids–all kids–need but often don't get." –The New York Times Sunday Book Review

"Though Rose's story is often heartbreaking, her matter-of-fact narration provides moments of humor. Readers will empathize with Rose, who finds strength and empowerment through her unique way of looking at the world."—School Library Journal, starred review

"Rose is a character we root for every step of the way. She is resilient, honest, and, in her own odd way, very perceptive; a most reliable narrator." —The Horn Book, starred review