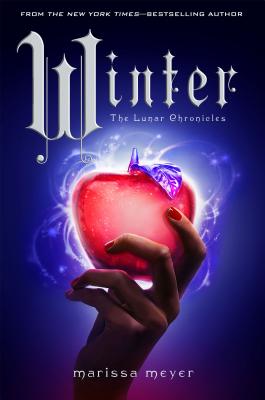 $12.99
Special Order - Subject to Availability
Staff Reviews
---
How do you wrap up an epic fairy tale with mutant creatures, an evil queen, plagues, and impossible odds? Add more of course! Marissa Meyer gives us the ending to the crazy, plot twisting Lunar Chronicles with this series that had me hooked from the start with Cinder. As sad as I am to see the end of some of my favorite story characters, I was really happy with how it all came together. It's so easy to get lost in the world of the Lunar Chronicles. If you haven't read Cinder, Scarlet or Cress, I suggest you go grab them immediately because you're not going to want to put them down in this fast-paced new version of stories you thought you knew.
—
Jess
Description
---
The final book in the #1 New York Times- and USA Today-Bestselling Lunar Chronicles series by Marissa Meyer As the story draws to a close, our team of fairytale heroines must join forces with wicked Levana's own stepdaughter to stop the evil space queen once and for all--or lose everything.

"An interesting mash up of fairy tales and science fiction . . . a cross between Cinderella, Terminator, and Star Wars." --Entertainment Weekly on the Lunar Chronicles
"Prince Charming among the cyborgs." --The Wall Street Journal on the Lunar Chronicles
Princess Winter is admired by the Lunar people for her grace and kindness, and despite the scars that mar her face, her beauty is said to be even more breathtaking than that of her stepmother, Queen Levana.
Winter despises her stepmother, and knows Levana won't approve of her feelings for her childhood friend--the handsome palace guard, Jacin. But Winter isn't as weak as Levana believes her to be and she's been undermining her stepmother's wishes for years. Together with the cyborg mechanic, Cinder, and her allies, Winter might even have the power to launch a revolution and win a war that's been raging for far too long. Can Cinder, Scarlet, Cress, and Winter defeat Levana and find their happily ever afters?
Fans will not want to miss this thrilling final installment in the national bestselling Lunar Chronicles series.
Don't miss these other books from #1 New York Times-and USA Today-Bestselling author Marissa Meyer
The Lunar Chronicles
Cinder
Scarlet
Cress
Winter
Stars Above
Fairest
The Lunar Chronicles Coloring Book
Wires and Nerve: Vol.1
Wires and Nerve: Vol.2
Renegades
Renegades: Book One
Heartless
Praise for the Lunar Chronicles
#1 New York Times-BestsellingSeries
USA Today Bestseller
Publishers Weekly Bestseller
"Terrific." --Los Angeles Times
"Marissa Meyer rocks the fractured fairytalegenre." --The Seattle Times
"Epic awesome." --Bustle
"A binge-reading treat." --MTV
"Takes the classic to a whole new level." --NPR
"Delivers in spades . . . Winter's exciting, action-packed plot will have you devouring all 824 pages fast and furiously." --USA Today on Winter
"This final installment abounds with nail-biting action, suspense, and romance." --Publishers Weekly on Winter
About the Author
---
Marissa Meyer is the USA Today- and New York Times-bestselling author of The Lunar Chronicles: Cinder, Scarlet, Cress, Winter, and Fairest: Levana's Story. She lives in Tacoma, Washington, with her husband.