The Story of a Brief Marriage: A Novel (Paperback)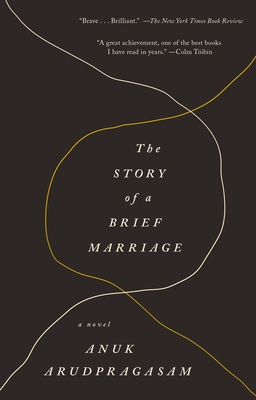 $15.99
Not Available In-Store - Usually Ships from Warehouse in 1-5 Days
Staff Reviews
---
Why is tenderness so much more poignant during times of war?
What does mindfulness look like as bombs fall on a refugee camp? And hope?
Author Anuk Arudpragasam's novel slows time down just enough to show us, rapturously, in this brutal, beautiful, tender and devastating story. Only by the end might you realize that the brevity established in the title has broken your heart, but by then, you'll know the story is unforgettable.
—
Claudia
Description
---
Winner of the 2017 DSC Prize for South Asian Literature
"Brave…Brilliant…This is a book that makes one kneel before the elegance of the human spirit and the yearning that is at the essence of every life." —The New York Times Book Review

"One of the best books I have read in years." —Colm Toibin
Two and a half decades into a devastating civil war, Sri Lanka's Tamil minority is pushed inexorably towards the coast by the advancing army. Amongst the evacuees is Dinesh, whose world has contracted to a makeshift camp where time is measured by the shells that fall around him like clockwork. Alienated from family, home, language, and body, he exists in a state of mute acceptance, numb to the violence around him, till he is approached one morning by an old man who makes an unexpected proposal: that Dinesh marry his daughter, Ganga. Marriage, in this world, is an attempt at safety, like the beached fishing boat under which Dinesh huddles during the bombings. As a couple, they would be less likely to be conscripted to fight for the rebels, and less likely to be abused in the case of an army victory. Thrust into this situation of strange intimacy and dependence, Dinesh and Ganga try to come to terms with everything that has happened, hesitantly attempting to awaken to themselves and to one another before the war closes over them once more.
Anuk Arudpragasam's The Story of a Brief Marriage is a feat of extraordinary sensitivity and imagination, a meditation on the fundamental elements of human existence—eating, sleeping, washing, touching, speaking—that give us direction and purpose, even as the world around us collapses. Set over the course of a single day and night, this unflinching debut confronts marriage and war, life and death, bestowing on its subjects the highest dignity, however briefly.
About the Author
---
Anuk Arudpragasam is from Colombo, Sri Lanka, and is currently completing a dissertation in philosophy at Columbia University. He writes in Tamil and English. The Story of a Brief Marriage is his first novel and was shortlisted for the Dylan Thomas Prize and the DSC Prize for South Asian Literature.
Praise For…
---
Winner of the DSC Prize for South Asian Literature and the Shakti Bhatt First Book Prize
Shortlisted for the Dylan Thomas Prize
Named One of the Top 10 Novels of the Year by The Wall Street Journal
Named a Best Book of the Year by NPR, The Guardian, The Boston Globe, BuzzFeed, The Financial Times, The Globe and Mail, and Entropy Magazine
"Brave…Brilliant…This is a book that makes one kneel before the elegance of the human spirit and the yearning that is at the essence of every life."
—The New York Times Book Review
"An exceptional debut…Beautiful and penetrating and truthful: a small work of art whittled from atrocity."
—The Wall Street Journal
"The novel is set in the Sri Lankan civil war, but it could just as easily be Syria, Somalia or Yemen. I have never seen such horror rendered with such poetry. This may be the shortest book I read all year but it lodged in my brain more than almost any other."
—Ari Shapiro, NPR (Best Books of 2016)
"Luminous…Profound…Perfectly written…It has the aura of a small, timeless masterpiece…The novel does not attempt to normalize fear or violence. Rather, it demands that we pay this war and these people what they are owed—our careful attention, some subtle noticing."
—Colm Tóibín, Bookforum
"Anuk Arudpragasam's The Story of a Brief Marriage is a devastating account of political violence that refuses the grand abstractions of political discourse and dwells instead in complicated moments of intimacy—and in the ragged, luminous particulars of physical experience. It brings Ezra Pound's notion of periplum—the shoreline as seen by the sailor, not as it appears on the map—to the terrain of war. It's the merciless, unsurrendered song of what it means to live in the midst of death. This novel changed my sense of how a novel can draw its own borders, and what it can do inside them."
—Leslie Jamison, author of The Empathy Exams
"The Story of a Brief Marriage written with subtlety, tact and intelligence. Every image in the book, including the most desolate, is rendered with precision and an aura of pure truth and tenderness. It is a great achievement, one of the best books I have read in years."
—Colm Toibin, New York Times bestselling author of Brooklyn

"The most extraordinary novel I read this year…In its small span it tackles the largest themes: the purposelessness of human suffering, the love that gives purpose to human life."
—Garth Greenwell, GQ
"Devastating...The author keeps the war's context shadowy, giving Dinesh's plight an existential force...An act of sustained empathy."
—The New Yorker

"A miracle of a novel, one of the most humane, visceral, gut-wrenching and precise stories I have ever read."
—Paul Yoon, The Millions
"Astonishing…One of the most extraordinary novels of the year…A profound meditation on bodies in turmoil. It's a book that lives in the body long after you finish it."
—Barnes & Noble Review
"Spectacular…Profound...Arudpragasam writes with control, clarity, and a terrible beauty that acknowledges the world's grandeur in the midst of darkness. But despite the desolate subject matter, this is not a desolate tale. It is as much about finding the strength to live fully, even in such close proximity to death as Dinesh finds himself, as it is about our capacities to endure pain."
—Financial Times (Best Books of 2016)
"Beautiful…Remarkable…Rich with metaphor and unflinching in its look at life in a war zone."
—Los Angeles Review of Books

"The Story of a Brief Marriage got under my skin like few other books did this year. It's written with a stunning precision, and there's a powerful tension between Arudpragasam's sometimes lyrical use of language and the horrors of the war around which this book is set."
—Tobias Carroll, Vol. 1 Brooklyn (Favorite Books of 2016)
"Masterful…So vivid and visceral that it feels like magic…Arudpragasam describes the physical experience of being alive in a way that makes your heart beat faster."
—Book Riot
"Philosophical thought suffuses [Arudpragasam]'s fiction…He's is a writer attuned to, and unafraid of, discomfort—an essential quality in our current moment."
—Guernica
"Sublime…A rumination on the precious ordinary things of life…Arudpragasam is awake to, more than anything else, the sacredness of life, of its fragility…He shows us the relief that is possible, the love that is sought, ever so briefly."
—Rohini Mohan, The Hindu
"Slim and devastating…Arudpragasam's prose slays in its detail…The traditional war narrative has never been quite so intimate. The Story of a Brief Marriage strikes at the core of sacrificial love when the heart has nothing left to give."
—Ploughshares
"A suspended, reverie-like innocence suffuses Anuk Arudpragasam's Sri Lankan civil war-set romance."
—Vogue (Books People Are Talking About)
"Formidable…Brilliantly unsettling…Recalling Jose Saramago, The Story of a Brief Marriage takes a fraught political-historical moment and creates out of it a fable-like novel."
—The Guardian
"Like poetry…Arudpragasam masterfully gives us the details of each experience…This is not the simplicity of broad strokes, but a pointillism whose interior swirls infinitely, demanding an eye that will not turn away…The book changed me."
—The Rumpus
"Beautiful and devastating."
—Cynthia D'Aprix Sweeney, The Millions
"[A] small miracle of a debut…Brief but shattering, this poetic, philosophical, transporting work confronts the reader with the texture of life endured behind numbing, daily news headlines. What does it mean to be human when living under a rain of death? This most humane of novels offers an attempt at an answer."
—BookOxygen
"Remarkable…Focused, passionate, and artful…There are few books that reveal the emotional complexities of unending warfare so thoroughly, and The Story of a Brief Marriage seems destined to be remembered."
—Pacific Standard
"Startling…Searing…Exquisite…A pensive and tender portrait of how human beings reach for each other in times of need, the novel explores what it means to be alive when dignity has been stripped away…Recalls Primo Levi's If This Is a Man."
—Irish Times
"Told in meditative prose, this explosive novel marks the arrival of a great new literary voice."
—Elle
"Arudpragasam's touching, evocative prose, and original premise make for an unforgettable addition to the war novel. A new classic."
—The Globe and Mail (The 100 Best Books of 2016)
"An intense and beautiful account of the essential human spirit, painting a picture of the first day of a marriage that all couples will recognize, even those whose unions weren't marked by violence and civil war."
—Bustle
"Powerful…The prose style reminds one of Paul Harding's Pulitzer-winning novel Tinkers…Arudpragasam shows that one can write a deeply felt story coming from a place of imagination—showing the humanity of the brutalized civilian in a situation where nobody is granted the freedom to be innocent."
—The Wire
"Luminous and expansive…Echoes for miles and years…With a surgeon's touch, Dinesh's perceptions, assumptions, perseverations, emotions, and physical experience are rendered visible. Arudpragasam with poetic surprise documents the almost minute by minute inner life of this soul."
—The Buffalo News
"Poignant…Profoundly cognizant of the fragility, sanctity, and beauty of life…[The Story of a Brief Marriage] turns our focus not only on the brutality of war, but also on the blessing of life."
—Washington Independent Review of Books
"The tale of two strangers suddenly thrust into a strange new relationship, The Story of a Brief Marriage is an immersive portrait of life touched by war and despair that will be sure to move you."
—BuzzFeed (Incredible New Books You Need to Read This Fall)

"When we discuss the difficulties of marriage, we take for granted that many American relationships at least have the benefit of a solid foundation of basic needs: shelter, food and, to an extent, safety. The Story of a Brief Marriage strips a relationship of those comforts, speaking to something more essential shared between two humans."
—Huffington Post (20 New Books You'll Need for Your Shelf in Fall 2016)

"With care and precision, Arudpragasam delivers a deeply contemplative, psychological portrait of war and how quickly language and memory fall away in the face of constant terror…An incisive glimpse into the brutality of war and the tender, human urge to connect in the face of death and destruction."
—Kirkus Reviews

"In Dinesh, Arudpragasam creates a wholly empathetic and doting character…Dinesh finds beauty in the worst of situations, which contributes to making this debut deeply moving and hopeful."
—Publishers Weekly
"Beautifully descriptive…Haunting…This gorgeously written novel is similar to Vaddey Ratner's In the Shadow of the Banyan in the way it captures intimate human experiences in the face of war."
—Booklist
"Very seldom in a reading life does a novel alter your sense not only of literature but of the world. This extraordinary debut is of that class: a novel of consciousness unrelenting in its devotion to the imperiled body; an exquisite, unbearably moving work of art equally alive to brutality and tenderness. Anuk Arudpragasam has written a great book. I will never forget it."
—Garth Greenwell, author of What Belongs to You
"Anuk Arudpragasam's novel is a work of furious, hypnotic beauty—honest and unsparing in its engagement with the consequences of war, and brilliantly tender and generous in its portrayal of love."
—Dinaw Mengestu, author of All Our Names
"I can say only what is true: this book is a work of art in the most profound sense. It makes from real life a fiction that shows what real life is. To read this book is to feel the abomination and the holiness of life, together in every moment, and to understand what literature is for."
—Merritt Tierce, author of Love Me Back
"An essential book, and not just because its setting and its subject matter are essential, but because it is so awake to—in fact haunted by—elements of experience that rarely make it onto the page. One suspects that Anuk Arudpragasam could choose to write about anybody, in any circumstance, and through his pen one would feel the mysterious tug of time upon their senses and the nakedness of their minds before the world."
—Kevin Brockmeier, author of The Illumination
"The Story of a Brief Marriage is astounding. Anuk Arudpragasam has done something so brilliant and so simple I'm still reeling. He's written a book about the great subjects, love, war, life, and death. But he's done it through the lens of the body. So close you will feel it in your own body. I've been waiting decades for this book. I think I started writing because I wanted to read this book."
—Nayomi Munaweera, author of What Lies Between Us and Island of a Thousand Mirrors
"I loved The Story of a Brief Marriage. I loved the delicacy in the language, which seemed to me to have the quality of thought unfolding. This novel is written with such care, such devoted noticing."
—Sunjeev Sahota, Man Booker Prize-shortlisted author of The Year of the Runaways
"This small story of a brief marriage sends out ripples far beyond its parameters: it bears witness to the lives and suffering of those thousands of men, women, and children who perished in the last days of Sri Lanka's civil war, whose numbers are still uncounted and who lie in unmarked graves. When future generations want to understand, in human terms, what happened, they will read this graceful masterpiece."
—Shyam Selvadurai, author of Funny Boy
"In Anuk Arudpragasam's The Story of a Brief Marriage, the smallest, most granular acts of the human body and the heart take on the aura of the miraculous—an ode to the essential, unbearable battle to salvage one's humanity while existing inside the grotesque and pitiless march of war. This novel is the debut of a lifetime."
—Laura van den Berg, author of Find Me
"The Story of a Brief Marriage contains a series of mesmerizingly visceral scenes. It's short and riveting, but I had to read it slowly to give its deep power time to unfold, the sublime beauty of love and the stark cruelty of war evoked through the truths of the body. It's an amazing novel. I can't forget it."
—Kate Christensen, PEN/Faulkner Award-winning author of The Great Man
"The Story of a Brief Marriage opens with some of the most extraordinary pages I have come across in recent years and then continues to amaze. Unafraid to look its huge subjects—death, war, life, love—straight in the eye, it nonetheless remains marvelously, miraculously light on its feet. Anuk Arudpragasam writes with courage, precision, and tenderness. You feel it in every sentence. Read this novel. See what he has done."
—Laird Hunt, author of Neverhome

"Anuk Arudpragasam's novel is a report from that far, unnamed country called the human soul. I cannot remember when I last read such a powerful excavation of the silence that survives the explosions of language and time. The Story of a Brief Marriage is one of the most meaningful, and imaginative, literary works to come out of our wretched, war-torn decades."
—Amitava Kumar, author of A Foreigner Carrying in the Crook of His Arm a Tiny Bomb