All the Feels: All Is Fair in Love and Fandom (Paperback)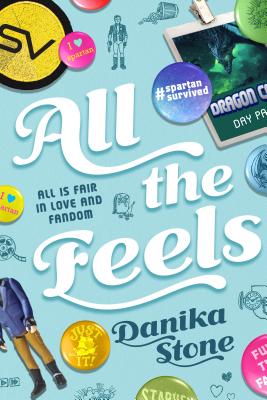 $9.99
Not Available In-Store - Usually Ships from Warehouse in 1-5 Days
Staff Reviews
---
After the untimely demise of beloved Captain Malcolm Ren--I mean Matt Spartan from the latest Starveil movie, fans across the world are in mourning, and desperate AU fan fiction is appearing by the hour. As Liz struggles to balance college life with her Starveil fandom passion, she decides she must do the impossible. With the help of her perpetually cosplayed friend, Xander, together they learn the depths of fandom friendships and the support power of a nerdy community…and possibly bring a certain captain back to life. There will be many opportunities for laughing and geeking out while reading, from everyday cosplay, to a trip to Dragon Con. So grab a bowl of popcorn for this fun weekend read because you'll definitely...what's the phrase? Feel all the feels.
—
Leah
Description
---
Readers who understand the power of fandom will devour this funny and emotional novel about nerd culture, struggling with college, and falling in love with your best friend.
College freshman Liv is more than just a fangirl: The Starveil movies are her life. When her favorite character is killed off, Liv Just. Can't. Deal. She launches an online campaign to bring her hero back to life. Step one: Bribe her best friend, Xander, into helping by making costumes for his steampunk cosplay. Step two: Balance her booming fandom life with school, parental disapproval, and her (nonexistent) love life. Maybe a trip to Dragon Con with Xander would help?
Danika Stone's All the Feels, chosen by readers like you for Macmillan's young adult imprint Swoon Reads, is a heartfelt and honest look at life, love and what it means to be a passionate fan.
Praise for All the Feels:
"This is an insider's look into the life of a fangirl. ... Liv's experiences with fandom will resonate with many teens, but it is her struggles to understand her goals for the future, her feelings for Xander, and even the drudgery of college that will compel teens to stick with this story." --School Library Journal
"The book is a dream. I loved absolutely everything about it. ... From the chapter headers to every mention of nerd culture, All the Feels is a blast for anyone who's ever been completely consumed by a fandom. If you've ever been a geek who's felt out of place, this is the book for you " --Seeking Book Boyfriends
"I fell in love with this story Well written, funny, with a side of romance. Liv and Xander are great. Real friends with the ups and downs all friends have. I was laughing and cringing as I read. This book definitely captures the feel of all consuming fandom can be, but there's a real heart to its message. Totally loved it " --Mara M., reader on SwoonReads.com
"A great read about fandom and friendship." --Kate Pearson, reader on SwoonReads.com
About the Author
---
Danika Stone is an author, artist, and educator who discovered a passion for writing fiction while in the throes of her Masters thesis. A self-declared bibliophile, Danika now writes novels for both adults (The Intaglio Series andCtrl Z) and teens (All the Feels). When not writing, Danika can be found hiking in the Rockies, planning grand adventures, and spending far too much time online. She lives with her husband, three sons, and a houseful of imaginary characters in a windy corner of Alberta, Canada.