Orson Welles's Last Movie: The Making of The Other Side of the Wind (Paperback)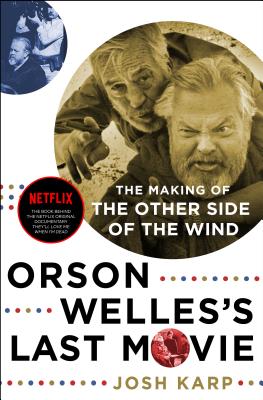 $16.99
Email or call for price.
Staff Reviews
---
For years I've heard stories from people who were involved in this mad enterprise when it filmed in Arizona in the seventies. Tales not only of Welles, but also John Huston, Dennis Hopper, and even Pat McMahon from "The Wallace and Ladmo Show." What an insane lineup of talent! The movie is still unfinished and tied in legal limbo, so this thoroughly enjoyable book may be the closest we'll ever come to viewing the fat maestro's final masterpiece.
—
Steve
Description
---
Journalist Josh Karp shines a spotlight on the making of The Other Side of the Wind—the final unfinished film from the auteur of Citizen Kane in Orson Welles's Last Movie, the basis of Oscar-winning director Morgan Neville's Netflix Original Documentary, They'll Love Me When I'm Dead.

In the summer of 1970, legendary but self-destructive director Orson Welles returned to Hollywood from years of self-imposed exile in Europe and decided it was time to make a comeback movie. Coincidentally, it was the story of a legendary self-destructive director who returns to Hollywood from years of self-imposed exile in Europe. Welles swore it wasn't autobiographical.

The Other Side of the Wind was supposed to take place during a single day, and Welles planned to shoot it in eight weeks. It took six years during his lifetime—only to be finally completed more than thirty years after his death by The Last Picture Show director Peter Bogdanovich, who narrates the film, and released by Netflix.

Orson Welles's Last Movie is a fast-paced, behind-the-scenes account of the bizarre, hilarious, and remarkable making of what has been called "the greatest home movie that no one has ever seen." Funded by the shah of Iran's brother-in-law, and based on a script that Welles rewrote every night for years, the film was a final attempt to one-up his own best work. It's a production best encompassed by its star—the celebrated director of The Maltese Falcon, John Huston—who described the making of the film as "an adventure shared by desperate men that finally came to nothing."
About the Author
---
Josh Karp is a journalist and writer who teaches at Northwestern University. His first book, A Futile and Stupid Gesture, won best biography of 2006 at both the Independent Publisher Book Awards and the Midwest Book Awards. It was adapted into the 2018 Netflix film of the same name, starring Will Forte. Karp is also the author of Straight Down the Middle: Shivas Irons, Bagger Vance and How I Learned to Stop Worrying and Love My Golf Swing and Orson Welles's Last Movie: The Making of The Other Side of the Wind. His writing has appeared in Salon, The Atlantic, and Newsweek, among others.
Praise For…
---
"A dynamic account of the film's making and eventual undoing."—The New Yorker

"Supremely entertaining ...[and]... an early contender for this year's best book about Hollywood."—Hollywood Reporter

"Fascinating...an in-depth account. [A] wonderful book." —The Wall Street Journal

"Meticulously researched."—Washington Post

"Excellent...this tale of the ultimate movie gone wrong could make for a pretty wonderful movie." -Entertainment Weekly

"Karp applies enthusiastic scholarship, with vivid narrative writing and just the right touch of can-you-believe-this-stuff? marvel." - New York Times Book Review

"Propulsive..." - New York Magazine

"A unique and compelling book."—Winnipeg Free Press