Pretty Is: A Novel (Paperback)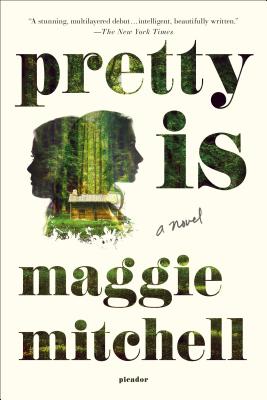 $17.00
Not Available In-Store - Usually Ships from Warehouse in 1-5 Days
Staff Reviews
---
Once upon a time there were two little girls who were as different as could be: one was brashly pretty and outspoken, the other quiet and watchful. In fact, the only thing they had in common was the man who took them. Despite the odd summer that binds them, as adults they are still vastly different: Carly May is a semi-successful actress and Lois is an pseudonymous author and professor. This book shimmers with anxiety, going back and forth between the women's present and their twelfth summer. I was drawn to the story of these girls who were technically unharmed, but not unchanged and I was sucked in by Mitchell's skilled writing. This is a strange, menacing piece of work and I couldn't put it down!
—
Lauren P.
Description
---
The summer precocious Lois and pretty Carly May were twelve years old, they were kidnapped, driven across the country, and held in a cabin in the woods for two months by a charismatic stranger. Nearly twenty years later, Lois has become a professor, teaching British literature at a small college in upstate New York, and Carly May is an actress in Los Angeles, drinking too much and struggling to revive her career. When a movie script with a shockingly familiar plot draws the two women together once more, they must face the public exposure of their secret history and confront the dark longings and unspeakable truths that haunt them still. Pretty Is by Maggie Mitchell beautifully defies ripped-from-the-headlines crime story expectations and announces the debut of a masterful new storytelling talent.
About the Author
---
Maggie Mitchell has published short fiction in a number of literary magazines, including the New Ohio Review, American Literary Review, and Green Mountains Review. Her story "It Would Be Different If" is included in the Bedford Introduction to Literature. She teaches English and creative writing at the University of West Georgia. Pretty Is is her first novel.
Praise For…
---
"[A] stunning, multilayered debut . . . . with a great deal of intelligent, beautifully written panache. . . . What a satisfying novel, with its shifting perspectives and competing stories and notion that our relationship to the truth changes with time and distance." —The New York Times
"Mitchell knows what she's doing. As she patiently parcels out details about the abduction, she explores the horrifying yet magnetic grip such traumas have on our lives and imaginations. . . . Gone Girl has primed us for female leads with dark pasts, but Mitchell's novel is an original and haunting page-turner about the emotional shocks that come with--literally--rewriting your history." —O, the Oprah Magazine, "Page-Turners Too Addictive to Put Down"
"A magnificently complex, psychologically enthralling, and intelligently disturbing debut novel . . . .Pretty Is reveals itself to be far more than a breathlessly entertaining read. It's a work of sly and seductive brilliance. . . . Mitchell gives us what every real thriller, mystery, and psychologically compelling work promises but few deliver: a searching look into our own worst fears about what we desire and what we need. " —Psychology Today
"Maggie Mitchell's Pretty Is is an addictive read--Lois's and Carly May's alternating narrations keep the pace moving forward irresistibly--but it also kindles provocative ideas about our culture's obsession with real-life horror stories. Don't get too attached to your copy; you'll be lending it out to everyone you know this summer." —Bustle
"If you prefer to add a dark edge to your sunny vacation, this debut work of literary suspense should keep you on the edge of your beach chair." —The Huffington Post, 15 Beach Reads to Bask In This Summer
"The novel Pretty Is not only baits, then switches, it ultimately forces readers to ask, "What exactly are we afraid of here?" It's quite a piece of work from first-time novelist Maggie Mitchell, who uses the psychology of suspense to take us where we most definitely did not plan to go. . . .There is something to see here, something profoundly complex and deeply intriguing." —New York Daily News
"What does it mean, the book asks, to have a traumatic experience whose limits aren't clear-cut, and might blur to include feelings of attachment, excitement, even pleasure? This is an intriguing premise" —The New York Times Book Review
"An interesting and unexpected exploration of the aftermath of an abduction that left invisible scars. . . .The voices of the two women are distinctive, each sharp and witty in her own way. A satisfying, unusual novel." —Kirkus Reviews
"Mitchell's debut combines psychological suspense and literary fiction with well-drawn, believable protagonists who alternate as narrators. The story is strongest when we go inside the young women's minds as they grapple with their shared past . . . . Mitchell is on her way to a place at the femmes fatales fiction dais with Megan Abbott, Gillian Flynn, Tana French, and Sharon Bolton." —Library Journal
"Mitchell's debut novel is both a skewering of America's JonBenet Ramsey-style fixation with little girls in peril and a fascinating glimpse at the intensity of female friendship. . . . Told in flashbacks from alternating points of view, the work is most interesting when Mitchell explores the girls' desires and neuroses. . . . Psychologically rich, with haunting detail, Mitchell's work is a disturbing, insightful look at our deep fears. " —Publishers Weekly
"Mitchell carries readers through a thrilling, literary psychological adventure that examines how pivotal moments can echo throughout our lives." —BookPage
"Suspenseful, quick-paced and action-driven, Pretty Is also wisely invests in character development. . . . Mitchell's greatest strength, however, is in the riveting, magnetic pull of her plot, as the stakes grow higher and Pretty Is rushes toward its finale." —Shelf Awareness
"Stands out for its slick, subversive take on a trope that is showing no signs of going away. . . . There are layers upon layers upon layers in Pretty Is . . . . Mitchell teases and dances, always one step ahead, never happier than when she's refusing to pin anything down." —The Guardian
"A daring psychological thriller . . . I could not turn the pages fast enough. A wickedly good debut novel." —Elin Hilderbrand, author of The Rumor and Barefoot
"The best book of its kind I've read since Lionel Shriver's We Need to Talk About Kevin . . . A powerful plot that keeps the tension bubbling and the reader's attention rapt, written by a natural-born storyteller blessed with emotional intelligence and sheer deftness of language. Pretty Is is a real thriller of a novel that will keep you up all night." —Fay Weldon, author of Habits of the House
"Mitchell's fresh, spectacular, and bristly heroines illuminate this story of a crime survived. Pretty Ispromises mountains of suspense, while offering a transfixing look at the urge to give voice, to make art." —Amity Gaige, author of Schroder: A Novel
"Ram Dass says, 'We are all just walking each other home,' and while reading Pretty Is, I thought of that wisdom often. Kidnapped at age twelve, rescued six weeks later, Lois and Carly Mae head off into adulthoods as far from each other as possible. Yet they cannot help but walk back into each other's lives and relive the event, honestly, for the first time. Maggie Mitchell has a wonderful style-combining classic thriller techniques with those of literary fiction to create a novel that spools out like a ribbon. Readers of Tana French, Dennis LeHane, and James Lee Burke will recognize another writer with a surefire ability to tell a story." —Jo-Ann Mapson, LA Times bestselling author of Solomon's Oak, Finding Casey, and Owen's Daughter
"Intriguing and suspenseful, surprising and smart . . . a riveting drama that stays with the readerlong after the last page is turned." —Jessica Treadway, author of Lacy Eye
"Mitchell writes with such a strong sense of character and voice that from the first sentence of Pretty Is I was entirely hooked. It's almost impossible to believe this is her first novel. You'll keep thinking about this suspenseful, brilliant debut long after you finish it. Ms. Mitchell makes many compelling observations about gender, desire, and fear. Extraordinary." —Christine Sneed, author of Little Known Facts and Paris, He Said
"Pretty Is intrigues the reader with moral questions and ultimately alters these queries frame-by-frame. To answer the question of what pretty is is to ask what ugly is, and to accept challenging ethical ambiguities. This is a unique book, with lucid prose and compelling frankness about an emotional taboo few writers dare to give voice to." —Margaux Fragoso, author of Tiger, Tiger
"Pretty Is announces an exceptional new voice in fiction. By turns poignant, funny, and terrifying, Pretty Is mines the contradictions of the heart with fascinating skill. The relationships in this novel are ones you have not seen before." —Leslie Daniels, author of Cleaning Nabokov's House